UPDATE: Feb. HHS Report expected today; my final QHP call: 902K for 4.202M cumulative
Tue, 03/11/2014 - 2:58pm
UPDATE: On the down side, I was off by 4% this time around.

On the up side, I UNDERESTIMATED:

Actual Feb. enrollments: 942,833, for a total of 4,242,325 thru 3/01/14.
Sarah Kliff at Vox just announced that the February HHS report is expected to be released today at around 4:00pm. A few items in anticipation of that:
As I've noted several times, I'm projecting the report to total around 902,000 exchange-based private QHP enrollments for the month of February (technically 2/02 - 3/01)
If accurate, this would bring the cumulative total of exchange-based private QHP enrollments to 4.202 million (from 10/1/13 - 3/01/14)
From the data I have, the average daily enrollment rate in February was almost identical to that of January, which had about 1.146 million QHP enrollments. HOWEVER, the January report included five weeks of data (12/28 - 2/01), while the February report will only include four weeks (2/02 - 3/01). Therefore, even at the same daily average, it'll be about 20% lower no matter what.
Don't be surprised if Peter Lee of CoveredCA decides to steal some thunder by announcing that California has enrolled 1,000,000 QHPs all by itself either today or tomorrow. However, that would include the past 10 days, while the HHS number will only run thru 3/01.
If you want to get REALLY specific, call it 902,800 and 4,202,292.
I've been dead-on target 6 times in a row without hyping up my projections beforehand. This time I am hyping myself up beforehand, so I'll probably be way off...but as long as I've UNDERestimated the tally, I'll be perfectly fine with that...
The report will be released in about 5 minutes, but my kid gets home from school in about 10, so it'll be a good 20 minutes before I can really post anything. Feel free to follow Sarah Kliff of Vox in the meantime!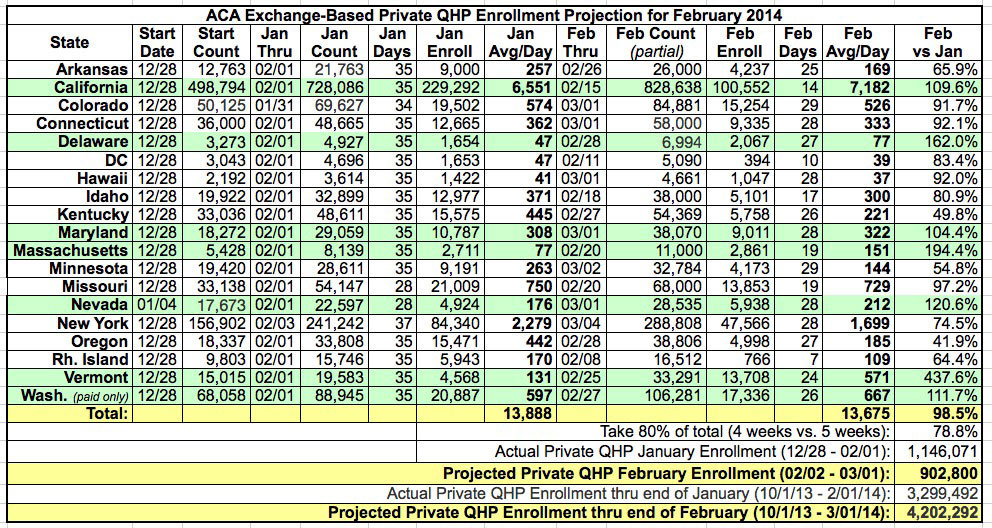 Regarding March, I do have some very preliminary numbers from the first week of March for six states, and overall there's definitely an uptick so far, but it's far too early to have any idea how much of one. The bottom line is that March (which will only count 30 days, since March 1st will be included on the February report) will have to hit around double the February enrollment rate in order to hit the revised CBO 6 Million number, and nearly triple the February rate in order to hit the original CBO 7 million number. Doubling the rate (around 64,000/day) would require a similar surge to what we saw in December. Tripling it would require outpacing December by 50%. Doable? Perhaps. Likely? Probably not, but who the hell knows?