#ACA Enrollment is BACK & this time it's a #BFD! Here's 10 important things to remember when you #GetCovered!
Wed, 03/10/2021 - 11:59am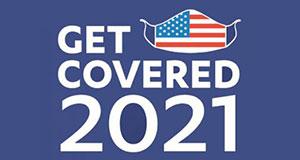 Nearly every state (+DC) has re-opened enrollment on their respective ACA exchanges in response to both the ongoing COVID-19 pandemic and the American Rescue Plan (ARP), which substantially expands and enhances premium subsidies to millions of people!
If you've never enrolled in an ACA healthcare policy before, or if you looked into it years ago but weren't impressed, please give it another shot now. Thanks to the ARP (and some other reasons), it's a whole different ballgame this spring & summer.
Here's 10 important things to understand when you #GetCovered:
1. MILLIONS WHO DIDN'T QUALIFY FOR FINANCIAL HELP BEFORE DO NOW...AND IT CAN SAVE YOU THOUSANDS OF DOLLARS!
With the passage and signing of the American Rescue Plan, the ACA's infamous "Subsidy Cliff" has been killed at last (at least for 2021 & 2022, anyway)!
This means two extremely important things:
First: If you're already eligible for ACA subsidies (i.e., you earn under 400% of the Federal Poverty Line, or FPL), you'll likely see a significant increase in how much financial help you're eligible for.
Second: If you didn't qualify for financial help before because your income was too high, you're now likely eligible for ACA subsidies for the first time ever!
Here's a table laying out the percent of your household income which you're restricted to paying for the benchmark Silver plan in your area under the original ACA formula and the new American Rescue Plan formula: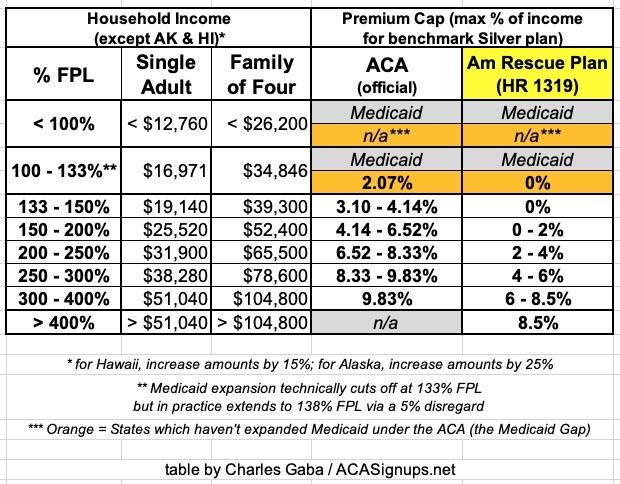 You can also read my more detailed explainer, including a bunch of case studies for comparison.
2. THE ENHANCED/EXPANDED SUBSIDIES ARE AVAILABLE IN MOST STATES ALREADY, BUT SOME MAY TAKE LONGER:
The federal exchange (HealthCare.Gov), which hosts 36 states, along with a few of the state-based ACA exchanges have already gone live with the ARP-enhanced subsidies...but residents of some of the state exchanges will have to wait a bit longer.
The extra subsidies will still be paid in full to ALL eligible current enrollees, mind you; they might just not show up on the website when you go to enroll (or if current enrollees visit the site to switch plans) just yet. As of this writing, here's where things stand (h/t to Louise Norris for some of this):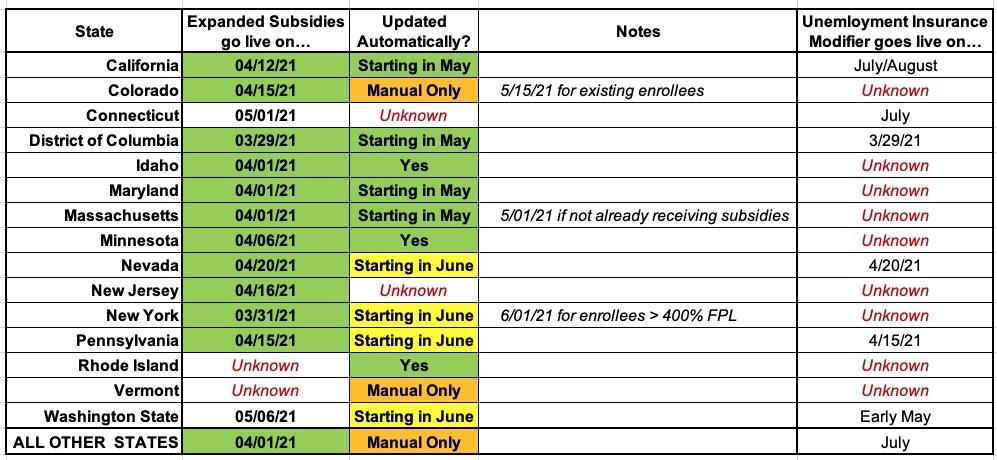 3. DON'T MISS THE NEW DEADLINE!
Most states have re-opened enrollment through 8/15, but the dates vary in some states:
Idaho: standard Special Enrollment Periods only
It's important to note that in some states it will only be available to those currently uninsured (or enrolled in off-exchange individual market plans). In other words, those currently enrolled in an exchange plan may not be able to switch to a different one mid-year. I've whipped up a simple graphic summarizing the status of every state: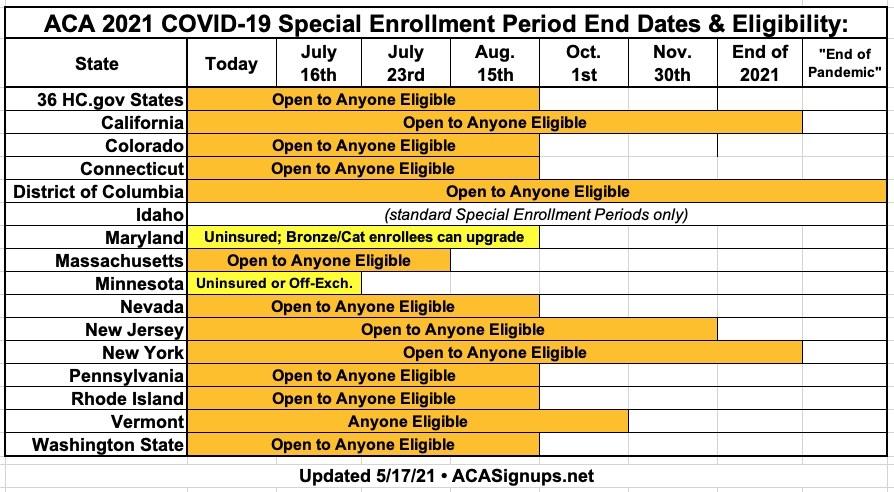 Once the COVID-19 Enrollment Period ends in your state, you won't be eligible to enroll for ACA-compliant major medical coverage for the rest of the year unless you qualify for a 60-day Special Enrollment Period (SEP) due to a qualify life event like losing your employer-provided healthcare coverage, getting married/divorced, moving, giving birth/adopting a child, turning 26 or becoming ineligible for Medicaid.
There's also some exceptions to this; you can enroll year-round if...
You're eligible for Medicaid or CHIP (any state);
You're a member of a federally-recognized Native American tribe or you're an Alaskan Native (any state);
You're eligible for MinnesotaCare (Minnesota only), the Essential Plan (New York only) or ConnectorCare (Massachusetts only)
4. MAKE SURE YOU'RE ENROLLING IN ACA-COMPLIANT COVERAGE!
There's a ton of junk plans and scam artists out there, especially these days. Fraudulent plans are being hawked endlessly via both robocalls, spam emails and fly-by-night websites. If you're enrolling online, make sure to use one of the official ACA exchange websites:
There are also AUTHORIZED 3rd-party web brokers you can use...but some of these also sell non-ACA compliant plans. The only 3rd-party broker which I'm aware of which only sells on-exchange ACA-compliant policies is HealthSherpa. Full disclosure: I have a banner ad agreement with them.
Note: While you could also enroll in ACA-compliant policies directly via the insurace carrier's website I STRONGLY recommend only using the exchange websites listed above. You have to enroll on-exchange to be eligible for financial help!
5. THE INDIVIDUAL MANDATE MAY BE GONE FOR MOST STATES, BUT IT'S STILL AROUND IN FIVE OF THEM!
One of the most sickly ironic things about the ACA being in jeopardy due to the federal individual mandate penalty being zeroed out is that there are actually five states which have reinstituted their own healthcare coverage requirement:
CALIFORNIA
DISTRICT OF COLUMBIA (I know, it's not actually a state...yet)
MASSACHUSETTS
NEW JERSEY
RHODE ISLAND
In CA, DC, NJ & RI, the penalty is pretty much identical to the old federal penalty: Either $695.00 per adult or $347.50 per child in the household or 2.5% of the total household income, whichever is greater.
Massachusetts uses a different formula. The financial penalty will be charged when residents file their 2020 state taxes in 2021.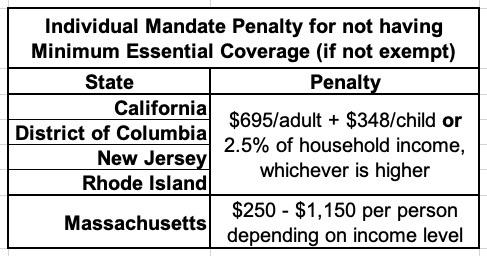 6. MILLIONS OF PEOPLE ARE NOW ELIGIBLE FOR FREE PLATINUM PLANS (LABELED AS SILVER PLANS)!
As I explain in detail here, if your household earns less than 200% FPL (around $25,500/yr if you're single; around $52,000/yr for a family of four), make sure to choose a Silver plan! Thanks to the ACA's Cost Sharing Reductions (CSR) system, you'll receive additional financial help which will lower your deductible, co-pays and coinsurance so much it effectively transforms Silver plans into Platinum plans!
Furthermore, thanks to the American Rescue Plan, the premiums for these "Secret Platinum" plans are literally nothing for anyone earning under 150% FPL and max out at just 2% of your annual income from 150 - 200% FPL!
7. VIA SILVER LOADING, SOME SUBSIDIZED ENROLLEES MAY BE ABLE TO GET FREE GOLD PLANS!
8. IN MOST STATES, CURRENT ACA ENROLLEES ARE BEING ALLOWED TO SWITCH PLANS MID-YEAR IF THEY WANT TO!
NORMALLY, once you've chosen an ACA exchange plan, you're stuck with that exact same plan for the rest of the year unless you have a "Qualifying Life Event" which gives you a limited time to make a change.
HOWEVER, residents of most states (not all) are being allowed to switch plans during the ongoing 2021 COVID Special Enrollment Period due to the enhanced ARP subsidies. The table I posted at #2 above notes which states are and aren't allowing current enrollees to move to a different plan.
If you're in a state which lets you do so, I strongly recommend checking into it. Some insurance carriers in some states are even giving people credit for whatever portion of their deductible and other out-of-pocket expenses they've already paid into when they move to a different plan with the same carrier.
Therefore, I'll say it again: SHOP AROUND!
9. IF YOU'RE ON UNEMPLOYMENT IN 2021, YOU'RE ELIGIBLE FOR A $0-PREMIUM "SECRET PLATINUM" PLAN...EVEN IN "MEDICAID GAP" STATES!
One particular provision of the American Rescue Plan gets a little wonky, but it could be critically important for hundreds of thousands of people living in the 12 states which have refused to expand Medicaid under the Affordable Care Act (Alabama, Florida, Georgia, Kansas, Mississippi, North Carolina, South Carolina, South Dakota, Tennessee, Texas and Wyoming (Wisconsin hasn't expanded Medicaid either but is a special case).
The short version is that under the ARP, for 2021 only, anyone who receives unemployment benefits will be considered to have an income of 133% of the Federal Poverty Level even if they actually earn less than that...or, for that matter, more than that. This means that someone in a "Medicaid Gap" state (where adults who earn less than 100% FPL are normally not eligible for either Medicaid or ACA subsidies) will be legally authorized to be treated as if they earn 133% FPL...and therefore will be eligible for 100% APTC subsidies.
In other words, Americans receiving unemployment insurance this year only will be eligible for a $0-premium Silver plan and will also be eligible for high Cost Sharing Reduction assistance, which bring their deductibles, co-pays and other out of pocket expenses down dramatically.
The effect of this is that they'll be eligible for the equivalent of a "Platinum Plus" ACA policy, which covers 94% of the average enrollee's medical expenses (Platinum plans cover 90%; Gold 80%; Silver normally covers 70% and Bronze covers 60%).
This won't resolve the Medicaid Gap completely, but it should provide comprehensive, extremely low-cost coverage for a huge chunk of the 2.2 million people caught in the Gap.
10. (SIGH) YES, THE SUPREME COURT COULD POTENTIALLY STILL STRIKE DOWN THE ENTIRE LAW, *HOWEVER*...
I hate to end this on a down note, but it would be wrong of me not to remind folks that yes, there's still a pending anti-ACA lawsuit decision expected to be announced sometime this spring or summer by the U.S. Supreme Court.
I've written about the details (and how idiotic the case is) too many times to remember...and for the average person, none of that matters. What matters to them is whether the SCOTUS strikes down the law and when they're gonna announce their decision.
As bad as the Worst Case Scenario would be, keep in mind that it's not a sure thing by any means, even with a 6-3 conservative SCOTUS. During oral arguments in the case last November, even ACA-hating Justice Alito seemed extremely skeptical about the plaintiff's case, while Chief Justice Roberts and Trump appointee Kavanaugh both seemed extremely inclined to lean towards "severability"...that is, even if they rule that the ACA's individual mandate is unconstitutional, there's a very strong chance that they'd simply require the mandate language itself to be stricken, leaving the rests of the law as is.
Heck, even Trump's final appointee, Amy Coney Barrett, had already shot down the exact same argument in a mock trial of this exact case before she was appointed to the Supreme Court.
So...there's a good chance that either the entire ACA (or 99.9% of it) will be spared. That's not a guarantee, of course; anything can still happen, which is why I've been urging Congress to #MootTheSuit.
It's also not necessarily a binary decision. SCOTUS could potentially kick the case back down the ladder to the 5th Circuit Court of Appeals again, in which case it might bounce around between the Circuit and SCOTUS for another year or two. Who knows?
In any event, keep in mind that even in a worst-case scenario (which would be horrific), no one who signs up for ACA exchange coverage during the current COVID Enrollment Period will be any worse off than they are right now; don't let this possibility discourage you from enrolling now. Even a few months of coverage is still better than no coverage at all.
In other words...#GetCovered!