Pennsylvania: @PennieOfficial lays out #AmRescuePlan game plan, extends #COVID19 SEP to 8/15, much more!
Thu, 03/25/2021 - 6:10pm
A few weeks ago, Pennie (Pennsylvania's ACA exchange), like several other state-based exchanges, put out a simple statement celebrating the passage of the American Rescue Plan (ARP) and the dramatic improvement in ACA affordability that it brings for the next two years. Like most of the other exchanges, Pennie's initial press release was pretty bare-bones, as the bill had just been signed into law and there were a ton of logistical details to be worked out.
Today, at their monthly board meeting, Pennie provided some further info on how they plan to proceed:
Pennie's American Rescue Plan Policy Goals

Implement ARP provisions as soon as possible, and as broadly as possible, to maximize savings for Pennie customers

Automate these provisions, to the extent possible, to ensure that the benefits under the new law reach Pennie customers without requiring customer action

Ensure that customers who need to take an action are given specific instructions on what they need to do to maximize their benefits

Use this unique opportunity to connect more Pennsylvanians to comprehensive coverage and reduce the number of uninsured throughout the Commonwealth
Of the 337,000 Pennsylvanians who selected Qualified Health Plans (QHPs) during the 2021 Open Enrollment Period (OEP), around 86% (290,000) are already receiving pre-ARP subsidies:
Pennie estimates that without the ARP, their current enrollees would receive around $1.61 billion in federal APTC subsidies over the course of 2021 (assuming around a 10% net attrition rate, which sounds low to me, but then again, in the age of COVID anything's possible...and the ARP's extra subsidies are gonna reduce the attrition rate anyway):

With the expanded ARP subsidies, Pennie figures current enrollees who are already subsidized will see an increase of around $270 million in subsidies, plus another $67 million for current enrollees who aren't subsidized: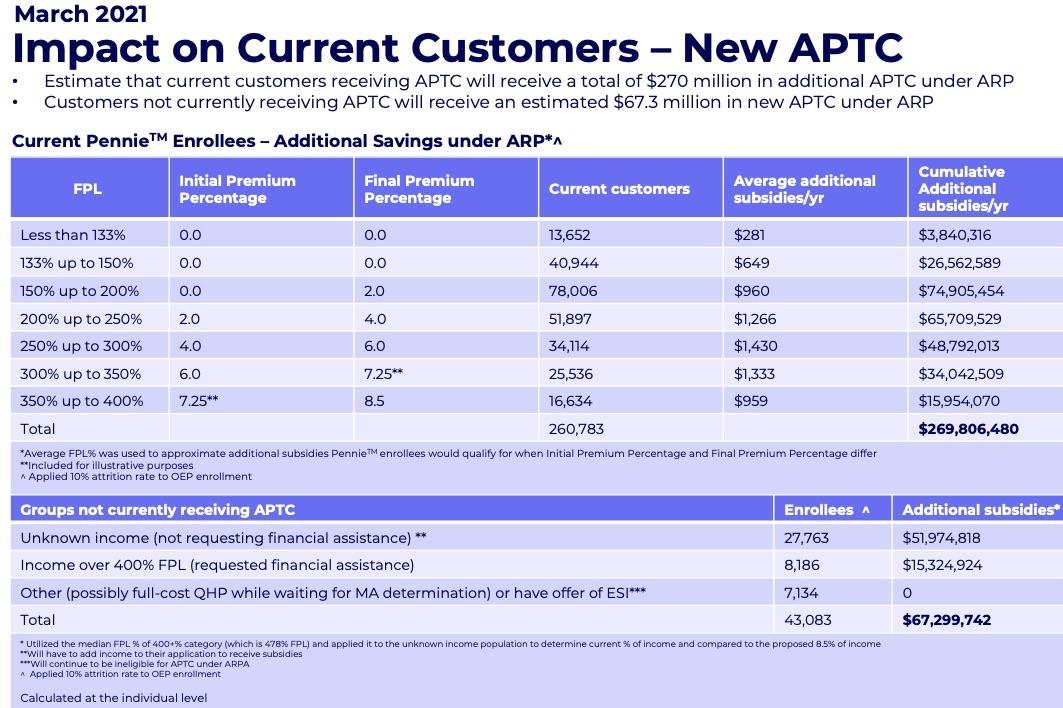 If so, this would mean a grand total of $1.95 billion in 2021 APTC subsidies, or roughly 21% more for current enrollees.
As for the uninsured population of PA, Pennie estimates that around 266,000 uninsured Pennsylvanians are already eligible for some ACA subsidies; they would see their average premiums drop by a further $1,100/year. In addition, they figure there's around 110,000 uninsured PA residents who earn more than 400% FPL (meaning they weren't eligible for subsidies until now); they'd be eligible for average savings of nearly $1,900/year:
If every single one of these folks were to #GetCovered via Pennie, it would reduce Pennsylvania's uninsured tally by an additional 376,000 people, at an additional federal APTC subsidy cost of around $2.1 billion.
That would bring Pennsylvania's total APTC subsidies to around $4.07 billion for around 680,000 enrollees, or roughly $6,000 per year apiece.
As for the actual timeline of retooling the Pennie website, it looks like they're targeting late April for new enrollees to be able to enroll with the expanded/enhanced subsidies...including those eligible for unemployment compensation (Phase 1). Then, they're targeting early June for current enrollees to be able to update their accounts with the enhanced subsidies on a monthly basis (Phase 2).
This is kind of interesting--it's the exact opposite order that HealthCare.Gov has laid out (they're targeting April 1st for everything except unemployment, and July for that).
Here's how they intend to proceed after Phase 1:
Existing customer (currently receiving APTC)

Must make a change to their application and resubmit to access new APTC eligibility
Will have eligibility redetermined and new APTC amounts prospectively applied to their enrollment
Able to shop for a new plan using the COVID-19 Enrollment Period, if they choose
Notices received

Eligibility determination notice

Existing customer (eligible for unemployment insurance)

Attests to at least one household member being eligible for unemployment insurance and submits updated application
Income considered at 138.1% FPL, if total income reported is higher than 138%FPL
Eligibility redetermined with maximum APTC/CSR applied to account prospectively
The enrollments with silver plans will be cross-walked into silver plan based on new CSR level
Plan shopping will be automatically opened for those with enrollments in non-silver plans
Notices received

Eligibility determination notice

New customer

Submits a new application
Eligibility determined based on ARP requirements and applied prospectively
Able to shop and enroll in a plan using COVID-19 Enrollment Period
Notices received

Eligibility determination notice
Huh. That's kind of interesting--the ARP says that anyone on unemployment insurance in 2021 will have their income declared to be 133% FPL, but Pennie is setting them at 138.1% if it's higher than 138%. The reason for this is obvious: If they were declared to be 133%, they'd have to be kicked over to Medicaid in expansion states instead. I'm just not sure if they're supposed to do this or not under the letter of the ARP itself.
Here's what they have in mind after Phase 2:
Existing customer (currently receiving APTC)

Eligibility automatically redetermined
New APTC applied to current enrollment; rebalancing applied for remaining months of coverage
Notices received

Eligibility determination notice w/ ARP content
New enrollment notice with updated APTC and net premium

Existing customer (did not previously apply for financial assistance)

Eligibility cannot be automatically redetermined
Notice received

New ad hoc notice with instructions on how to submit a financial assistance application

Submits new financial assistance application – new APTC applied prospectively
Notices received

Eligibility determination notice w/ ARP content
New enrollment notice with updated APTC and net premium

New customer

Submits new application
New APTC/CSR eligibility applied prospectively
Notices received

Eligibility determination notice
It also sounds like they're considering extending the COVID Enrollment Period out to August 15th to match HealthCare.Gov, but haven't made a decision on that yet:
Proposal: Extend the COVID-19 Enrollment Period

Extend the enrollment period through August 15, 2021 to ensure Pennsylvanians have enough time to take advantage of the new benefits provided through the American Rescue Plan.
Continues our alignment with the federally-facilitated marketplace and prevents confusion for Pennsylvanians who might see the new federal extension.
The implementation and public awareness will take time and, if not extended, will overlap with the current COVID-19 Enrollment Period end date (May 15).
The federal administration estimates that nearly 110k uninsured Pennsylvanians will be newly eligible for subsidies through Pennie and over 15k uninsured residents are now eligible for zero- dollar benchmark plans.
Pennsylvanians who may not have found marketplace coverage accessible in the past, will need additional time to shop to learn about the new benefits available to them.
UPDATE: OK, strike that...it's official...via email:
Pennie Extends COVID-19 Enrollment Period to August 15

Uninsured Pennsylvanians or those affected by COVID-19 can visit pennie.com and enroll in a plan through August 15   

Harrisburg, PA – March 25, 2021 – On March 25, the Pennie Board of Directors unanimously voted to extend the current COVID-19 Enrollment Period to August 15, 2021, aligning with the federal extension which was announced earlier this week. Pennie is committed to providing ample time and opportunity for Pennsylvanians to access quality health coverage and financial assistance.

Pennie is currently working to implement and make a reality the significant and exciting savings provided through the American Rescue Plan. These savings will increase financial assistance to those who currently receive it and will ensure no one will be paying more than 8.5 percent of their income on premiums through Pennie for the next two years. An extended enrollment period will give individuals more time to enroll in health coverage and take advantage of the new opportunities for financial assistance once they are implemented. Pennie is committed to providing tangible relief for those who are struggling with the pandemic and its economic repercussions and feels it is necessary to provide an extension of the COVID-19 Enrollment Period to ensure accessible and affordable coverage is an option to all Pennsylvanians during this public health emergency.

Another piece of the American Rescue Plan is providing more generous assistance to those who lost their jobs but want to remain on their employer health insurance plans through COBRA. Currently, those laid off workers have to pay the full cost of that coverage but under the American Rescue Plan, they will pay no premiums for this coverage from April through September. Following September, Pennie encourages anyone on COBRA to consider switching over to Pennie for their low-cost or no-cost premiums. Pennie will be adding this transition as a qualifying life event for customers to enroll through a Special Enrollment Period.

Pennie is the only source for financial assistance to help with the cost of coverage and care and can also link customers to free certified experts to assist with the application or plan selection process. Pennie encourages anyone who has found themselves uninsured and is seeking coverage, to visit pennie.com to learn more or to call Pennie customer care at 1-844-844-8040 before August 15.  
 
As for the 6-month 100% COBRA subsidy provision of the ARP, Pennie is also planning on how to deal with the September 30th cut-off of that as well:
Proposal: Permit Pennie the authority to open a SEP for individuals whose ARP COBRA subsidies terminate effective September 30, 2021, as necessary.
Policy Goals: Ensure continuity of coverage for Pennsylvanians who may still be in job-transition; Provide policy certainty for customers and stakeholders
Benefits: Customers will have access to comprehensive coverage for remainder of 2021
Challenges: Potential customer confusion as they could be enrolling in 2021 coverage and renewing into 2022 coverage simultaneously

Stakeholder Feedback:

Many stakeholders have reached out wondering whether these individuals would be eligible for a qualifying SEP.
Ambiguity around whether existing regulations currently provide for a SEP
Implementing this SEP would provide certainty for consumers, brokers, and insurers and ensure continuity of coverage.

Staff Proposal:

Provide the Pennie ED the delegated authority to open a SEP for individuals enrolled in COBRA coverage who face the loss of enhanced subsidies through ARP and provide an opportunity to enroll in coverage for October – December 2021
Apply standard loss of MEC SEP dates (+/- 60 days from Sept. 30) and effective date rules