Good News! Google to crack down on scam/junk plan "health insurance" ads
Wed, 04/21/2021 - 2:46pm
Quick: Run a Google search for "Obamacare" or "Health Insurance" and see what the first listings which come up are. The odds are pretty high that the first listing won't be HealthCare.Gov, Pennie.com, CoveredCA.com or any of the other state-based ACA exchanges. In fact, the first link which comes up probably won't even be for Blue Cross Blue Shield, Molina or Centene (the actual health insurance carriers themselves).
It's far more likely that the most prominent sites to come up in Google's paid search listings will be third-party health insurance brokers. If you click on the link, you may be taken to a legitimate health insurance broker authorized to sell on-exchange ACA policies...or you may be taken to a fly-by-night quasi-legal outfit which either pushes junk plans or simply resells your contact info to fourth-party scammers. In many cases, they may even include the terms "Obamacare" or "ACA" baked into their names:

If you click thru, you get a site which looks fairly professional and legit--it talks about the extended 2021 Open Enrollment deadline! It talks about Special Enrolment Periods! It has logos for all the top carriers like Aetna, Humana, Blue Cross etc! It boasts of being "100% Safe & Secure!"
However...reading further...
We are not the government. We are not a health insurance company.
OK, so they're a private insurance broker like HealthSherpa or eHealthInsurance, right?
Instead, ObamacarePlans.com works with multiple health insurance providers and brokers, making it easy for you to compare several options -- all in one place.
Wait...they aren't a broker either?
Well...no, I don't see them anywhere on either CMS's authorized Direct Enrollment or Enhanced Direct Enrollment web entity lists.
So what are they, exactly? Well, if you scroll down the page you'll see this:
* Disclaimers and Important Information:

ObamacarePlans.com is an independent marketplace and is not a federal or state Marketplace website. ObamacarePlans.com does not provide quotes or sell insurance directly to consumers, is not affiliated with any exchange, and is not a licensed insurance agent or broker. Accordingly, you should not send us (via mail or email) any sensitive information, including personal health information or applications. Any such communications will not be treated as confidential and will be discarded, as, in offering this website, we are required to comply with the standards established under 45 CFR 155.260 to protect the privacy and security of personally identifiable information.
Um...that's a whole lot of things they aren't...but what are they?
This website may not display all data on Qualified Health Plans being offered in your state through the Marketplace website. To see all available data on Qualified Health Plan options in your state, visit your state Marketplace website or go to the Health Insurance Marketplace website at www.HealthCare.gov
Oooooookayyyyy....? That's another big red flag.
When you go to "compare Obamacare options" you get a contact form. Most of the questions ask standard stuff (and kudos to them for the "nonbinary" option! Very woke!)...but it also asks whether you have any of the following conditions: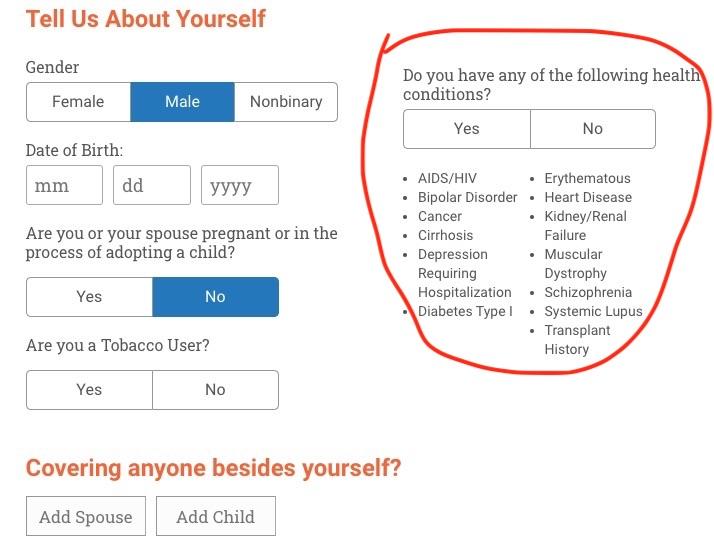 Hmmmm...that's not kosher. "Obamacare Plans" aren't legally allowed to ask about your medical history or health conditions. But...ok, maybe they sell non-ACA plans side by side with ACA plans, which is something I frown upon but it is legal to do.
I decided to fill in some burner info, and at the bottom, in very small print, it shows this:

If you can't read that (shocker!), here's what it says:
By entering a phone number and email address and submitting this form, you represent that you are at least 18 years old and agree to our Privacy Policy and Terms of Use. You also authorize Quotelab, LLC, and one or more of Kaiser Permanente, and/or these marketing partners to contact you for marketing/telemarketing purposes at the number and address provided above, including your wireless number if provided, using live operators, automated telephone dialing systems, pre-recorded messages, artificial voice, text messages and/or emails, even if the number you provide is on a state or Federal Do Not Call registry. You are not required to consent as a condition of purchasing goods or services. Message and Data rates may apply. You may revoke consent at anytime.
Yep...it's open season for telemarketing/robocall scams.
So, what happens if you choose to "See Plans & Prices"? You get something like this: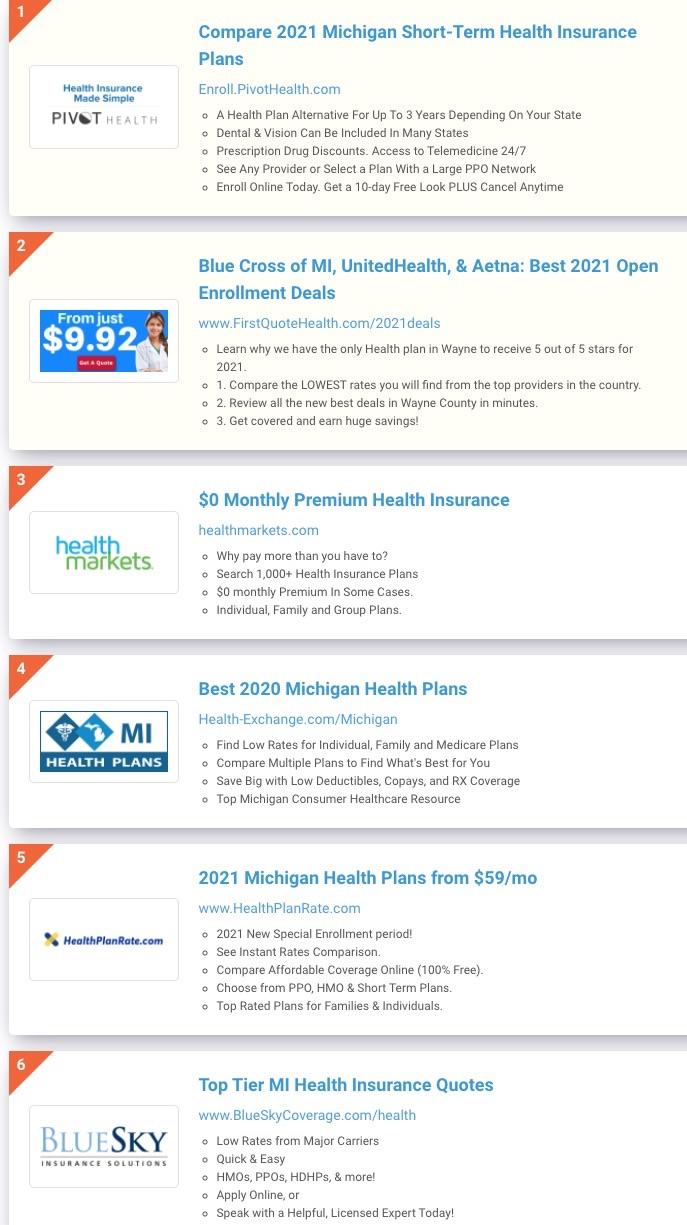 Notice how none of the results go directly to actual health insurance carriers either...they go to other obscure, questionably-named "heath insurance" sites which promise "Quick & Easy, Low Rates" etc etc. None of them say anything about them being ACA compatible.
Oh yeah...one more thing; according to the District of Columbia's official Department of Insurance, Securities and Banking website...
The District of Columbia Department of Insurance, Securities and Banking (DISB) wants District of Columbia consumers to be on alert for Obamacareplans.com. That company offers to match consumers with insurance companies or brokers for their health insurance needs.

DISB received a complaint about Obamacareplans.com, a California-based company that offered online referral services to a District of Columbia resident. Obamacareplans.com and its parent company QuoteLab, LLC, are not licensed or registered to conduct business in the District of Columbia.

According to its website, Obamacareplans.com is an independent marketplace, not a federal or state insurance marketplace. It does not provide quotes or sell insurance directly to consumers, it is not affiliated with any exchange, and it is not a licensed insurance broker. The company offers to match consumers with a company or agent for their health insurance needs and advertises a contact number for presumed licensed health care agents.

The agents claim to be licensed to conduct insurance business in the District. The agents do not provide their insurance license numbers or their full names for verification but are anxious to quote plans. One agent claimed he was at the "health enrollment center" and was willing to provide insurance information for an individual or group policy.

Where to Find Legitimate Coverage

Consumers seeking health insurance coverage can obtain Obamacare or the Affordable Care Act Plans through the Health Exchange in the District of Columbia at DCHealthLink.com.

How to Avoid Fraudulent Companies

Beware of websites that may look like government websites.

Make sure that you are purchasing a policy that will cover what you need.
Always obtain an agent's license information for verification.

If you believe you have been a victim of insurance fraud, please contact the DISB Enforcement and Consumer Protection Division at (202) 727-8000.
It's the highlighted point above which brings me to the headline about Google. Via Axios:
Google is launching a new certification program for health insurance advertisers in the U.S. that will only allow government exchanges, first-party providers and licensed third-party brokers to run ads across its platform.

Why it matters: The policy is meant to curb any misinformation, confusion and fraud around health care being provided to consumers via ads.

Details: In order for an advertiser to be certified to run ads, it will need to provide documentation showing it is permitted under state law to sell health insurance, per the new policy.

"This includes plans for individual health insurance coverage, short-term coverage and Medicare, among others," Google says in a blog post.

"Additionally, for private-sector providers promoting Affordable Care Act-compliant health plans, we will also require proof they are registered with the U.S. government to do so."

The big picture: This is the latest step Google is taking to curb health misinformation on its platform. The company has a long-standing certification program for online pharmacies, for example.

What's next: Advertisers can begin to apply for certification on May 3. Without certification, advertisers will no longer be able to run ads after June 2.
It doesn't help matters that some of the official ACA exchange websites don't even use the ".GOV" top level domain extension. Pennsylvania uses Pennie.com, while Minnesota uses MNsure.org. There are reasons for this; it's my understanding that depending on the state, legal or regulatory rules require that state-based ACA exchanges be legally considered to be separate from the state government (and thus they can't use .GOV in their domains). Ironically, other states have their exchanges set up so that the exchange must be under the umbrella of the state (which I assume explains NYStateoHealth.NY.Gov, for instance).
Anyway, assuming Google's new policy is rolled out successfully and doesn't penalize sites which aren't misrepresenting themselves (after all, it wouldn't be unreasonable to assume a website calling itself "ACASignups.net" was offering to sign people up for the ACA...), this should help cut down on the number of people being scammed by con artists.