Still need coverage for the rest of 2021? #ACA Enrollment is STILL HAPPENING in some states!
Mon, 08/16/2021 - 11:44am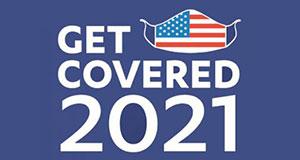 As of midnight on August 15th, the Big Deadline for the 2021 "No Excuse Needed" ACA Special Enrollment Period has come and gone in most states.
HOWEVER, you can still #GetCovered for the rest of 2021 in a few states (including two of the largest ones), and there are still millions of uninsured Americans nationally who are eligible for ACA-compliant coverage for the rest of this year via other options. Let's review!
2021 ACA Special Enrollment Period (SEP): If you live in California, Connecticut, the District of Columbia, New Jersey, New York or Vermont, the deadline for the "no questions asked" SEP goes beyond 8/15. In CA, DC & NY it actually runs through the end of the year!
If you live in one of these states and have never enrolled in an ACA healthcare policy before, or if you looked into it years ago but weren't impressed, please give it another shot now. Thanks to the American Rescue Plan, it's a whole different ballgame.
OK, but what if you live in a state which has already ended their 2021 "No Excuse Needed" SEP? Well, you're still eligible for a "standard" 60-day Special Enrollment Period if you have what's known as a Qualifying Life Experience (QLE), such as:
Losing employer-sponsored healthcare coverage
Getting married or divorced
COBRA coverage elapsing
Giving birth/adopting a child
Turning 26 and having to move to your own policy
Losing eligibility for Medicaid or CHIP
Moving out of your current rating area
There are some other QLEs which make you eligible for a 60-day SEP as well.
What if you're a member of a federally-recognized Native American tribe or are an Alaskan Native? If so, you can enroll in an ACA exchange plan year-round regardless of what state you live in.
What if you aren't eligible for any of the above? In that case, you might still be eligible for one of the following programs year-round:
If your household income is less than 138% of the Federal Poverty Line (FPL), you're likely eligible for Medicaid
Your children may be eligible for the Children's Health Insurance Program (CHIP) if your household income is below the threshold in your state (this varies)
In addition, there are three states which have their own special ACA healthcare programs for lower-income families:
If you live in New York and your household income is below 200% FPL, you're likely eligible for the Essential Plan
WITH ALL THIS IN MIND, here's some important things to remember when you go to #GetCovered:
1. MILLIONS WHO DIDN'T QUALIFY FOR FINANCIAL HELP BEFORE DO NOW...AND IT CAN SAVE YOU THOUSANDS OF DOLLARS!
With the passage and signing of the American Rescue Plan, the ACA's infamous "Subsidy Cliff" has been killed at last (at least for 2021 & 2022, anyway)!
This means two extremely important things:
First: If you're already eligible for ACA subsidies (i.e., you earn under 400% of the Federal Poverty Line, or FPL), you'll likely see a significant increase in how much financial help you're eligible for.
Second: If you didn't qualify for financial help before because your income was too high, you're now likely eligible for ACA subsidies for the first time ever!
Here's a table laying out the percent of your household income which you're restricted to paying for the benchmark Silver plan in your area under the original ACA formula and the new American Rescue Plan formula: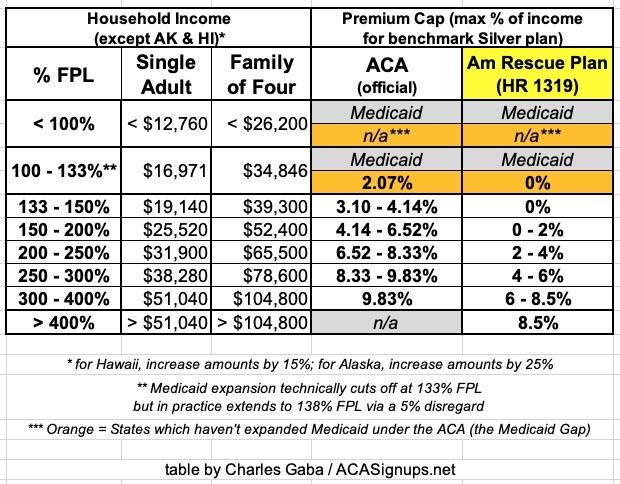 You can also read my more detailed explainer, including a bunch of case studies for comparison.
2. MAKE SURE YOU'RE ENROLLING IN ACA-COMPLIANT COVERAGE!
There's a ton of junk plans and scam artists out there, especially these days. Fraudulent plans are being hawked endlessly via both robocalls, spam emails and fly-by-night websites. If you're enrolling online, make sure to use one of the official ACA exchange websites:
There are also AUTHORIZED 3rd-party web brokers you can use...but some of these also sell non-ACA compliant plans. The only 3rd-party broker which I'm aware of which only sells on-exchange ACA-compliant policies is HealthSherpa. Full disclosure: I have a banner ad agreement with them.
Note: While you could also enroll in ACA-compliant policies directly via the insurace carrier's website I STRONGLY recommend only using the exchange websites listed above. You have to enroll on-exchange to be eligible for financial help!
3. THE INDIVIDUAL MANDATE MAY BE GONE FOR MOST STATES, BUT IT'S STILL AROUND IN FIVE OF THEM!
One of the most sickly ironic things about the ACA being in jeopardy due to the federal individual mandate penalty being zeroed out is that there are actually five states which have reinstituted their own healthcare coverage requirement:
CALIFORNIA
DISTRICT OF COLUMBIA (I know, it's not actually a state...yet)
MASSACHUSETTS
NEW JERSEY
RHODE ISLAND
In CA, DC, NJ & RI, the penalty is pretty much identical to the old federal penalty: Either $695.00 per adult or $347.50 per child in the household or 2.5% of the total household income, whichever is greater.
Massachusetts uses a different formula. The financial penalty will be charged when residents file their 2020 state taxes in 2021.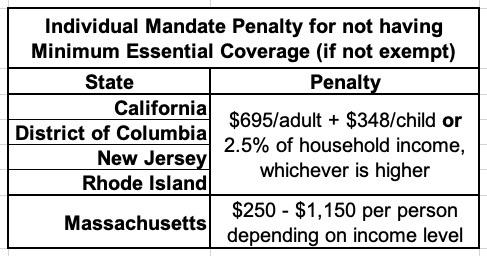 4. MILLIONS OF PEOPLE ARE NOW ELIGIBLE FOR FREE PLATINUM PLANS (LABELED AS SILVER PLANS)!
As I explain in detail here, if your household earns less than 200% FPL (around $25,500/yr if you're single; around $52,000/yr for a family of four), make sure to choose a Silver plan! Thanks to the ACA's Cost Sharing Reductions (CSR) system, you'll receive additional financial help which will lower your deductible, co-pays and coinsurance so much it effectively transforms Silver plans into Platinum plans!
Furthermore, thanks to the American Rescue Plan, the premiums for these "Secret Platinum" plans are literally nothing for anyone earning under 150% FPL and max out at just 2% of your annual income from 150 - 200% FPL!
5. VIA SILVER LOADING, SOME SUBSIDIZED ENROLLEES MAY BE ABLE TO GET FREE GOLD PLANS!
6. IF YOU'RE ON UNEMPLOYMENT IN 2021, YOU'RE ELIGIBLE FOR A $0-PREMIUM "SECRET PLATINUM" PLAN...EVEN IN "MEDICAID GAP" STATES!
One particular provision of the American Rescue Plan gets a little wonky, but it could be critically important for hundreds of thousands of people living in the 12 states which have refused to expand Medicaid under the Affordable Care Act (Alabama, Florida, Georgia, Kansas, Mississippi, North Carolina, South Carolina, South Dakota, Tennessee, Texas and Wyoming (Wisconsin hasn't expanded Medicaid either but is a special case).
The short version is that under the ARP, for 2021 only, anyone who receives unemployment benefits will be considered to have an income of 133% of the Federal Poverty Level even if they actually earn less than that...or, for that matter, more than that. This means that someone in a "Medicaid Gap" state (where adults who earn less than 100% FPL are normally not eligible for either Medicaid or ACA subsidies) will be legally authorized to be treated as if they earn 133% FPL...and therefore will be eligible for 100% APTC subsidies.
In other words, Americans receiving unemployment insurance this year only will be eligible for a $0-premium Silver plan and will also be eligible for high Cost Sharing Reduction assistance, which bring their deductibles, co-pays and other out of pocket expenses down dramatically.
The effect of this is that they'll be eligible for the equivalent of a "Platinum Plus" ACA policy, which covers 94% of the average enrollee's medical expenses (Platinum plans cover 90%; Gold 80%; Silver normally covers 70% and Bronze covers 60%).
This won't resolve the Medicaid Gap completely, but it should provide comprehensive, extremely low-cost coverage for a huge chunk of the 2.2 million people caught in the Gap.