UPDATED: 2022 #ACA Open Enrollment hits all-time record 15.5 million (w/1.0M BHPs); 8 states still have time to #GetCovered!
Thu, 01/27/2022 - 1:56am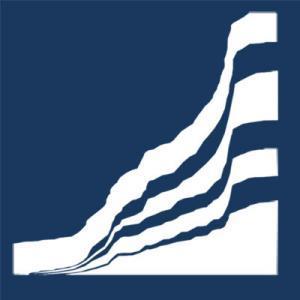 January 10th was the last time that the Centers for Medicare & Medicaid Services (CMS) issued a detailed 2022 Open Enrollment Snapshot report which broke out 2022 ACA enrollment across every state.
As of 1/10/22, it had already reached an all-time record of nearly 14.9 million people (13.8 million via Qualified Health Plans, or QHPs, and another million or so who have enrolled in Basic Health Plans (BHPs) in Minnesota and New York specifically).
A few days later, CMS issued another update just ahead of the official January 15th OEP deadline (in most states) which updated the top line QHP tally to over 14.2 million. They broke this out by "over 10 million" enrollees on the federal exchange (HealthCare.Gov), plus another 4.2 million or more in the 18 states which operate their own ACA exchanges.
Tack on the 1.0M BHPs and that's at least 15.2 million nationally.
For comparison, the previous Open Enrollment Period (OEP) record was set back in early 2016, when 12.68 million people selected QHPs, plus another 456,000 BHP enrollees, for a total of 13.14 million.
Last year (2021 OEP) was the 2nd highest until now: Almost precisely 12.0 million QHPs + around 980,000 BHPs, for a total of just shy of 13.0 million.
In other words, even if enrollment had ground to a halt after the most recent updates, total 2022 ACA exchange enrollment would still be at least 15.7% higher than the prior record and 17% higher than last year.
However, not only do 8 states still have at least a few more days left for residents to #GetCovered for the rest of the year, but even the 14.2 million figure still doesn't include between 3 to 7 days of enrollment data depending on the state...and in most cases, those missing days are critical since there's generally a substantial enrollment spike in the final few days of Open Enrollment as people scramble to get in before the deadline.
Well, this morning the Washington Post has reported (and the White House has confirmed) that the actual QHP-only total so far is...14.5 million:
Statement by President Biden on 14.5 Million Americans Signing up for Health Insurance

Health care should be a right, not a privilege, for all Americans. And one year into my Administration, we are making that right a reality for a record number of people—bringing down costs and increasing access for families across the country.

Today, I am proud to announce that since November 1st, 14.5 million Americans have signed up for quality, affordable health coverage, including more than 10 million who enrolled through HealthCare.gov—the highest numbers ever produced in an open enrollment period. New data from the Centers for Disease Control and Prevention shows that one in seven uninsured Americans got covered between the end of 2020 and September 2021, with lower-income Americans gaining coverage at the highest rate.
Thre's still no detailed breakout report from CMS or HHS (which is surprising...I would've expected that to be published at the same time as this WH press release), but the 14.5 million figure represents a 21% increase over last year and more than a 14% increase over the previous enrollment record. Adding the 1.0 million BHP enrollees, it's a grand total of 15.5 million people nationally so far (technically closer to 15.6 million, but that's a quibble).
This did not happen by accident. The American Rescue Plan did more to lower costs and expand access to health care than any action since the passage of the Affordable Care Act. It made quality coverage more affordable than ever—with families saving an average of $2,400 on their annual premiums, and four out of five consumers finding quality coverage for under $10 a month. As a result, millions of our fellow Americans have now gained the security and peace of mind that dependable health insurance brings.

For Americans who live in California, Kentucky, New Jersey, New York, Rhode Island, and Washington, DC—places with their own health insurance marketplaces—the opportunity to secure that peace of mind extends through January 31st, and I urge you to take these last few days to sign up for quality, affordable coverage. In the meantime, as long as any American lies awake at night, wondering how they're going to pay their medical bills, my Administration will keep fighting to lower costs and expand health coverage even more—including through my Build Back Better agenda.
The WH press release doesn't mention the additional deadline extensions in Colorado and Maryland, which is kind of odd given that both were announced over a well ago (although Colorado's isn't technically a "full" Open Enrollment extension, since there's some restrictions on who can enroll).
UPDATE: Here we go...CMS just published the "Final National Snapshot" report (which is misleading, since it still doesn't include additional enrollments after January 15th in 9 states...(the 8 mentioned above, plus Massachusetts which ended their OEP on January 23rd):
The Centers for Medicare & Medicaid Services (CMS) reports that 14.5 million Americans have signed up for or were automatically re-enrolled in 2022 individual market health insurance coverage through the Marketplaces since the start of the 2022 Marketplace Open Enrollment Period (OEP) on November 1, 2021 through January 15, 2022. This includes 10.3 million plan selections in the 33 states using the HealthCare.gov platform for the 2022 plan year, where the OEP ran through January 15, 2022, and 4.2 million plan selections in the 17 states and the District of Columbia with State-based Marketplaces (SBMs) that are using their own eligibility and enrollment platforms, through January 15, 2022, which represents the end of the OEP for many of the SBMs.[1] Total nationwide plan selections include 3.0 million consumers (21% of total) who are new to the Marketplaces for 2022, and 11.5 million returning consumers (79% of total) who had active 2021 coverage and made a plan selection for 2022 coverage or were automatically re-enrolled.
As usual, and much to my irritation, they don't include the BHP enrollees in the headline or even the body of the press release; it's thrown into the footnotes:
In addition to reported plan selections, New York and Minnesota have a Basic Health Program (BHP), which provides coverage to consumers with incomes below 200 percent of the FPL, who are not eligible for Medicaid or CHIP and otherwise would be eligible for a QHP.  From November 1 – January 15, 2022, New York had a total of 954,421 individuals enroll in a BHP.  Minnesota's data was unavailable at the time of this report.
I'm also not sure why they say MN's data wasn't available—MN's January enrollment report is right here: A bit over 106,000 enrollees. That's over 1.06 million more added to the tally.
Here's the summary table; I've added last year's final OEP totals for both the federal & state-based marketplace (SBM) for comparison (note that the 2021 OEP data for Kentucky, Maine & New Mexico have been shfited from the federal exchange to state exchange rows for an apples-to-apples comparison, since all 3 states moved to their own platforms this year):
Overall, re-enrollment of existing ACA exchange enrollees is up 21.7% vs. last year, while new enrollees are up 17.1%. This is particularly impressive given that 2.8 million new enrollees signed up during the extensive COVID Special Enrollment Period last summer (most of whom are part of that "re-enrollment" figure).
Having said that, new enrollment on the state-based exchanges is actually down 13.7% year over year...vastly cancelled out by the 28.7% increase on the federal exchange states. Why? As you'll see below, Medicaid expansion is the primary reason for this massive gap.
And here's the state-by-state breakout, including last year's final numbers for comparison, as well as breakouts of the Federal vs. SBM totals and the Medicaid expansion vs. non-expansion state totals: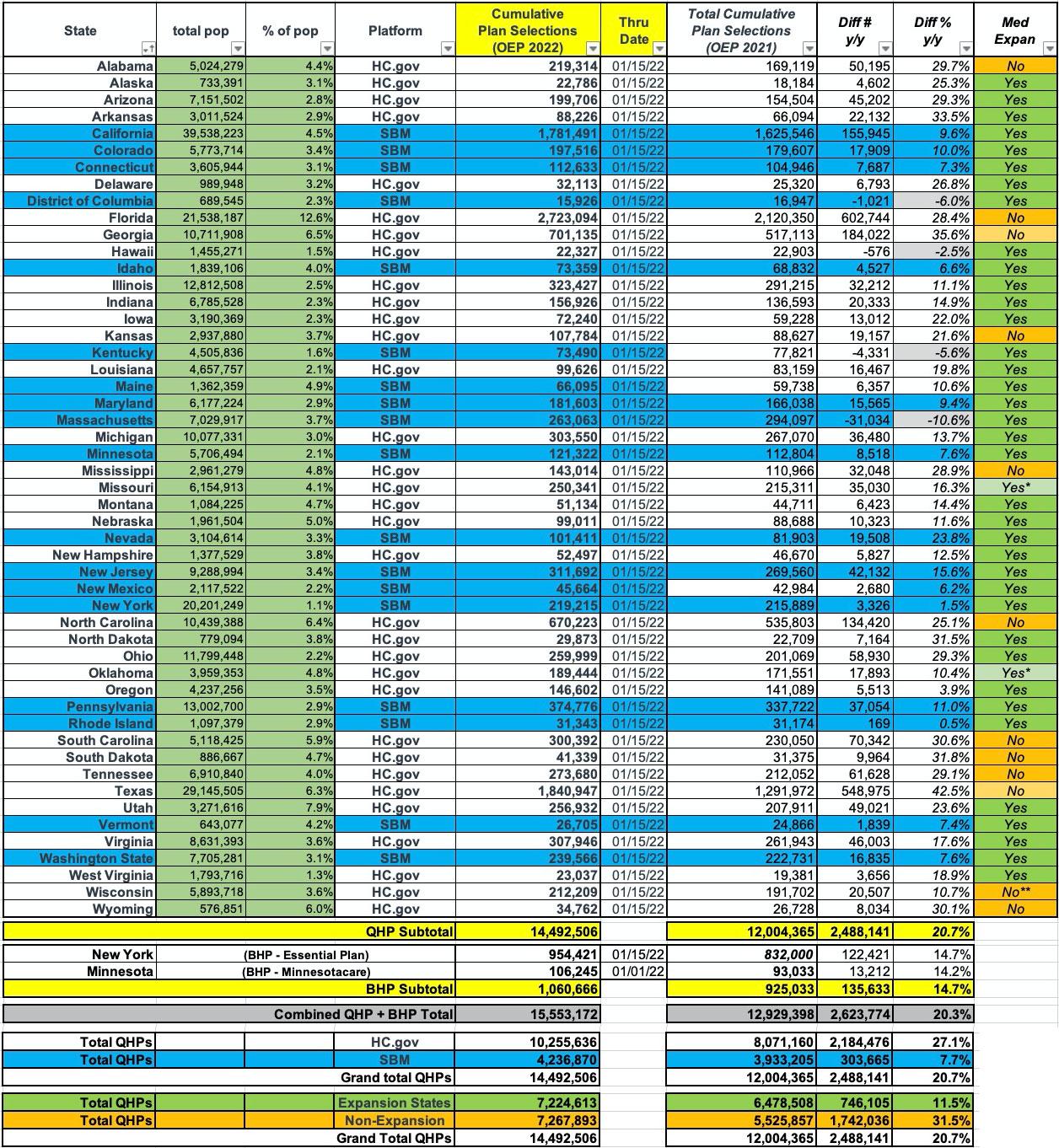 KEY TAKEAWAYS:
Total QHP enrollment is up 20.7% over last year and up 14.3% over the all-time OEP record set in 2016.
With BHPs included, the total is up 20.3% over last year and up 18.4% over the all-time record
Federal exchange enrollment is up a whopping 27.1% over last year even though 3 states (KY, ME, NM) moved off of the federal exchange onto their own platform
State exchange enrollment is up 7.7% year over year
Medicaid expansion state enrollment is up 11.5% y/y
NON-Expansion state enrollment is up a stunning 31.5% y/y
Texas is up an astonishing 42.5% compared to last year
Other stunning increases include Georgia (up 35.6%), Arkansas (up 33.5%), South & North Dakota (up 31.8% & 31.5% respectively), Wyoming (up 30.1%) and Alabama (up 30.1%).
In terms of raw numbers, Florida again leads the way, up over 600,000 people vs. the 2021 OEP (and up 28.4% on a percentage basis), having enrolled a whopping 2.72 million people this year.
Speaking of Florida, over 12.6% of their entire population is now enrolled in ACA exchange policies. That's more than 1 out of 8 Floridians.
This has fascinated me for years...the next highest state in terms of what percent of its total population is enrolled in an ACA exchange plan is Utah, and they're only at 7.8%. The national average is just 4.4%, and if you don't include Florida, it's just 3.6%.
A big part of the Florida outlier is that they haven't expanded Medicaid, but even then, that 12.6% is still twice as high as any other non-expansion state, so there have to be other reasons as well.
UPDATE: I should also note that I've confirmed slightly higher enrollment numbers since January 15th for 2 states: Just 2 days ago, Covered California reported that they've "surpassed" 1.8 million enrollees. They didn't include an exact number but the headline says "surpassed" so I presume that means at least 1,800,001. That's another 18,500 or more enrollees.
In addition, the Massachusetts Health Connector reported that as of January 18th they had exactly 264,143 QHP selections to date, That's 1,080 more than the CMS figure as of January 15th.
Combined, this pushes the grand total up another 20K or so...and again, there's still enrollment data missing:
CA: 7 days of enrollment
CO: Technically 2 full months, but that won't be counted as part of the official OEP report
DC: 16 days of enrollment
KY: 16 days of enrollment
MD: 44 days (I'm not sure whether all of this will be included in the official report or not.)
MA: 8 days of enrollment
NJ: 16 days of enrollment
NY: 31 days (it's possible that only the first 16 will be included)
RI: 16 days of enrollment