Mazel Tov to the #ACA on its bar mitzvah! #ACA13 (Part 1)
Thu, 03/23/2023 - 9:59am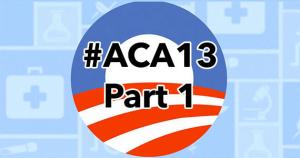 Note: I'm breaking this analysis into several sections:
Part 1 / Part 2 / Part 3 / Part 4 / Part 5 / Part 6 / Part 7
via the Centers for Medicare & Medicaid Services (CMS):
Biden-Harris Administration Celebrates the Affordable Care Act's 13th Anniversary and Highlights Record-Breaking Coverage

During  2023 open enrollment a record high 16.4 million people signed up, with 4.4 million more people enrolled for health insurance under the Biden-Harris Administration since 2021

New HHS report shows more than 40 million people are currently enrolled in Marketplace or Medicaid expansion coverage related to provisions of the Affordable Care Act -- the highest total on record

Today, the Biden-Harris Administration celebrated the 13th anniversary of the Affordable Care Act (ACA) by highlighting record-breaking enrollment numbers during the 2023 Marketplace Open Enrollment Period and lower health care costs because of President Biden's American Rescue Plan (ARP) and Inflation Reduction Act (IRA). Since 2014, when HealthCare.gov was launched, enrollment has doubled from 8 million to more than 16 million. Nearly 16.4 million consumers selected or were automatically re-enrolled in health insurance coverage through HealthCare.gov Marketplaces and State-based Marketplaces (SBMs) during the 2023 open enrollment. Enrollment has increased year-over-year, with 1.8 million more consumers signing up for coverage during the 2023 open enrollment compared to the 2022 open enrollment, a 13% increase, and nearly 4.4 million more consumers signing up compared to the 2021 open enrollment, a 36% increase.

"As we celebrate the anniversary of the Affordable Care Act today, we have even more evidence that this law has lived up to its name, providing a way for Americans to access quality, affordable health coverage," said HHS Secretary Xavier Becerra. "Thanks to President Biden's leadership, more than 16 million Americans have health insurance through the Affordable Care Act Marketplaces – an all-time high. We will keep doing everything we can to ensure more people have the peace of mind that comes with high-quality health care."

"The Biden-Harris Administration has consistently taken steps to fulfill President Biden's promise to make it easier for Americans to find and enroll in affordable, quality coverage," said Centers for Medicare & Medicaid Services (CMS) Administrator Chiquita Brooks-LaSure. "We have continued to build on the success of the Affordable Care Act by investing in improvements to the health care system. We continue to see that these investments are paying off through record-breaking enrollment overall and a notable increase in Hispanic/Latino enrollment."

National estimates show that, on average, consumers receiving advanced premium tax credits (APTC) continue to save over $800 in premiums per year thanks to the expanded subsidies made available through the ARP and continued by the IRA. Nationwide, 4.6 million more consumers are receiving financial assistance in 2023, compared to 2021, representing 90% of all 2023 plan selections – meaning, 90% of people selecting plans are receiving help to pay for premiums. And thanks to these laws passed by the Biden-Harris Administration, 1.4 million middle income consumers (those with household incomes over 400% of the Federal Poverty Level (FPL), or about $54,000 for an individual), who were previously ineligible for assistance, were able to access financial help during the 2023 open enrollment. As a result of the continued expanded subsidies, the average monthly premium after APTC for enrollees fell by 21%.

This year, individuals benefited from a highly competitive Marketplace. Ninety-two percent of HealthCare.gov enrollees had access to plans from three or more insurance companies. Also, new standardized plan options, called Easy Pricing plans, were available in 2023 through HealthCare.gov, which helped consumers compare and select plans.

Open Enrollment outreach included tailored investments to reach audiences that experience lower access to health care. For example, CMS partnered with cultural marketing experts to connect more people to resources including African Americans, Spanish and English-speaking Latinos, and Asian American and Pacific Islander communities in multiple languages. Among consumers who reported their race or ethnicity, 21% identified as Hispanic/Latino in the 2023 Open Enrollment Period, compared to 19% in the 2022 Open Enrollment Period, and 9% identified as Black in the 2023 Open Enrollment Period.

The Administration invested $98.9 million in Navigator grant funding for the 2023 Open Enrollment Period to help reduce health disparities by ensuring robust Navigator services. More than 1,500 Navigators were available to assist consumers with applying for and enrolling in Marketplace coverage for the 2023 plan year in line with the Administration's goal to expand access to health insurance for America's families.

More information on applications and plan selections, including state-level premium savings from the ACA and ARP/IRA, are available in the 2023 Open Enrollment Report and a suite of accompanying public use files (PUFs). An additional PUF is available for HealthCare.gov plan selections, including deductibles, Health Savings Account eligibility, and standardized plan option selection rates. The PUFs can be found here.

To view the 2023 Open Enrollment Report, visit here.

Today, HHS also released a report from the Office of the Assistant Secretary for Planning and Evaluation (ASPE) that shows more than 40 million people are currently enrolled in Marketplace or Medicaid expansion coverage related to provisions of the ACA -- the highest total on record.

Key points from today's ASPE report include the following:

Marketplaces and Medicaid expansion, programs created by the Affordable Care Act (ACA), have enrolled tens of millions of Americans since the programs launched in participating states in 2014.

An estimated 15.6 million consumers were enrolled in Marketplace plans in February 2023 (across all 50 states and the District of Columbia), and 18.8 million people (across 38 participating states and the District of Columbia) were newly enrolled in Medicaid via the ACA's expansion of eligibility to adults as of September 2022.

1.2 million individuals were enrolled in early 2023 in the ACA's Basic Health Program option, and 4.6 million previously eligible adults gained coverage under the Medicaid expansion by September 2022 due to enhanced outreach, streamlined applications, and increased federal funding under the ACA.
Note: The emailed version of this press release included two major typos in these bullets: It read "6 million consumers" instead of 15.6 million for the Marketplace bullet and "2 million individuals" instead of 1.2 million for the Basic Health Plan bullet. It's also important to note that "newly enrolled in Medicaid" refers to those who were only eligible to enroll in Medicaid due to ACA expansion. The other 4.6 million were previously eligible for Medicaid but only actually enrolled via changes/improvements made by other ACA provisions.
Across these coverage groups, a total of 40.2 million Americans were enrolled in coverage related to the ACA based on 2022 and early 2023 enrollment data, the highest total on record.  This represents 9.3 million more people enrolled than in 2021 (a 30% increase) and 27.6 million more people enrolled than in 2014 (a 219% increase, or more than triple).
...which is exactly what I had it estimated at back on January 30th.
This brief updates our estimate released in April of 2022 where we found more than 35 million people had gained coverage under the ACA. Our current estimate of 40.2 million represents more than 4 million people gaining coverage over the past year. 

Survey results indicate that all 50 states and the District of Columbia have experienced substantial reductions in the uninsured rate since 2013, the last year before implementation of the ACA.

To view the full report, visit here.