UPDATED: ANNNNNNNND WE'RE OFF!!
Sun, 11/01/2015 - 9:38am
Here's a list of links & reminders going into #OE3 (I'll be updating/clarifying this as I go but want to at least get it live for now):
Open Enrollment runs from November 1st - January 31st this time around.
The deadline for January coverage is December 15th in 46 states/DC.
The deadline for January coverage is December 23rd in ID, MA, RI & WA.
The deadline for February coverage is Jan. 15th in 46 states/DC, Jan. 23rd in ID/MA/RI/WA.
After that, you still have until Jan. 31st to enroll, but your coverage won't start until March 1st.
Hawaii is no longer running through their own website; HI now uses HealthCare.Gov.
---
Here's a summary of the Eight Most Important Pieces of Advice I Can Give for 2016 Open Enrollment:
1: SHOP AROUND. SHOP AROUND. SHOP AROUND.
2: SHOP AROUND EVEN IF YOU DON'T THINK YOU CAN SHOP AROUND.
3: LOOK AT THE DEDUCTIBLE AS WELL AS THE PREMIUM.

4: SILVER PLANS ARE GENERALLY THE BEST VALUE, ESPECIALLY FOR THOSE WITH A LOWER INCOME LEVEL.

5: YOUR FEDERAL TAX CREDIT MAY CHANGE EVEN IF NOTHING HAS CHANGED AT YOUR END.

6: THE TAX PENALTY FOR *NOT* BEING COVERED IS $695 OR 2.5% OF YOUR TAXABLE INCOME THIS YEAR.

7: IF THERE'S *ANY* CHANCE THAT YOUR INCOME WILL BE *UNDER* 400% FPL NEXT YEAR, USE THE ACA EXCHANGE TO ENROLL!!

8: CHECK TO SEE IF YOUR PREFERRED DOCTOR/HOSPITAL IS IN THE PLAN'S NETWORK OR NOT
---
As a reminder, here's my personal official projections/expectations for the 2016 Open Enrollment Period:
Here's a chart comparing the HHS Dept's. official projections for 2016 vs. my own:
UPDATE: In addition, the Urban Institute just issued their own 2016 Open Enrollment Projection analysis. Unlike HHS and myself, they don't include a hard number for how many QHP selections they're expecting, nor do they break out their projection (expected renewals, expected transferrees, expected newly covered), but they do conclude as follows:
A recent HHS report predicts marketplace enrollment would likely be between 9.4 million and 11.4 million by the end of 2016.  We have just revised our predictions based on analysis of 2015 enrollment rates.  Assuming a modest improvement in enrollment rates in 2016, we now project 11.2 million people could enroll in the marketplace in 2016.
With that in mind, I've added the Urban Institute into the comparison, reverse-calculating their QHP selection total based on the assumption that their 11.2 million figure represents an 83% end-of-year retention rate, which is roughly what both HHS and myself are anticipating: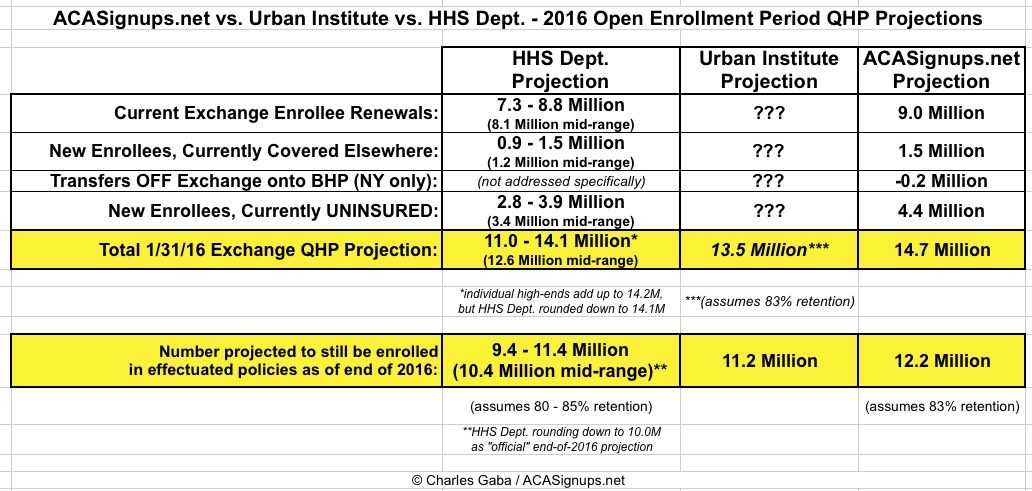 However, there have already been two major events since both HHS and I posted our projections on October 15th which could make my official projections embarrasingly too high (or at least which support the HHS Dept's lower numbers):
---
(Note: Obviously if the items above hurt enrollment nationally, that means many of my state-level projections will also be off by just as much, but these are the projections I'll measure myself against next spring.)
Assuming that it does follow a similar pattern to 2015, here's a rough idea of what I expect it to look like. If everything plays out as I've projected (with the above assumptions in mind), it should be something like:

800K by November 15
2.0 million by November 30
5.0 million or so by the December 15 deadline
10.5 million or so after auto-renewals are added on/around December 17
11.0 million by Christmas Eve (or roughly 10 million having their policies effectuated starting January 1st, assuming a 90% payment rate)
11.2 million or so by New Year's Eve
12.0 million or so by the January 15 deadline (1 million more having policies effectuated starting February 1st)
14.7 million by the January 31st deadline for Open Enrollment (2.2 million more having policies effectuated starting March 1st)

I'm sure that a few state exchanges will likely offer some sort of extension/overtime period, and of course after 1/31 you're into off-season SEP enrollments anyway, so there will likely be another 100K or so tacked on from February 1st - 15th, all of whom will also have their policies kick in on March 1st. After that you're into the "normal" off-season period.