BOOM: CMS announces 3.38M enrollees in first 19 days of 2023 #ACA Open Enrollment; new enrollees up 39% y/y on HC.gov!
Tue, 11/22/2022 - 2:54pm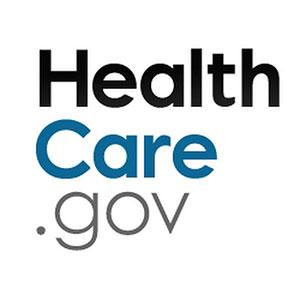 Usually during the annual ACA Open Enrollment Period, the Centers for Medicare & Medicaid Services issue weekly "snapshot" reports of how enrollment is going via the federal ACA exchange (HealthCare.Gov).
This year they haven't been doing that for whatever reasons. However, on Friday they did issue a tease about how things are going:
Biden-Harris Administration Announces Nearly 40% Increase in New Sign-Ups on HealthCare.Gov

Today, during his remarks on lowering costs for American families, President Biden announced that the number of new enrollees who have signed up for high-quality, affordable health insurance on HealthCare.Gov is up almost 40% compared to the same time last year.

...HHS will release the first formal report on Open Enrollment data next Tuesday, November 22.
Well, today they issued the actual report, which includes the first 19 days of the 2023 Open Enrollment Period (OEP) via the 33 states using the federal exchange and the first 12 days of OEP for 16 other states + DC using their own state-based exchanges. New York is missing, likely because they didn't actually launch their OEP until November 16th.
The Biden-Harris Administration announces nearly 3.4 million people nationwide have selected an Affordable Care Act (ACA) Marketplace health plan since the start of the 2023 Marketplace Open Enrollment Period (OEP) on November 1. This represents activity through November 19 (Week 3) for the 33 states using HealthCare.gov and through November 12 (Week 2) for 16 states and the District of Columbia with State-based Marketplaces (SBMs). Total plan selections include 655,000 people (19% of total) who are new to the Marketplaces for 2023, and 2.7 million people (81% of total) who have active 2022 coverage and returned to their respective Marketplaces to renew or select a new plan for 2023. These plan selection numbers represent a 17% increase in total plan selections over last year.

As President Joe Biden and Secretary Xavier Becerra announced, new customers enrolling on Healthcare.gov are up nearly 40% over last year. On November 16, Healthcare.gov had 493,216 new enrollees, compared to 354,137 on the same date in last year.
The 39.3% new enrollee increase is actually the most important number here. It's generally taken for granted that the majority of current enrollees will stick around for another year; what's more critical is whether new enrollees sign up as well.
The 2023 Marketplace OEP runs from November 1, 2022 to January 15, 2023 for states using the HealthCare.gov platform. People generally need to submit an application and choose a plan by December 15 for their coverage to start January 1. State-based Marketplace enrollment deadlines vary. State-specific deadlines and other information are available in the State-based Marketplace Open Enrollment Fact Sheet.

"We are off to a strong start - and we will not rest until we can connect everyone possible to health care coverage this enrollment season," said HHS Secretary Xavier Becerra. "The Biden-Harris Administration has taken historic action to expand access to health care, and ensure everyone can have the peace of mind that comes with being insured. With four out of five people eligible for coverage at $10 or less, do not miss your opportunity to sign up for high-quality, affordable health care. We urge everyone to visit HealthCare.gov and find the coverage that meets your needs."

"Providing quality, affordable health care options remains a top priority. The numbers prove that our focus is in the right place. In the first weeks of Open Enrollment, we have seen an increase in plan selections and a significant increase in the number of new enrollees over the previous year," said CMS Administrator Chiquita Brooks-LaSure. "I am pleased to see such a strong early showing and I encourage all those looking for affordable health care coverage to visit HealthCare.gov."

The Biden-Harris Administration has made expanding access to health insurance and lowering health care costs for America's families a top priority, and under their leadership, the national uninsured rate reached an all-time low earlier this year. 

The Biden-Harris Administration encourages all families to visit HealthCare.gov and check out the health care coverage options and savings available to them. This year, thanks to the Inflation Reduction Act, more people will continue to qualify for help purchasing quality health coverage with expanded financial assistance. Thirteen million Americans will continue to save an average of $800 per year on their health insurance. Four out of five people will be able to find a plan for $10 or less after tax credits. People with coverage through HealthCare.gov are encouraged to return and shop to see if another plan better meets their needs at a lower cost.

Individuals can enroll or re-enroll in health insurance coverage for 2023 by visiting HealthCare.gov, or CuidadoDeSalud.gov, or by calling 1-800-318-2596 to fill out an application. Individuals wanting assistance signing up for coverage may go to Find Local Help on HealthCare.gov to find a Navigator, Certified Application Counselor, or agent or broker.
Here's the national breakout (again, bearing in mind that it's missing 1 week for 17 states & New York is missing entirely):
Here's the state-by-state breakout (again: 19 days for 33 states; 12 days for 16 states & DC; n/a for New York):

Comparing the numbers to the same point last year is a bit tricky due to the ending dates not matching up for SBMs vs. FFM states, but I've done my best. Also note that there's a one-day difference for all states due to Nov. 1st starting on a Tuesday instead of a Monday this year, so the actual year over year increase is likely slightly higher: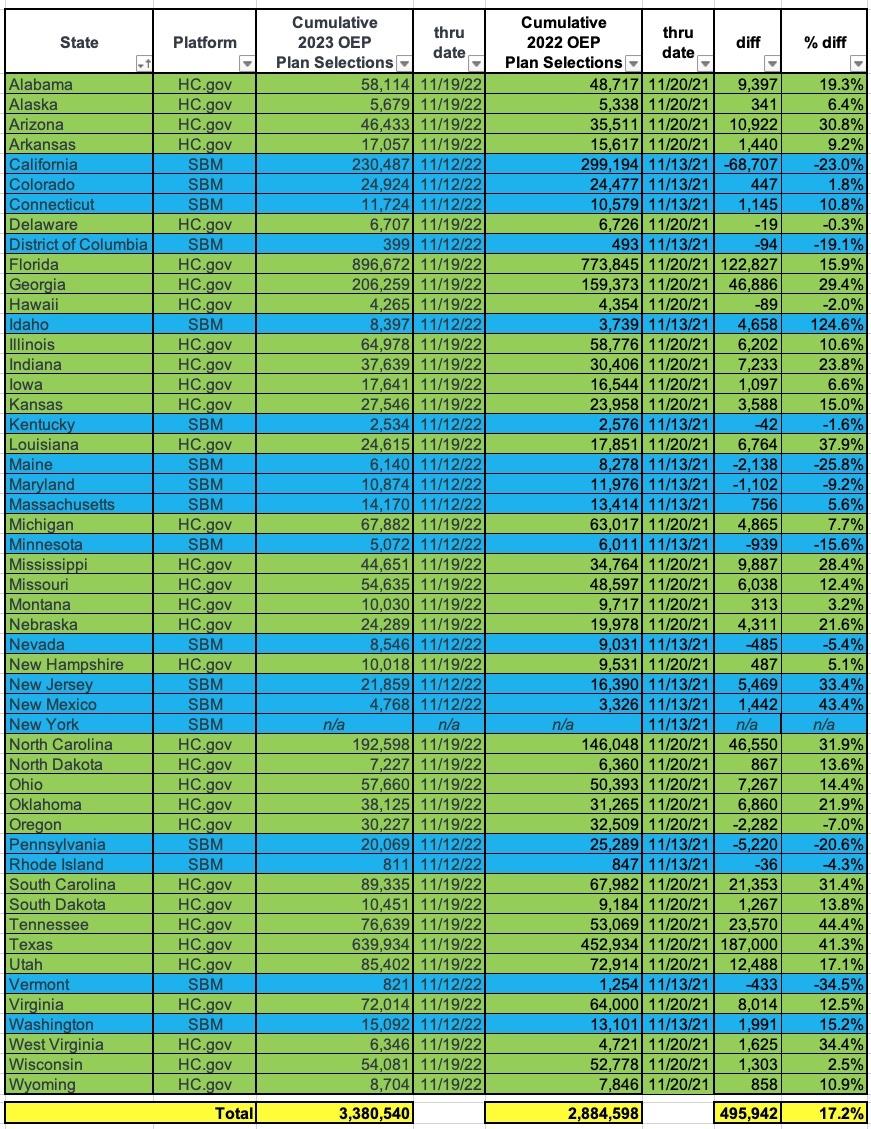 While New York's data is blank for both years, and you still have to take that one-day difference into account, in the other 48 states + DC, Idaho has seen the most dramatic increase since 2021, more than doubling their enrollments in the first two weeks. 
Other impressive states include Tennessee, New Mexico, Texas, Louisiana, West Virginia and New Jersey, each of which saw more than a 33% increase in their early enrollments (either 2 weeks or 3 weeks depending on the state) compared to the same point last year.
At the opposite end, six states, all of which operate their own ACA exchanges, interestingly enough, saw their first 12 day enrollment tallies drop by more than 10% compared to the first 13 days of OEP last year: Maryland, Minnesota, DC, Pennsylvania, California, Maine and Vermont.
Still, until auto-renewals are added into the mix in late December, it's difficult to draw too many conclusions; it's entirely possible that most current enrollees in those states are simply more content to let themselves be automatically rolled over for the new year (which few should do but most do anyway).
Unfortunately I don't have the new/renewal breakouts for the state-based exchanges from Nov. 13th last year so I can't fill this table in completely, but it looks like the year over year new enrollment ratio dropped significantly over the next three days (from 39.3% higher to 30.5% higher). This may be due to the missing 20th day and/or to other factors: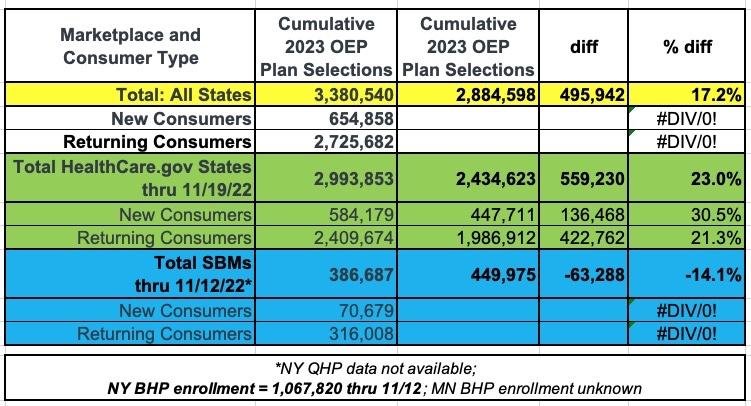 In any event, when you include the 1.07 million BHP enrollees in New York (I have no idea why CMS continues to list the Basic Health Plan program enrollees in NY & MN as a footnote), and include some other oddball state-based exchange enrollment reports I've received which go beyond November 12th, the grand total is actually nearly 4.5 million people nationally.