Surprise! HHS announces rule to protect consumers from (most) surprise medical bills
Tue, 07/06/2021 - 2:27pm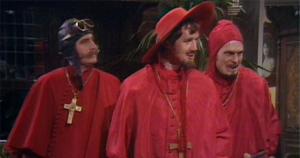 Last winter, after years of bipartisan attempts to tackle one of the uglier problems with the U.S. healthcare system, Congress somehow ended up quietly slipping in a bill which resolved a large chunk of the issue with minimal fanfare:
Over at the New York Times, Sarah Kliff and Margot Sanger-Katz have written an excellent summary of the problem and the proposed solution:

Surprise bills happen when an out-of-network provider is unexpectedly involved in a patient's care. Patients go to a hospital that accepts their insurance, for example, but get treated there by an emergency room physician who doesn't. Such doctors often bill those patients for large fees, far higher than what health plans typically pay.

Part of the problem is that the patient is often not in any position to have any say in where they're taken or who cares for them. Obviously you can't tell the ambulance where to take you if you're unconscious, and even if you are, someone having a heart attack isn't exactly in the best frame of mind to make sure that the folks working to saving their life are in-network.

Even for scheduled surgery where you have the time to carefully check to make sure the hospital and surgeon are in-network, you can still be hit with surprise bills...for instance, the anesthesiologist might turn out to be a hired gun from some other facility, so you wake up to a massive bill from some doctor you've never heard of.

Language included in the $900 billion spending deal reached Sunday night and headed for final passage on Monday will make those bills illegal. Instead of charging patients, health providers will now have to work with insurers to settle on a fair price. The new changes will take effect in 2022, and will apply to doctors, hospitals and air ambulances, though not ground ambulances.
As noted at the time, ground ambulance bills were not included as part of the "No Surprises Act," which is a major problem since they represent something like half of all surprise bills nationally, but solving half the problem is better than nothing.
Of course, it's one thing to pass and sign a bill...it's something else to actually implement it. With a bill as sweeping as this one is, there's a lot of wonky, confusing legalese which has to be worked ouot on the regulatory side:
...The final bill gives providers and insurers 30 days to work out payment rates, and, if they are unable to agree, they can turn to a new independent dispute resolution process that HHS must set up by Jan. 1, 2022.

...Congress added several other factors for consideration, including: providers' level of training, quality and patient outcomes, market share for providers and payers, patient acuity, teaching status and prior contracted rates. The law also was tweaked to explicitly say that arbitrators cannot consider the provider's billed charge, the usual or customary charge, or rates paid by Medicare, Medicaid or other government programs.

While it's clear that Medicare charges cannot be considered, stakeholders hold different views on whether the six factors listed in the text should be considered equally, or whether Congress intended the qualifying payment (QPA) amount to be the primary consideration and the other factors to be used only in certain circumstances.
In any event, a few days ago the Health & Human Services Dept. issued details on just how the No Surprises Act will be implemented starting on January 1, 2022:
Today, the Biden-Harris Administration, through the U.S. Departments of Health and Human Services (HHS), Labor, and Treasury, and the Office of Personnel Management, issued "Requirements Related to Surprise Billing; Part I," an interim final rule that will restrict excessive out of pocket costs to consumers from surprise billing and balance billing. Surprise billing happens when people unknowingly get care from providers that are outside of their health plan's network and can happen for both emergency and non-emergency care. Balance billing, when a provider charges a patient the remainder of what their insurance does not pay, is currently prohibited in both Medicare and Medicaid. This rule will extend similar protections to Americans insured through employer-sponsored and commercial health plans.

"No patient should forgo care for fear of surprise billing," said HHS Secretary Becerra. "Health insurance should offer patients peace of mind that they won't be saddled with unexpected costs. The Biden-Harris Administration remains committed to ensuring transparency and affordable care, and with this rule, Americans will get the assurance of no surprises."

Among other provisions, today's interim final rule:

Bans surprise billing for emergency services. Emergency services, regardless of where they are provided, must be treated on an in-network basis without requirements for prior authorization.

Bans high out-of-network cost-sharing for emergency and non-emergency services. Patient cost-sharing, such as co-insurance or a deductible, cannot be higher than if such services were provided by an in-network doctor, and any coinsurance or deductible must be based on in-network provider rates.

Bans out-of-network charges for ancillary care (like an anesthesiologist or assistant surgeon) at an in-network facility in all circumstances.

Bans other out-of-network charges without advance notice. Health care providers and facilities must provide patients with a plain-language consumer notice explaining that patient consent is required to receive care on an out-of-network basis before that provider can bill at the higher out-of-network rate.

These provisions will provide patients with financial peace of mind while seeking emergency care as well as safeguard them from unknowingly accepting out-of-network care and subsequently incurring surprise billing expenses.
What is a surprise medical bill?

When a person with a group health plan or health insurance coverage gets care from an out-of-network provider, their health plan or issuer usually does not cover the entire out-of-network cost, leaving them with higher costs than if they had been seen by an in-network provider. In many cases, the out-of-network provider can bill the person for the difference between the billed charge and the amount paid by their plan or insurance, unless prohibited by state law. This is known as "balance billing." An unexpected balance bill is called a surprise bill.

This rule protects patients from surprise bills under certain circumstances.

Who will benefit from this rule?

These surprise billing protections apply to you if you get your coverage through your employer (including a federal, state, or local government), or through the federal Marketplaces, state-based Marketplaces, or directly through an individual market health insurance issuer.

The rule does not apply to people with coverage through programs such as Medicare, Medicaid, Indian Health Services, Veterans Affairs Health Care, or TRICARE. These programs already prohibit balance billing.

Who is affected by surprise bills?

Surprise medical bills and balance bills affect many Americans, particularly when people with health insurance unknowingly get medical care from a provider or facility outside their health plan's network. This can be very common in emergency situations, where people usually go (or are taken) to the nearest emergency department without considering their health plan's network.

An in-network hospital still might have out-of-network providers, and patients in emergency situations may have little or no choice when it comes to who provides their care.

For non-emergency care, an individual might choose an in-network facility or an in-network provider, but not know that a provider involved in their care (for example, an anesthesiologist or radiologist) is an out-of-network provider.

How does this rule help?

If your health plan provides or covers any benefits for emergency services, this rule requires emergency services to be covered:

Without any prior authorization (meaning you do not need to get approval beforehand).
Regardless of whether a provider or facility is in-network.

This rule also protects people from excessive out-of-pocket costs by limiting cost sharing for out-of-network services to in-network levels, requiring cost sharing for these services to count toward any in-network deductibles and out-of-pocket maximums, and prohibiting balance billing under certain circumstances. Cost sharing is what you pay out of your own pocket when you have insurance, such as deductibles, coinsurance, and copayments when you get medical care.

The protections in this rule apply to most emergency services, air ambulance services from out-of-network providers, and non-emergency care from out-of-network providers at certain in-network facilities, including in-network hospitals and ambulatory surgical centers.

Additionally, this rule requires certain health care providers and facilities to furnish patients with a one-page notice on:

The requirements and prohibitions applicable to the provider or facility regarding balance billing.
Any applicable state balance billing prohibitions or limitations.
How to contact appropriate state and federal agencies if the patient believes the provider or facility has violated the requirements described in the notice.

This information must be publicly available from the provider or facility, too.

When does the rule take effect?

Consumer protections in the rule will take effect beginning on January 1, 2022.

The regulations are generally applicable to group health plans and health insurance issuers for plan years beginning on or after January 1, 2022, and to FEHB program carriers for contract years beginning on or after January 1, 2022. They are applicable to providers and facilities beginning on January 1, 2022.

Where can I send comments on this interim final rule?

Written comments must be received by 5 p.m. 60 days after display in the Federal Register to be considered.
Oh, yeah...there's something else to keep in mind (Larry Levitt is the Executive Vice President for Health Policy at the Kaiser Family Foundation):
You know who won't be protected from surprise medical bills in the legislation Congress is about to pass? People in short-term insurance plans that have been expanded by the Trump administration.

— Larry Levitt (@larry_levitt) December 21, 2020
Of course if #ShortAssPlans were included in this legislation, their premiums would likely double overnight, since they cover so little to begin with.
Interestingly, the reason they aren't included has nothing to do with them managing to lobby their way out of it (as the ground ambulances did):
Those plans typically lack provider networks, so no negotiated rate/contracts. It's all balanced billed.

— Amy Shefrin (@AmyShefrin) December 21, 2020
This is another reason why you should avoid so-called "Short-Term, Limited Duration" plans if at all possible and stick to ACA-compliant policies.