California: @CoveredCA confirms over 123K have enrolled during #COVID19 SEP so far; 2.5x normal rate
Wed, 05/20/2020 - 1:41pm
On April 14th, Covered California reported that 58,000 residents had enrolled in ACA exchange coverage during their COVID-19 Special Enrollment Period, of which roughly 20,000 did so via standard SEPs (losing coverage, moving, getting married/divorced, etc), while an additional 38,000 took advantage of the COVID-specific SEP.
On April 28th, they announced that the number was up to 84,000 new ACA exchange enrollees, averaging around 2.5x as many as enrolled via standard Special Enrollment Periods during the same period a year ago.
Today they issued another update:
Covered California Sees More Than 123,000 Consumers Sign Up for Coverage During the COVID-19 Pandemic

More than 123,000 people have signed up for coverage through Covered California since March 20, when the exchange announced a special-enrollment period in response to the COVID-19 pandemic.

The accelerated pace of sign-ups is nearly 2.5 times higher than the level Covered California saw during the same time period in 2019.

Overall, nearly 200,000 people have enrolled in quality health care coverage through Covered California since open enrollment ended on Jan. 31.

Consumers can enroll in as little as 30 minutes, either through CoveredCA.com or over the phone with the help of one of Covered California's thousands of Certified Insurance Agents or enrollers.

In addition, Medi-Cal enrollment is open year-round for consumers who qualify.

SACRAMENTO, Calif. — Covered California announced on Wednesday that 123,810 people had enrolled in health care coverage since the exchange announced a special-enrollment period in response to the COVID-19 pandemic. The pace of sign-ups during this time has been nearly 2.5 times higher than the level seen during the same period in 2019.
That suggests roughly 50,000 people typically enroll via SEPs in California during a typical 60-day off-season period, or roughly 833/day, somewhat lower than the 910 or so I had previously estimated.
More importantly, since California holds around 12% of the total U.S. population, this also suggests that if every state had an "open" COVID-19 SEP (as opposed to just the dozen state-based exchanges, some of which have since ended theirs), around 1 million people would have enrolled in ACA exchange policies utilizing it as of today.
This is pretty much in line with the total SEP enrollments I've been seeing from the other state-based exchanges (the numbers below include all SEP enrollments for the given time period):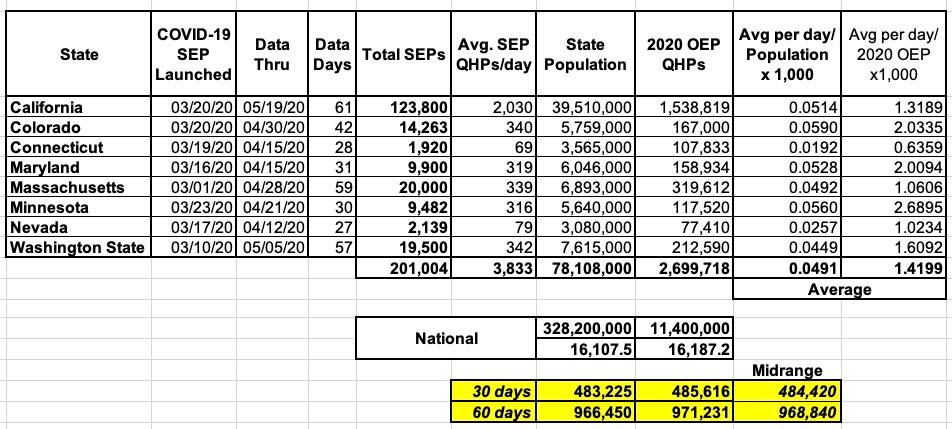 Over 201,000 people have enrolled via SEPs in the states above, but there's four other states which have had "open" COVID-19 SEPs which haven't reported any enrollment data yet (DC, NY, RI & VT); between those and the missing days from these states, I'd guess the total number from the state exchanges is somewhere around 230,000 enrollees.
This suggests perhaps 770,000 would have enrolled via HealthCare.Gov by now if they had an "open" SEP. Instead, the actual number is likely around half that for the normal SEP reasons (coverage loss, moving, etc).
Of course, California has also reinstated the individual mandate penalty (as have Massachusetts, Rhode Island, DC and New Jersey), and they're also offering enhanced tax credits to many already receiving financial aid & expanded tax credits to enrollees earning 400-600% FPL, which muddies the water a bit.
"When the worst is happening in people's personal economic lives, we want to make sure that Californians know they can have the peace of mind that comes with quality health care coverage," said Peter V. Lee, executive director of Covered California. "Whether Californians have lost job-based health insurance coverage, or they were uninsured when this pandemic began, our doors are wide open to help them get coverage through either Covered California or Medi-Cal." 

The enrollment data covers the period from March 20, when Covered California opened the health insurance exchange to any eligible uninsured individuals who needed health care coverage amid the COVID-19 emergency, to May 16. Anyone who is uninsured and meets Covered California's eligibility requirements, which are similar to those in place during the annual open-enrollment period, can sign up for coverage through June 30.

Special-Enrollment Period

Every year Covered California provides eligible consumers the opportunity to sign up for health care coverage, outside of the traditional open-enrollment period, if they experience a qualifying life event. These can include events like losing your health care coverage, moving, getting married or having a baby. In addition, this year Covered California offered a special-enrollment period for consumers who were unaware of the new state financial help or the new state penalty for not having health insurance.

Overall, since Covered California ended its open-enrollment period on Jan. 31, 191,380 people signed up for coverage through May 16, which is nearly two times as many as seen during the same time period as last year. 
Subtracting that out, this means 67,570 people enrolled via CoveredCA's open SEP before March 20th, or roughly 1,400/day.
New Consumer Outreach 

Covered California is also sending out a new fact sheet to help consumers understand their options if their jobs or health care coverage have been affected by the COVID-19 pandemic. The fact sheet, which is available in English and Spanish, is being distributed to Covered California's top Certified Insurance Agents as well as local city chambers and association groups throughout the state. 

The fact sheet, seen at the right, answers some frequently asked questions about Covered California, Medi-Cal and COBRA. In addition, it helps guide consumers through the enrollment process so they can get the health care coverage they need during this pandemic.

Signing Up for Health Care Coverage

Consumers can easily enroll through CoveredCA.com and find out whether they are eligible for financial help through Covered California or if they are eligible for no-cost or low-cost coverage through Medi-Cal. People who sign up through Covered California will have their coverage begin on the first day of the following month. Those eligible for

Medi-Cal can have coverage that is effective retroactively to the first day of the month from when they submitted their application.

In addition to enrolling online, consumers who need health care coverage can visit Covered California's Find Help page to get assistance over the phone from one of Covered California's thousands of Certified Insurance Agents. The "Help on Demand" feature allows consumers to get a call back from a certified agent or a trained enrollment counselor.

"In this time of social distancing, people should know that health insurance is only a phone call away," Lee said. "Consumers can get free and confidential assistance from certified agents or one of Covered California's trained professionals while remaining safe and protecting themselves and their families."

Consumers can easily find out if they are eligible for Covered California or Medi-Cal, and see which plans are available in their area, by using the Shop and Compare Tool and entering their ZIP code, household income and the ages of those who need coverage.

Those interested in learning more about their coverage options can also:

Visit www.CoveredCA.com.
Get free and confidential assistance over the phone, in a variety of languages, from a certified enroller.
Have a certified enroller call them and help them for free.
Call Covered California at (800) 300-1506.