New York: Here's the ~795,000 residents who could lose coverage, by county
Tue, 01/03/2017 - 1:15am
IMPORTANT: SEE MAJOR UPDATE/CORRECTION HERE!
ACTUAL NUMBER LIKELY TO LOSE COVERAGE: 2.5 MILLION
New York is a little different: For one thing, they haven't actually released any 2017 Open Enrollment data yet (other than a cryptic "55K enrolled over a 3-day period", which isn't very useful). They should be up to around 200K w/out auto-renewals by now. More significantly, they're one of only 2 states (Minnesota's the other) which features the ACA's Basic Health Plan. Unlike QHPs, which are divided into subsidized and unsubsidized enrollees, the BHP program is entirely dependent on ACA financing, so if the law is repealed, all BHP enrollees are kicked to the curb, just like Medicaid expansion enrollees would be.
Speaking of Medicaid expansion, similar to Arizona, I have county-level data for all the Medicaid/CHIP enrollees, but not the expansion-only crowd. Fortunately, I do have the state-wide total (it's a year out of date, but I'll take what I can get), which is around 13.1% of the larger number for each county, so I was able to whip up rough county-level estimates.
Add them up and you're likely looking at around 129,000 high-subsidy QHP enrollees, 286,000 Medicaid expansion enrollees and 380,000 BHP enrollees who'd be SOL if the ACA is repealed: 795,000 people in all.
IMPORTANT: SEE MAJOR UPDATE/CORRECTION HERE!
ACTUAL NUMBER LIKELY TO LOSE COVERAGE: 2.5 MILLION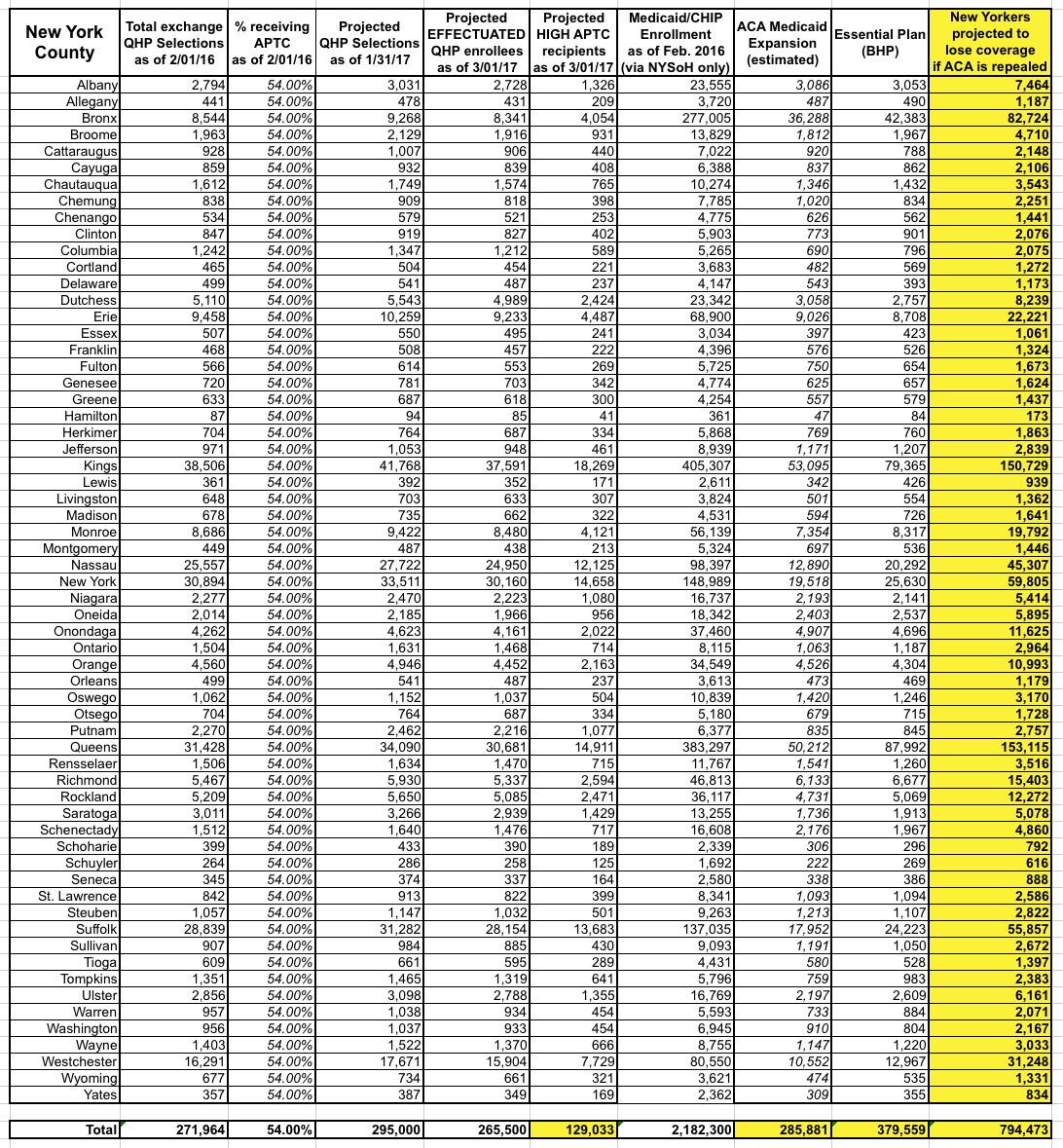 ...and here's a simplified version for easier viewing/sharing: