2017 State Roundup: News/Updates/Changes for AL, AR, CT, HI, MO, OK & WV
Tue, 09/13/2016 - 2:02pm
Lots of stuff happening fast & furious these days as #OE4 approaches. Instead of individual posts, I'm gonna cram 7 state updates into a single one...and am also cheating a bit by cribbing off of excellent work by Louise Norris over at healthinsurance.org (which is fair, since she also gets some of her data from me as well):
ALABAMA: Here's what my requested rate hike table looked like for Alabama on August 1st:

Updates: Norris Confirms that:
BCBS AL will be the only carrier on the exchange next year
Humana and UnitedHealthcare will be dropping off the exchange next year, both on and off the exchange
Humana has 15,226 indy members on+off; United had 20.5K enrollees last year, unknown this year.
BCBS AL has apparently lowered their initial 39.3% rate hike request to 36.1%.
This is the first year Alabama has the ability to effectively review carrier rates...but they don't have the ability to flat-out reject them, so the odds are that 36% hike is gonna go through regardless.
I've updated the table with these revisions/updates; here's what it looks like now. I've also started color-coding the carriers...Green = available on/off the exchange; Yellow = available off-exchange only; Red = dropping out of the exchange and/or off-exchange indy market completely next year:

---
ARKANSAS: When I last checked in on Arkansas on August 21st...

Updates: Norris confirms that...
Arkansas is finally moving onto their own exchange...sort of:
Arkansas currently has a partnership exchange for individuals, and a state-run exchange for small businesses. Starting in November 2016, when open enrollment for 2017 begins, the state is planning to run its own exchange for individuals as well, but will continue to use Healthcare.gov's enrollment platform.
In other words, most Arkansas residents won't even notice the change, because AR will still be using HC.gov for actual enrollment as an "FS-SBM" exchange (Federally Supported State-Based Marketplace), joining Oregon, Nevada, New Mexico and Hawaii (for the moment...see below)...as well as Kentucky starting this fall (see below).
As of August, Arkansas' "private Medicaid option" program had 258,000 people enrolled (these folks are counted as "private healthcare policies" in terms of the ACA-compliant policy risk pool, but are counted as "Medicaid expansion" enrollees for purposes of CMS reports).
I had already reflected the other updates she mentions, so the averages don't change, but I did clean up the table a bit:
---
CONNECTICUT: Ugh. Just last week, the Connecticut insurance dept. issued their approved rate hikes for most of the indy market carriers, whittling away at them for the most part:

The yellow fields are the two carriers which hadn't had their rate hikes approved yet...and in the case of ConnectiCare (actually listed on three separate lines), things got very ugly:
ConnectiCare is suing Connecticut's Insurance Department because it declined to consider its third revision to its rate request under the Affordable Care Act.

ConnectiCare, which covers about 47,600 people through individual and family plans sold on the Obamacare exchange, got the rate it asked for on Aug. 1 — an increase of 17.4 percent. But three weeks later, company officials said that request had been too low, and it said it needed an average 27.1 percent increase to cover the claims and make a profit on the plans.

ConnectiCare has until Friday to decide whether it will sell on the Obamacare exchange next year. It has asked a Superior Court judge to grant a temporary injunction so that it won't have to honor that deadline while it waits to learn if it will win its argument. A hearing is being held Thursday morning.

Wednesday, the Insurance Department argued that the case should be dismissed, because ConnectiCare has not exhausted its administrative appeals within the department, as required by Connecticut law. The department also noted that if companies were allowed to submit revisions to their requests whenever they wanted, the department would not be able to have prices in place for open enrollment season, which begins Nov. 1.
Unfortunately, despite some last-minute negotiation attempts, it sure sounds like CT Care is bailing on the exchange:
ConnectiCare cuts ties with Access Health CT

ConnectiCare said on Monday it will not sell on the Access Health CT exchange next year.

The insurer terminated its agreement with Access Health CT, commonly known as Obamacare, on Monday.

The decision comes days after the insurance department denied a more than 27 percent rate increase for its individual health plans.
In addition to the 47K figure in the first listing above, ConnectiCare also has another 37.1K people enrolled in off-exchange policies. I think the threat here was to drop off of the exchange but still sell policies off-exchange, so I don't think those 37.1K are at risk of losing their coverage.
Anyway, assuming I have this correct, it doesn't really change the rate average that much, but that's a whole lot more people who will have to shop around in November:
UPDATE: STRIKE THAT.  (sigh) less than 10 minutes after I posted this, I was informed by Max Friedman that they're not leaving the exchange after all:
The single largest insurer has reversed course and will remain on Access Health Connecticut, the state's health insurance marketplace.

Connecticare had informed state regulators last Friday that it would exit Access Health, and not offer plans for the 2017 Open Enrollment which is scheduled to start Nov. 1.

The decision by Connecticare to leave Access Health came after a New Britain Superior Court judge denied a request to reverse the Insurance Department's refusal to allow the insurer to raise rates by more than 17 percent for the more than 50,000 policyholders who purchased their plans through the state marketplace.

The move means Access Health will have two insurers, Anthem and Connecticare, offering individual plans for the 2017 coverage year.
No word on what the final approved/accepted rate hike will end up being.
---
HAWAII: Hawaii only has 2 insurers on the indy market to begin with; here's what I had on August 1st:

Updates: Norris confirms that...
Hawaii will become the first state to have changed their Exchange Type status three times. They went from being a terribly-run full State-Based exchange in 2014 and 2015, to a FF-SBM in 2016 (ie, their own exchange board but using HC.gov for the tech platform), to completely giving up on running any of the operational stuff themselves and joining the 3 dozen other fully FFMs (Federally-Facilitated Marketplaces).
Apparently HMSA resubmitted a lowered rate request, from their original 43.3% to 35% (not a huge drop but welcome nonetheless):


---
MISSOURI: When I first ran the numbers for Missouri back in June, the SERFF filing data made no sense whatsoever, especially for Coventry, which had about a dozen different separate listings with massive enrollment numbers for many of them. According to official CMS data and Mark Farrah Associates, as of March, Missouri had around 250K enrolled via the exchange and another 120K or so enrolled in off-exchange individual markets, for a total of around 370K. However, here's what it looked like according to the filings: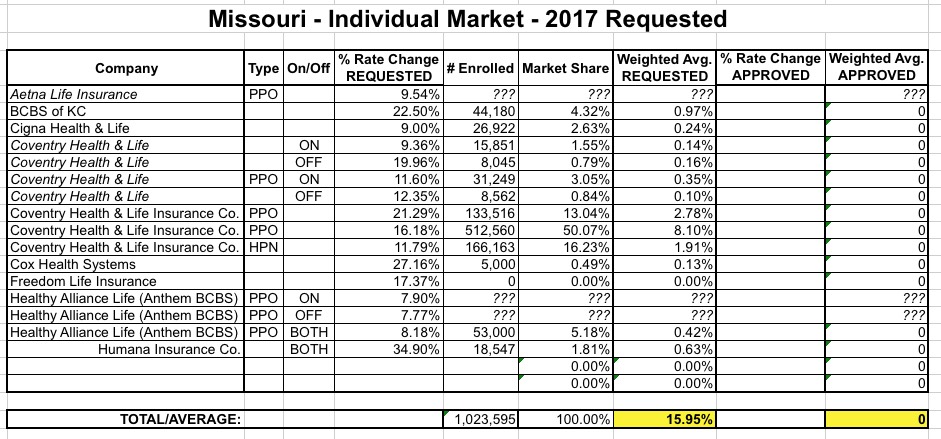 Norris found this really weird as well and asked about it, but according to her...
While both Aetna/Coventry and United/All-Savers are dropping off the exchange, Aetna/Coventry will still be available off-exchange.
Both BCBS of KS and Anthem BCBS/Healthy Alliance have resubmitted higher average rate hikes than I had found (29% and 20.6% respectively, vs. 22.5% and around 8% earlier)
When the proposed rates were initially published, Coventry—including both Coventry Health & Life as well as Coventry Health & Life Insurance Company—seemed to have a much higher that expected number of enrollees. I talked with the Missouri Department of Insurance about this, and they said that the size of the individual market has "exploded" in Missouri, and that Coventry had picked up a disproportionate number of the new enrollees, since their rates have been among the lowest in the state.
OK, so they confirm that Coventry's huge numbers are likely legitimate...but still, a near tripling of the individual market in one year? Plus, that would mean that Mark Farrah's 120K off-exchange estimate is way off (to the tune of around 650,000 people!) So...the mystery continues.
Meanwhile, MO's weighted average has now increased from 16% to 22.3% due to the higher resubmissions:
---
OKLAHOMA: OK only has a few carriers on the indy market total; here's what I had the state down as in early June:
The only major change is an ugly one: Blue Cross Blue Shield of OK, which was already looking for an ugly 51% average rate hike, resubmitted this to a whopping 76%. Ouch.

---
WEST VIRGINIA: In early August, I had West Virginia looking like so:

Like Oklahoma, Norris reports only one significant update for WV: CareSource appears to have beefed up their request from 39.3% to 49.8%, resulting in the statewide average moving up another 9 points:

So, what sort of impact do all 7 of these state updates have on my national spreadsheet? Well, not much, actually. Remember that all of these states combined make up only around 24.7 million people, so their impact nationally is pretty small. Plus, the weighted average either stayed the same or even went down for some of them, cancelling out some of the increases for the other states. Still, it does move the requested rate hike needle up a bit...from around 24.3% to 24.6%.