.@NYStateofHealth keeping Open Enrollment running thru May 11th (& possibly beyond) after all?
Wed, 02/01/2023 - 5:14pm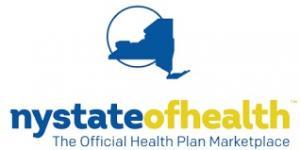 As I noted this morning, while the 2023 ACA Open Enrollment Period has now officially ended in all states, there's still a lot of Special Enrollment Period (SEP) exceptions for people who have Qualified Life Experiences (QLEs) such as losing their current coverage, turning 26, moving, getting married/divorced, giving birth and so forth.
There's also year-round enrollment available for members of Native American tribes, as well as those eligible for Medicaid and the Children's Health Insurance Program (CHIP).
Finally, in most states, residents are eligible to enroll year-round as long as their income is below a certain threshold--usually 150% of the Federal Poverty Level (FPL), somewhat higher in some states, including New York, where residents earning. up to 200% FPL can enroll in the Essential Plan year-round.
Over the weekend, the Centers for Medicare & Medicaid Services (CMS) announced that they'll be launching an "Unwinding SEP" starting April 1st for Medicaid/CHIP enrollees who are kicked off of those programs due to the expiration of the federal pandemic Continuous Coverage provision. While anyone who loses Medicaid/CHIP coverage is already eligible for a 60-day SEP anyway, the "Unwinding SEP" would extend the deadline for those losing coverage to enroll for a whopping 16 months (through July 31, 2024).
Officially, this only applies to the 33 states hosted on the federal ACA exchange, but some state-based exchanges are likely to implement a similar policy as well.
All of which makes this announcement to healthcare brokers by New York State of Health (NY's state-based ACA exchange) more interesting (it was sent to me anonymously):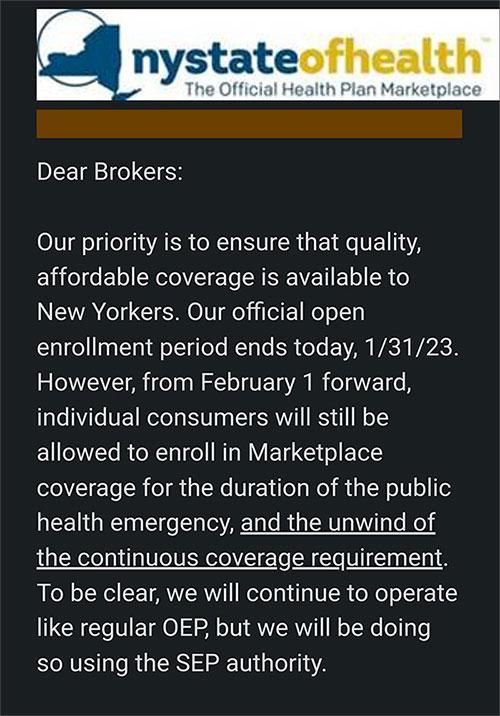 The wording says that they want to be "clear" but it's anything but that, at least from this snippet of text, anyway. Read without any further context, this makes it sound like NYSoH will be extending Open Enrollment for all residents (regardless of income/etc) from today February 1st all the way out until the end of the federal Medicaid Unwinding Period, presumably July 31st, 2024...essentially leaving enrollment in NYSoH policies wide open for another full 18 months.
Read another way, it could be interpreted as saying that enrollment will be wide open until either April 1st or May 11th of this year, at which point it would be narrowed down to only those who lose Medicaid/CHIP coverage via the #UnwindingSEP, as HealthCare.Gov is doing.
Since New York's Basic Health Plan (BHP) program (the Essential Plan) allows year-round enrollment for residents earning up to 200% FPL anyway, this probably won't impact that many people there regardless of which of these is the case--I'm assuming that the vast majority of New Yorkers who get the boot from Medicaid still earn less than 200% FPL, so it wouldn't change anything for them. And some of those who have seen their income rise over 200% FPL have presumably voluntarily switched to employer-sponsored coverage, aged into Medicare or whatever since then.
However, there are presumably some who are currently on Medicaid even though their income has risen over the 200% FPL threshold. I think this policy means that they'll be free to enroll in an ACA exchange Qualified Health Plan (QHP) at any point over the next 18 months, but I could be wrong.
Of course, the Continuous Coverage provision also apparently applied to BHP/Essential Plan enrollees as well, so there's likely a lot of those folks who the #UnwindingSEP would presumably apply to as well.
I can't find any reference to this post-OEP, end-of-public-health-emergency SEP anywhere on the NYSoH website yet, so I'd imagine details are still in the works.
I'll follow up here when I receive further clarification.
UPDATE: Via the same source, apparently the White House sent out their own notice clarifying NYSoH's message:
Special enrollment continues through 5/11/2023

NY State of Health has recently sent out an e-mail to brokers appointed with the marketplace, confirming that the SEP due to the COVID Public Health Emergency will continue.

This is the same arrangement that has been in place since the Public Health Emergency was initially declared back in 2020. No proof of SEP is required for submission, and effective dates go by the "15th of the month" rule.

Earlier this week, President Biden confirmed via official statement (Click here to read on http://Whitehouse.gov) that the Public Health Emergency declaration will be ending on May 11, 2023.

With the end of the Public Health Emergency, the SEP will end as well. Any individual submission from 5/12/2023 through 11/15/2023 will require proof of valid SEP.

While an end date has been stated, the government has the power to push it back if necessary. We will send out an update if any changes are announced.
I think this means that:
From Feb. 1st - May 11th, Open Enrollment continues in New York State for anyone
From May 11th onward, standard SEP rules (w/verification) apply as they normally would outside of Open Enrollment