Michigan: Preliminary avg. 2022 #ACA premium rate change: +4.5% indy market; +7.1% sm. group; UHC in, Total absorbed by Priority
Fri, 08/20/2021 - 11:53am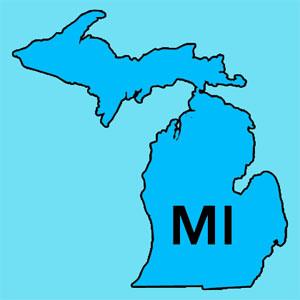 I'm gonna be posting mea culpas for a few days for missing important ACA-related announcements over the past few weeks.
Michigan's preliminary 2022 rate filings actually came out a solid month ago, but as noted above I'm way behind on my rate filing project this year:
Highlighting Michigan's increasingly competitive health insurance market, the Michigan Department of Insurance and Financial Services (DIFS) has reported that consumers will have more health plan options from an increased number of insurers on the Health Insurance Marketplace for the upcoming open enrollment period.

"As we look toward the end of the pandemic and beyond, it is critical that Michiganders are able to get the affordable, high quality health coverage they need for themselves and their families," said DIFS Director Anita Fox. "Consumers will have more options to choose from when shopping for health insurance coverage on the Marketplace during open enrollment later this year."

Open enrollment for 2022 coverage runs from November 1 through December 15, 2021, and Michiganders can obtain coverage by visiting the Health Insurance Marketplace or by calling 800-318-2596 (TTY: 1-855-889-4325). Consumers will be able to choose from 175 health plans on the Marketplace, 47 more than last year, offered by the following companies:

Blue Care Network of Michigan
Blue Cross Blue Shield of Michigan Mutual Insurance Company
McLaren Health Plan Community
Meridian Health Plan of Michigan, Inc.
Molina Healthcare of Michigan, Inc.
Oscar Insurance Company
Physicians Health Plan
Priority Health
United Healthcare Community Plan (new)
U.S. Health and Life Insurance Company (new)
Hmmm...United Healthcare jumping back into the ACA market isn't surprising; they're doing that in several states after bailing on over 30 states back in 2017. As for "U.S. Health & Life Insurance Co.", I've only seen them listed on the small group market before, but it looks like they're dipping their toes into the individual market now as well.
It's also important to note which insurance carrier isn't on the Michigan ACA market starting next year: Total Healthcare, which had around 11,800 enrollees as of spring 2020. However, it looks like this is simply due to Total being bought out by Priority Health a couple of years back (it took them a year or so to move all their enrollees and records over to Priority).
Priority Health had around 90,000 enrollees in spring 2020, and they're listed as having 110,000 a year later (see below), so I'm assuming those 11,000+ Total enrollees have since been moved under the Priority umbrella.
For the overall individual market, which includes off-Marketplace plans, 257 plans will be available, 52 more than last year. As always, DIFS encourages consumers to carefully shop around to find the best plan for themselves, their families, and their budget.

DIFS is responsible for reviewing all plans and rates to ensure compliance with state and federal laws. For the third year in a row, none of the individual market plan rate increases filed in Michigan have exceeded the federal rate review threshold of 15%. Overall, the average filed rate changes for individual plans range from a decrease of 2.7% to an increase of 8.8%.

The Michigan Health Insurance Rate Change Request Charts are posted on the DIFS website. When reviewing the charts, it is important to note that:

rate changes are an average percent change across all plans; some consumers will experience rate changes either greater or less than those in the chart;
an increase or decrease does not reflect how a health insurer's premiums compare to plans offered by other insurers; and
individuals who receive a tax credit that covers a portion of their premiums will experience rate changes that differ due to the tax credit calculation.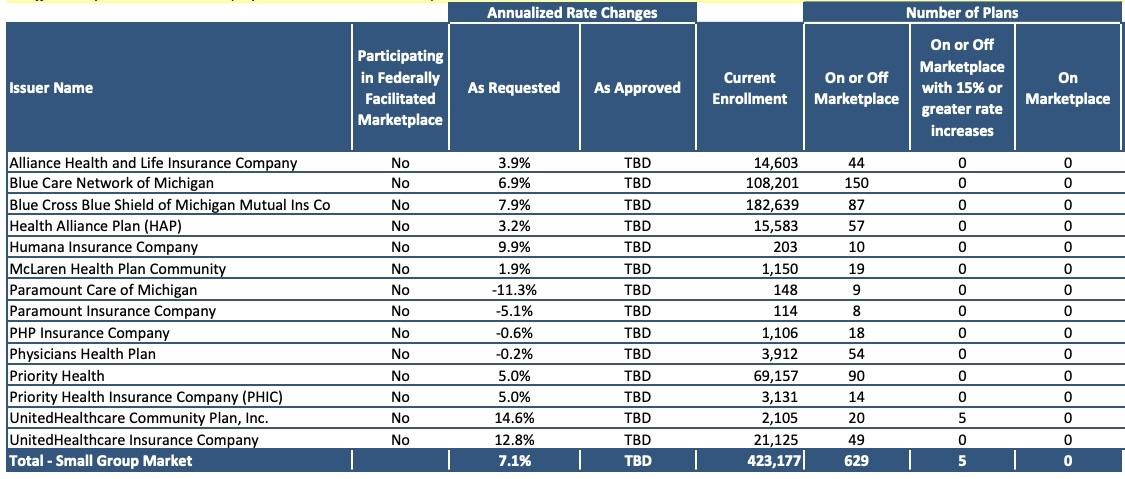 Here's what it looks like by my spreadsheet...the individual market matches up perfectly...
...while the Small Group market is off slightly; I have the weighted average down as 7.0% vs. 7.1%, though that could easily be due to minor rounding in the rate change requests.
What's more noteworthy is that several carriers are dropping out of Michigan's small group market: All Savers, National and, interestingly...U.S. Health & Life Insurance Co. Huh. I guess they're switching from small group to individual market plans. Hmmm. As for Total, as noted above, they were bought out by Priority which explains their removal: