Washington: @WAPlanFinder reports over 46,000 additional #ACA enrollees during 2021 SEP
Thu, 09/02/2021 - 3:46pm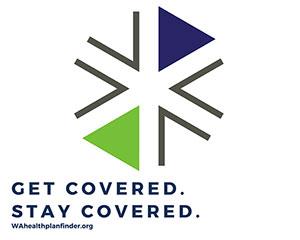 This just in from the Washington Health Benefit Exchange...
Record Numbers of Washingtonians Sign Up for Health Care Coverage During 2021 Special Enrollment Period

LATEST DATA SHOWS IMPACT OF AMERICAN RESCUE PLAN ACT SAVINGS. NEARLY HALF OF ALL CUSTOMERS PAY LESS THAN $100 PER MONTH.

Washington Health Benefit Exchange (Exchange) announced on Tuesday more than 57,000 Washingtonians signed up for health care coverage between February 15 and August 15 on the state's insurance marketplace, Washington Healthplanfinder. The Exchange opened a Special Enrollment Period in February in response to the COVID-19 Public Health Emergency. This allowed any individual in Washington the opportunity to apply for coverage or compare and upgrade their existing insurance.

Exchange CEO Pam MacEwan credits the surge in enrollments to increased savings available through the American Rescue Plan Act (ARPA). "These new premium subsidies are available to people across all income brackets in a way we've never seen before," MacEwan said. "It's no surprise that record numbers of Washingtonians signed up to take advantage of these savings."

More than 28,000 new customers signed up for coverage after May 6 when ARPA subsidies were implemented for Washington Healthplanfinder customers. This represents a 117% increase over the same time period in 2020 and a 160% increase compared to 2019.

For many customers, the savings they received were dramatic. More than 34,000 customers now receive health coverage for $1 per month or less, and nearly half of all Washington Healthplanfinder customers pay less than $100 per month. Meanwhile, approximately 23,000 middle income families (those with incomes over 400% of the federal poverty level) who were previously ineligible for federal savings saw their monthly premiums drop by nearly $200 per month on average.

In addition to record sign-ups and savings, the latest Special Enrollment Period saw continued interest among new customers in plans with standardized benefits and lower cost sharing known as "Cascade Care" plans. Over 40% of new customers selected a Cascade Care plan.
Hmmm...that's good news, I suppose, but it's important to keep in mind that there's actually two types of "Cascade Care" plans: "Cascade Standard" and "Cascade Select", for a total of three categories of ACA policies on the WA exchange:
Qualified Health Plans (QHPs)...policies which comply with ACA regulations offered by most carriers.
Cascade (Standard)...QHPs with standardized, enhanced services & lower deductibles.
Cascade (Select)...Standardized QHPs which are also public option plans.
During the regular 2021 Open Enrollment Period, 40% of new QHP selections were Cascade Care plans, but only 3% of them (1,114) were Cascade Select (ie, the Public Option) plans.
I'll take a look at the Cascade Care numbers below.
Several thousand customers took advantage of the opportunity to change plans and upgrade their coverage. Among customers who switched plans, 82% upgraded from a Bronze plan to a Silver or Gold plan, which increased their level of coverage and lowered their deductibles and cost sharing.

More detailed information is available online in the latest report from the Exchange: PHE Special Enrollment and American Rescue Plan Implementation Snapshot Feb 15-August 15, 2021.

These unprecedented savings will continue to be available during the next annual open enrollment period which begins November 1, 2021.

Reminders: Enrollment is offered year-round to individuals and families through Washington Apple Health (Medicaid). Customers enrolled in Apple Health will receive a notice of 60 days before the month they enrolled in or renewed their coverage last year.
OK, here's some additional details from the snapshot report linked to above:
Sign-ups During Public Health Emergency SEP (from Feb. 15 to Aug. 15):

57,000 Qualified Health Plan (QHP) customers signed up; 46,000 were new (1600/week new sign-ups)
Sign-ups overall are 8.5% higher than 2020, 10% higher than 2019

Sign-ups After ARPA Implementation (from May 6 to Aug. 15)

36,000 QHP customers signed up; 28,000 were new QHP customers (1900/week new sign-ups)
78% (22K) of new QHP customers are subsidized.
The lede says there were 57,000 "signups" during the SEP, but it looks like only 46,000 of them were new enrollees; the other 11,000 appear to be existing enrollees who upgraded their coverage, which is a good thing but doesn't really count as "signing up" in my view.
2019 is the more appropriate year to measure against in terms of a baseline, since 2020 included its own COVID Special Enrollment Period.
The Exchange automatically extended new ARPA savings to 138,000 existing, eligible customers after May 6, which lowered their premiums starting in June.

As of Aug. 15, 2021, 78% (173,000) of all customers now receive subsidies, up from 61% (130,000) pre-ARPA. Post-ARPA:

On average, subsidized customers are paying $100/month and receiving $400/month in subsidies.

Subsidized QHP customers over 400% of FPL (23,000) previously not eligible for subsidies, now pay nearly $200 less per month.
The bar graph included is kind of interesting...while enrollees did start selecting pricier exchange plans once their income exceeded 300% FPL, it really didn't go up that much; even the > 600% FPL population only averages around $566/month vs. the ~$480/month average for enrollees under 300% FPL. Of course, it's important to remember that before the American Rescue Plan, no one earning over 400% FPL would be eligible for any subsidies and would have to pay full price, which I'm sure plays a big factor: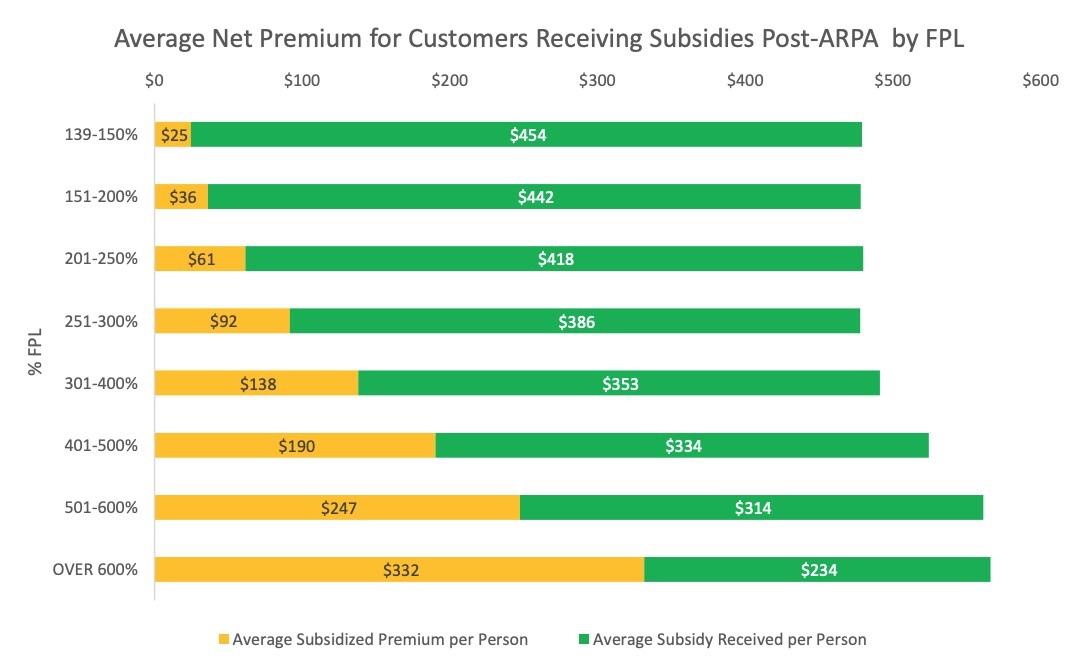 Post-ARPA: Premium Savings

ARPA subsidies significantly decreased customer premiums. Post-ARPA:

15% (34,000) of QHP customers across FPL bands are now paying $1 or less for their monthly premium (up from only 5% pre-ARPA).

Nearly half of all QHP customers pay <$100/month.
As for Cascade Care:
Since May 6, 2021, new customers continue to have strong interest in Cascade Care plans.

12,000 (44%) of new customers selected a Cascade Care plan.

Cascade Care customers now make up 22% of all QHP selections (37% growth since OE).
Hmmm...again, they don't break out the Cascade Select numbers, but assuming a similar ratio to the OEP total, it sounds like they probably make up perhaps 800 or so of the SEP enrollees, for a total Public Option enrollment of around 1,900 or so.
The Washington legislature has made some modifications to their Cascade Care/Public Option program for 2022, so we'll see if that has any effect on juicing up enrollment for Year 2.
Plan Selection and Switching

After May 6, over 4,200 existing customers changed plans; 82% of them changed from a Bronze plan.

Among customers who changed plans, 3,000 upgraded to a higher metal level.

93% of those who upgraded moved from Bronze to Silver, 4% moved from Bronze to Gold.

New customers post-ARPA were more likely to select Silver and Gold plans than during open enrollment.

Of the over 4,200 customers who changed plans after 5/6, 75% stayed with the same carrier.
Post-ARPA Implementation: Customer Demographics

Post-ARPA, new customers:

were more likely to be Black (4% compared to 3% during open enrollment) and/or Hispanic (13% compared to 12% during open enrollment).
were 10% more likely to be younger (under 35) than during Open Enrollment.

Overall, ARPA enrollment slightly changed overall age demographics, increasing the 18-34 age bracket from 24 to 26%, and decreasing the over 55 age bracket from 32% down to 30%. Other key demographic parameters remained consistent.

Subsidized customers over 54 are receiving the largest subsidies, on average paying $130/month and receiving $600/month in subsidies.