Missouri: And Then There Were Twelve: #YesOn2 passes!
Wed, 08/05/2020 - 12:44am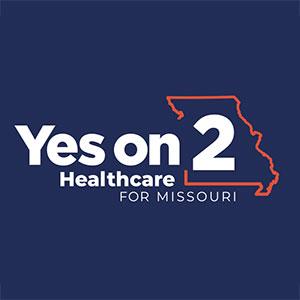 Five states held their primary elections for non-Presidential races yesterday, including Missouri...and Missouri also had another important measure on the statewide ballot:
On Tuesday, August 4, all Missourians will have the chance to vote Yes On 2 to bring more than a billion of our tax dollars home from Washington every year – money that's now going to places like California and New York instead.

By bringing our tax dollars home, we can protect thousands of frontline healthcare jobs, help keep rural hospitals open, and deliver healthcare to Missourians who earn less than $18,000 a year. That includes thousands of veterans and their families, those nearing retirement, working women who don't have access to preventive care, and other hardworking Missourians whose jobs don't provide health insurance.

Medicaid expansion closes that coverage gap and ensures that hardworking Missourians will have access to affordable healthcare. It helps people nearing retirement who have lost their insurance, those with chronic medical conditions, and all Missourians who earn less than 138 percent of the federal poverty level (that's less than $18,000 for an individual or $30,000 for a family of three). Medicaid expansion would provide healthcare to more than 230,000 Missourians - including more than 50,000 parents and 18,000 near retirees.
Late last night, the race was called:
We did it!

Missouri just voted #YesOn2 to expand Medicaid, and now, because of YOUR vote, over 230,000 hardworking people will have access to life-saving healthcare! 

— YesOn2: Healthcare for Missouri (@YesOn2MO) August 5, 2020
@charles_gaba Decision Desk HQ calls it for Medicaid Expansion. It will narrow but St Louis precincts brought this referendum home.

Yes 658,703     53.16%
No 580,348     46.84%

— barackfan (@barackfan1) August 5, 2020
The final numbers will indeed be closer (probably more like 52/48 or so), but the point is that it passed...just as it did in Oklahoma five weeks earlier.
Just as it did in Utah in 2018.
Just as it did in Nebraska in 2018.
Just as it did in Idaho in 2018.
That's five red states in a row where Republican elected officials said "no" but the people said "yes" to providing healthcare coverage to hundreds of thousands of their fellow residents.
It turns out that most people want affordable healthcare coverage after all...especially in the middle of a deadly global pandemic. Who'da thunk?
Mazel Tov to Missouri!
This leaves just twelve states which still refuse to budge on expanding Medicaid under the Affordable Care Act:
Alabama
Florida
Georgia
Kansas*
Mississippi
North Carolina*
South Carolina
South Dakota
Tennessee
Texas
Wisconsin**
Wyoming
*Kansas and North Carolina both have Democratic Governors who have been desperately trying to get Medicaid expansion through, but who have been stymied by the GOP-held state legislatures.
**Wisconsin legislators refuse to fully expand Medicaid (for residents earning up to 138% of the Federal Poverty Level), but the state did expand traditional Medicaid to those earning up to 100% FPL, so there's no "Medicaid Gap" either. It's not an ideal situation at all, but it's a hell of a lot better than the other 11 states on the list.