Pennsylvania: @PennieOfficial hits 320,000 QHPs thru 12/15; you still have time to #GetCovered!
Tue, 12/22/2020 - 12:45pm
They haven't issued a press release, but the December board meeting PDF for Pennsylvania's new ACA exchange, Pennie, breaks out their first Open Enrollment Period numbers in detail, and they're doing pretty well so far:
Eligibility and Enrollment Platform

No major system, eligibility or enrollment blocking issues identified to date
Issues that have been identified are resolved in a timely fashion and GetInsured and KPMG have worked collaboratively to test and successfully deployed one minor patch releases as well as the December release

Call Center

Telephony/IVR issues occurred on December 14. Limited queue functionality was deployed and will remain in place until performance problems are remedied. Service levels on December 14 and 15 triggered a broad-based exceptional circumstance Special Enrollment Period which runs until December 22 granting coverage effective January 2021.

Department of Human Services Coordination

Continuing smooth coordination – over 39,000 application referrals over to Medicaid and over 18,000 referrals from Medicaid office to Pennie
Weekly calls to talk through and troubleshoot questions and issues are ongoing

Insurers

Error identified in a plan filing related to plans offered in Centre County resulting in a change to 2nd lowest cost silver plan and therefore eligibility. All customers impacted have been communicated with by their insurer and Pennie.
Enrollment and reconciliation process kicked off in early December and initial monthly reviews are being held with each insurer throughout the month.
Enrollments and payments continue to be successfully transmitted to insurers.

Marketing and Communications

Strong presence of customers on website (~1.9M page views at Pennie.com)
Increased earned media push including 5 press releases/media alerts, 2 press conferences (one with the Governor), over 25 media interviews, more than 25 virtual presentations for external events
Heavy focus on direct controlled communications tailored to the audience including 50+ email campaigns
Hundreds of social media and partner newsletter mentions
More than 11,000 calls for customers and over 500 to brokers made by the Customer Success team to specialty populations

Assisters

Surge in appointment requests with assister, issued a Special Enrollment Period to those unable to make an appointment in advance of December 15
Have seen COVID-19 impacts on in-person enrollment events, but assister network has been able to transition to virtual appointments and events

Brokers

Over 70,000 enrollments with broker designations
Over 2,500 brokers have claimed their accounts
Decertification process has occurred for migrated brokers who did not complete requirements. Ample outreach over the previous 6 months, including last push email and outbound dial campaign conducted in advance.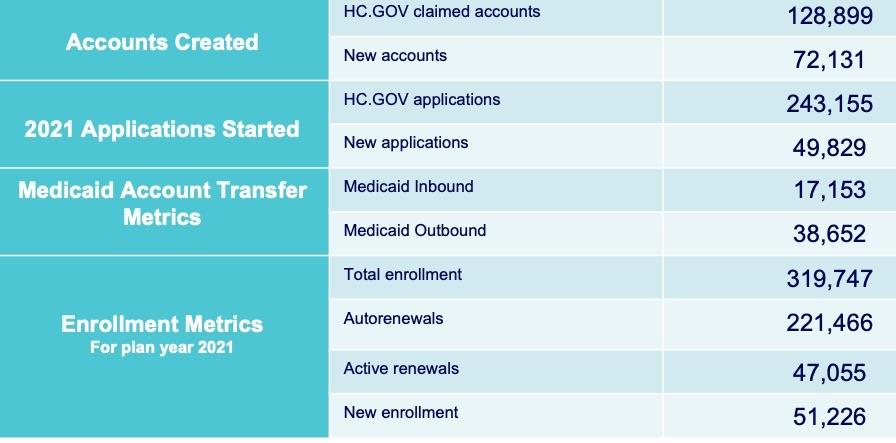 During the 2020 Open Enrollment Period, Pennsylvania enrolled 331,825 people, so they're technically 3.6% below that as of the same date...except that operating their own exchange means they were able to extend their Open Enrollment Deadline out farther. This doesn't just mean people have more time to enroll, it also means that there isn't the same last-minute surge on 12/15 that states with that deadline have, so it's not reasonable to assume they're "doing worse" as of the same point in time.