BREAKING: Trump signs executive order giving women the right to vote!
Fri, 08/07/2020 - 9:14pm
UN. F*CKING. BELIEVABLE.
I don't often swear on this site (and almost never in the lede of the blog post, but this is the most sickening bit of gaslighting I've seen in awhile, which is saying something for the Trump Administration.
About an hour or so ago, Trump held a "press conference" in which he announced that he's supposedly signing an executive order to do exactly what the Patient Protection & Affordable Care Act, which he's currently suing to have struck down, ALREADY DOES.
So how is this being reported by certain "news media" outlets? Let's take a look: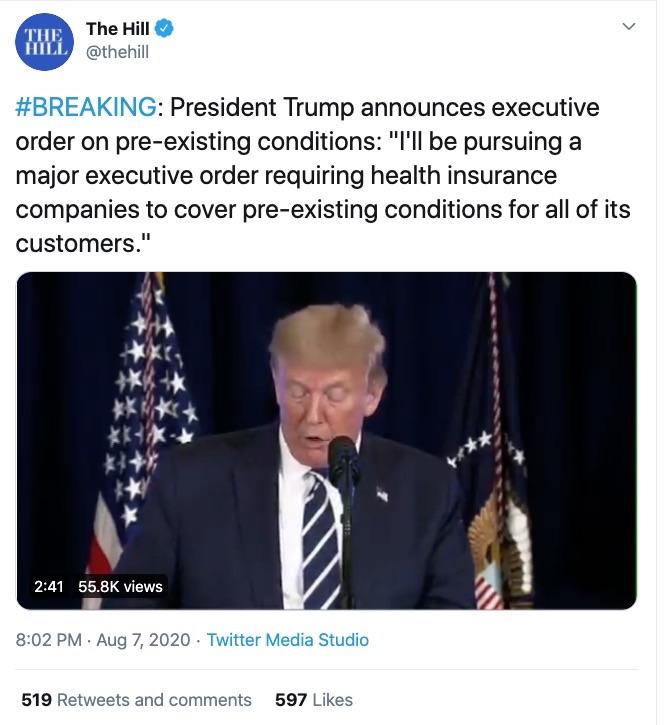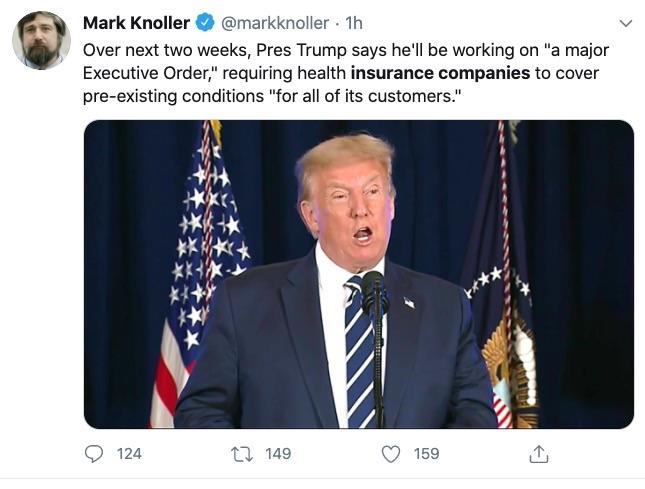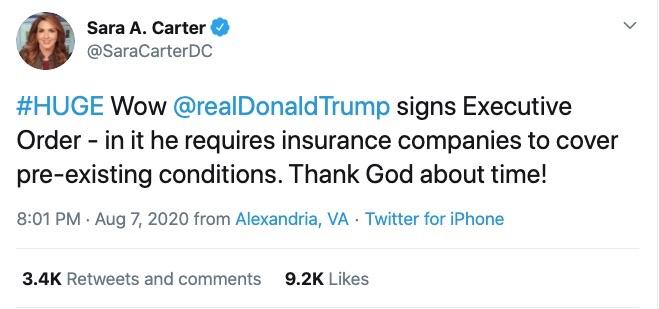 I just can't with these people.
Once again, for the record:
THE AFFORDABLE CARE ACT ALREADY REQUIRES HEALTH INSURANCE CARRIERS TO COVER PRE-EXISTING CONDITIONS, AND DONALD TRUMP AND THE REPUBLICAN PARTY ARE CURRENTLY IN FEDERAL COURT TRYING TO STRIKE DOWN THE AFFORDABLE CARE ACT.
ANY reporter/media outlet which reports/tweets about Trump's XO "ordering" insurance companies to "cover pre-existing conditions" without mentioning that THE ACA ALREADY DOES THIS and TRUMP IS SUING TO STRIKE DOWN THE ACA is guilty of journalistic malpractice.
Oh yeah, and of course there's also this...
This was six weeks ago. Is @realDonaldTrump going to instruct the Solicitor General to withdraw this brief and file a new one arguing for upholding the pre-existing protections? Or is he just telling another outright lie?

— Max Kennerly (@MaxKennerly) August 8, 2020
The Trump administration SCOTUS brief includes a section explicitly arguing that the ACA's preexisting condition protections should be killed. 

A. The Individual Mandate Is Inseverable From The Guaranteed-Issue And Community-Rating Provisions 1. Even though the guaranteed-issue and communityrating provisions are constitutionally valid when standing on their own, it is evident that Congress would not "have wanted" them to stand without the individual mandate. See NFIB, 567 U.S. at 587 (opinion of Roberts, C.J.).

a. That these provisions are inseverable is evident from the enacted text of the ACA, where Congress expressly found that the individual mandate is essential to the operation of the guaranteed-issue and communityrating provisions. See Pet. App. 209a ("Those findings are not mere legislative history—they are enacted text that underwent the Constitution's requirements of bicameralism and presentment."). "[I]f there were no requirement" to purchase insurance, Congress concluded, "many individuals would wait to purchase health insurance until they needed care." 42 U.S.C. 18091(2)(I). But "[b]y significantly increasing health insurance coverage," the mandate, "together with the other provisions of this Act, will minimize this adverse selection and broaden the health insurance risk pool to include healthy individuals, which will lower health insurance premiums." Ibid. For that reason, Congress concluded, the individual mandate is "essential to creating effective health insurance markets in which improved health insurance products that are guaranteed issue and do not exclude coverage of pre-existing conditions can be sold." Ibid. (emphasis added); see 42 U.S.C. 18091(2)(J) ("The requirement is essential to creating effective health insurance markets that do not require underwriting and eliminate its associated administrative costs.").

— Sahil Kapur (@sahilkapur) June 26, 2020