Why hasn't HealthCare.Gov launched a #COVID19 SEP?. The reason seems to be red & blue.
Tue, 03/31/2020 - 1:14pm
Three weeks ago I reported that there were growing calls from many quarters for CMS Administrator Seema Verma and HHS Secretary Alex Azar to open up a federal Special Enrollment Period at HealthCare.Gov tied specifically to the COVID-19 pandemic.
Over the next week or so, more and more of the 13 state-based ACA exchanges announced just such a COVID-19 SEP; eventually 12 out of 13 state-based exchanges did so (Idaho is the odd man out), and eventually even the health insurance industry (which is normally opposed to allowing exceptions to the official Open Enrollment Period) were onboard with a COVID SEP. Two weeks ago I was 95% certain that HC.gov would be announcing one at any moment.
And then...nothing. Nothing last week. Nothing yesterday. Nothing as of this writing.
At first the reason seemed to be technical: As I understand it, HealthCare.Gov's main call center is in Douglas County, Kansas as their call center contractor...and Douglas County has been effectively shut down by the COVID-19 crisis through at least mid-May (Kansas Governor Laura Kelly later issued a statewide "stay at home" executive order which started yesterday).
However, this didn't make much sense to me since HC.gov is still open for normal Special Enrollment Period enrollees year-round regardless. An average of between 6,000 - 8,000 people enroll in ACA exchange policies every day during the OFF-season due to standard Qualifying Life Events like losing existing coverage, moving, getting married/divorced, giving birth/adopting a child, getting out of prison and so on. Yes, enrollment in a COVID-specific SEP would be expected to increase dramatically, but it's not like the whole system is shut down at the moment.
OK, so what's the holdup? It's been three weeks now...certainly they've had plenty of time to take care of any technical or logistical issues, right? After all, 12 of the 13 state-based exchanges seem to be having no problems with this (in fact, Connecticut's is set to end in just two days...but don't be surprised if they announce a further extension):
Well, today I received a likely answer which is depressing but not surprising at all: According to my sources, there isn't any technical, logistical, personnel or support reasons why HealthCare.Gov couldn't launch a formal COVID-19 Special Enrollment Period at any time. The only logical conclusion is that the White House has decided not to allow one for political reasons.
Take a look at the top 15 states/territories ranked (as of yesterday) by confirmed COVID-19 cases per capita and deaths per capita. Notice anything?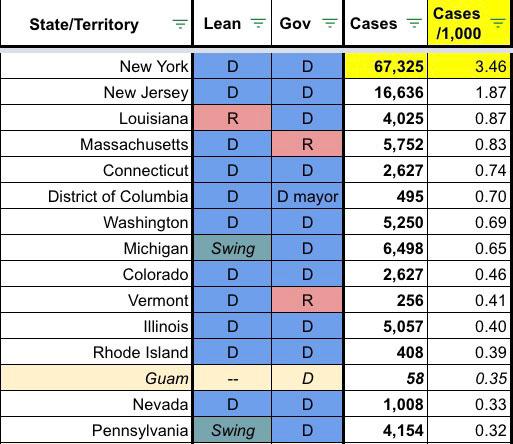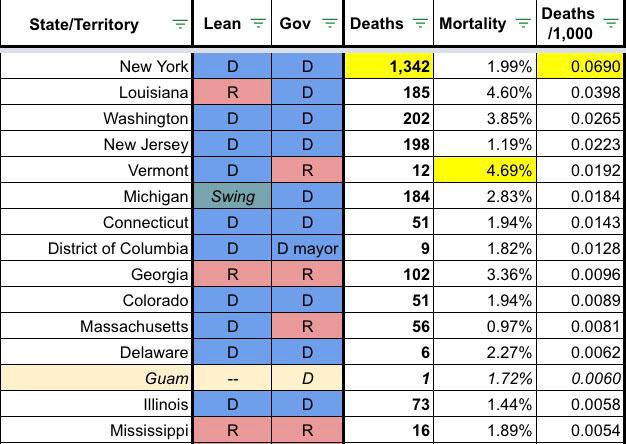 The first fifteen ranked by cases per capita are either Democratic-leaning, have a Democratic governor or are irrelevant from an Electoral College perspective.
When ranked by deaths per capita, two red states do show up (Georgia and Mississippi), but they're new additions. Watch for Donald Trump to suddenly become very concerned with their plight in the near future as their numbers grow.
In case you think I'm being too cynical about this, I present the following:
First, via the Washington Post:
Anecdotally, there are wide differences, and they do not appear to follow discernible political or geographic lines. Democratic-leaning Massachusetts, which has had a serious outbreak in Boston, has received 17 percent of the protective gear it requested, according to state leaders. Maine requested a half-million N95 specialized protective masks and received 25,558 — about 5 percent of what it sought. The shipment delivered to Colorado — 49,000 N95 masks, 115,000 surgical masks and other supplies — would be "enough for only one full day of statewide operations," Rep. Scott R. Tipton (R-Colo.) told the White House in a letter several days ago.

...Florida has been an exception in its dealings with the stockpile: The state submitted a request on March 11 for 430,000 surgical masks, 180,000 N95 respirators, 82,000 face shields and 238,000 gloves, among other supplies — and received a shipment with everything three days later, according to figures from the state's Division of Emergency Management. It received an identical shipment on March 23, according to the division, and is awaiting a third.

"The governor has spoken to the president daily, and the entire congressional delegation has been working as one for the betterment of the state of Florida," said Jared Moskowitz, the emergency management division's director. "We are leaving no stone unturned."

President Trump repeatedly has warned states not to complain about how much they are receiving, including Friday during a White House briefing, where he advised Vice President Pence not to call governors who are critical of the administration's response. "I want them to be appreciative," he said.
The worsening coronavirus outbreak may be stretching the limits of the U.S. health care system and overwhelming state governments, but that isn't deterring a group of 18 state attorneys general from plowing ahead with a lawsuit that could overturn the Affordable Care Act within a year—a move that could disrupt the health care system at a time of deep crisis.

This fall, Texas Attorney General Ken Paxton is slated to argue in the U.S. Supreme Court on behalf of 17 Republican attorneys general—and against 21 Democratic attorneys general—that Obamacare is unconstitutional and must be struck down immediately.

Representatives for five of those attorneys general—from the states of Arkansas, Georgia, Mississippi, Missouri, and Tennessee—confirmed to The Daily Beast that the coronavirus outbreak has not changed their plans to try and kill the health care law as parties to the case of Texas v. California. Their steadfastness comes even as their states are beginning to feel the acute impact of the coronavirus' spread.
Oh, and then there's this:
NEW: @NPRKelly just asked @SeemaCMS if she would create a federal special enrollment period right now so people who need health coverage could get a @HealthCareGov plan, and she dodged:

"We continue to look at that."

— Selena Simmons-Duffin (@selenasd) March 31, 2020
The more people who come to rely on the Affordable Care Act--especially the ACA exchange operated by the Trump Administration itself--the more difficult it's going to be to justify the Trump Administration continuing to support a lawsuit with the sole purpose of attempting to have the ACA struck down by the Supreme Court...which they're continuing to try and do even in the middle of a pandemic.
It's important to understand that it's not the CCIIO (Center for Consumer Information and Insurance Oversight...that's the CMS division which actually operates HealthCare.Gov) which is to blame here. By all accounts they're trying to do their jobs properly, and again, I see no technical, logistical or operational reason why they wouldn't be able to do so. That responsibility lies at the top of the food chain: CMS Administrator Seema Verma; HHS Secretary Alex Azar; and Donald J. Trump.
I should note that even in the 38 states hosted by HealthCare.Gov, millions of people already qualify for a "normal" Special Enrollment Period as it is via the Qualifying Life Events I mentioned earlier...and with "losing your current employer-based coverage" being a big thing right now, that's pretty important. However, QLE SEPs generally require you to provide documentation of your status (layoff notice, etc), which can be cumbersome and which, sadly, is likely clogging up the system right now. An open-ended SEP is what's really needed.