2020 ACA Open Enrollment: How's YOUR state doing compared to last year?
Sat, 12/21/2019 - 11:56am
The lastest 2020 Open Enrollment Period data was released last week by most of the exchanges, including HealthCare.Gov, Covered California, Connect for Health Colorado, Access Health CT, Maryland Health Connection and the Washington HealthPlan Finder. When combined with the existing data from the MA Health Connector, MNsure, New York State of Health and the brand-new Nevada Health Link, we should now have over 95% of the total 2020 Open Enrollment QHP selections locked in.
Of course, there's still no data whatsoever yet from two states where the final deadline has passed (Idaho and Vermont) or from DC or Rhode Island, where Open Enrollment is still ongoing. Open Enrollment is also still happening in California, Colorado, Connecticut, Massachusetts, Minnesota, New York and Washington State.
Finally, even in the 38 states hosted on HealthCare.Gov, there's still a small number of enrollments left to be added (midnight - 3am EST on the final extended deadline day, plus some number of people who left their contact information during the original Sunday 12/15 deadline). These, however, will likely be cancelled out by a reduction in the final tally due to last-minute cancellations, application rejections and so forth.
With all that in mind, here's a state-by-state breakout showing where things stand as of yesterday, December 20th. The states have been sorted from worst-performing to best (vice-versa for the bar graph).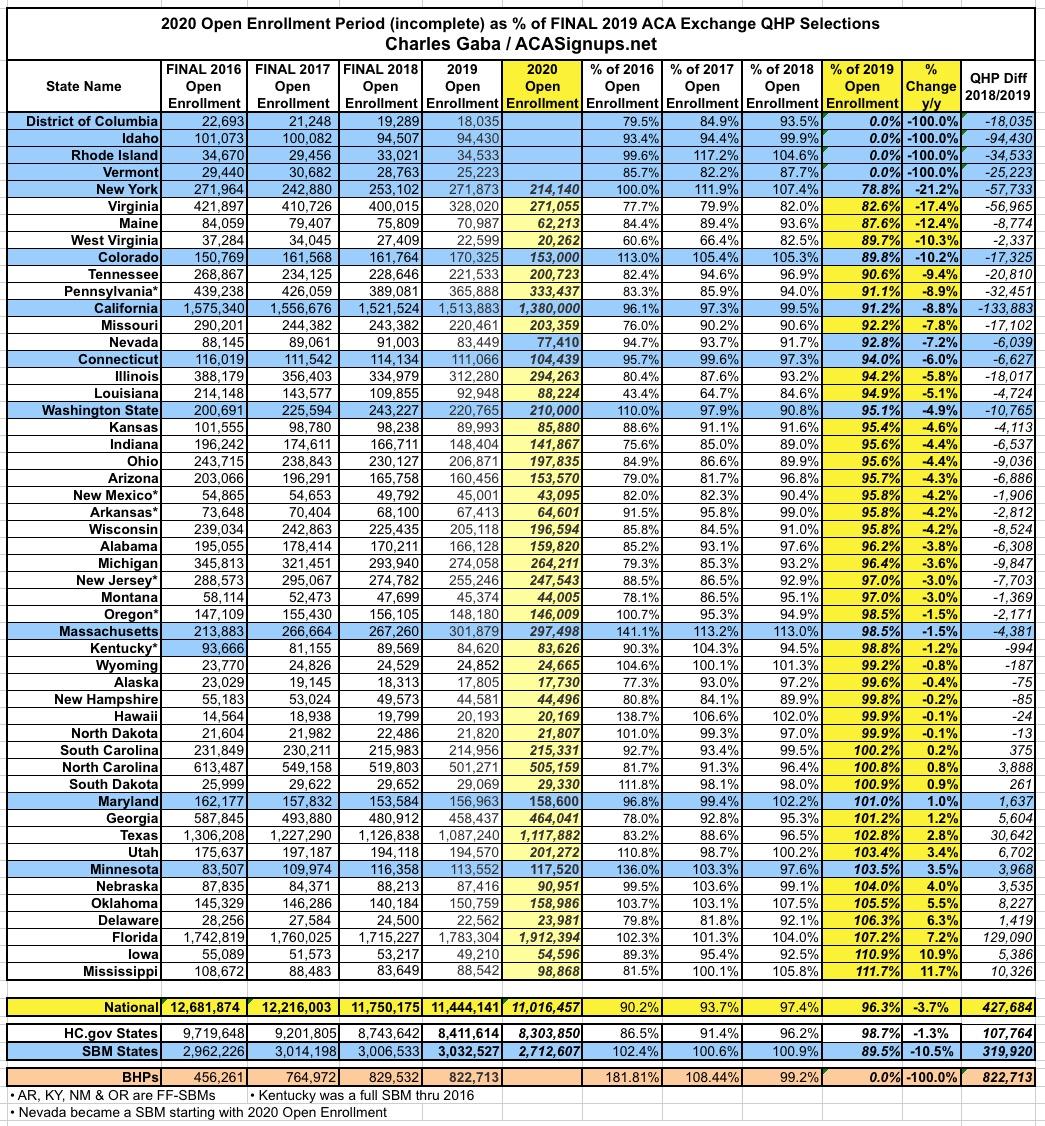 On the surface, these make it look like the state-based exchanges (in blue) are performing worse than the HC.gov states, but obviously that's misleading; four of them don't have any data entered yet, for starters. The state exchanges have actually been outperforming the federal exchange for years, and I don't expect 2020 to be any exception.
A couple of things do stand out already among the HC.gov states, however: Mississippi and Iowa are leading the field, outperforming last year by nearly 12% and 11% respectively, both for reasons unknown. Iowa is seeing a significant unsubsidized premium drop, which might account for it, but I have no clue what's going on in Mississippi...the only change there was the addition of a new carrier, but that doesn't seem to have impacted the benchmark premiums or "spreads" by much.
The other states doing better than last year include Florida, Delaware, Oklahoma, Nebraska, Utah, Texas, Georgia. South Dakota and North Carolina. In addition, the only state-based exchange which has a) completed Open Enrollment and b) provided their final enrollment data, Maryland, is also up 1% year over year.
UPDATE 12/24/19: I've updated both the table and graph to include the final numbers from Minnesota and Nevada. MN is up 2.2% year over year. Nevada is down 7.2%, but that's not unexpected given that they split off of the federal exchange onto their own platform this year; some migration loss was likely to happen.
Officially, the 10 state-based exchanges which still have data to report (8 of which still have Open Enrollment ongoing as of this writing) will have to collectivley add another 320,000 enrollees to beat last year's total...but again, that doesn't account for Nevada shifting from HC.gov to a state-based exchange, so it's really more like 404,000 collectively. The slight overperformances in MN & MD have been cancelled out by NV's underperformance, so here's the shortfalls which will have to be made up:
CA: 134,000
CO: 17.400
CT: 6,700
DC: 18,000
ID: 94,500 (very unlikely as they're expanding Medicaid...if anything, I expect ID to be down perhaps 10,000 this year)
MA: 4,400
NY: 58,000
RI: 34,600
VT: 25,300
WA: 10,800
At the opposite end of the spectrum, Virginia and Maine are bringing up the rear...for a pretty simple reason: Both states expanded Medicaid this year, meaning a significant chunk of their lower-income exchange enrollees are instead being shifted over to Medicaid. Virginia actually expanded the program last year, but it takes two years for the full transition to complete, as I learned a few years back when Louisiana expanded Medicaid mid-year. I expect the same thing to happen in Idaho, which also expanded Medicaid...as soon as they release their final data.
Other states doing poorly compared to last year include West Virginia, Tennessee, Pennsylvania and Missouri. Again, I don't know of any specific reason why these states are falling so short any more than I know why Florida, Delaware, Oklahoma or Nebraska are ahead of the game.
Anyway, I'll update this chart & table a few more times from now until January 31st as the remaining data comes in.