Michigan: Ugh. New report projects Medicaid work requirements will kick up to 125,000 MORE off their coverage than previously thought
Fri, 06/21/2019 - 5:05pm
Various healthcare wonks, including myself, have been warning for years that imposing work requirements on Medicaid enrollees would be pointless, ineffective, wasteful, expensive and cruel.
Several studies, including this one from just the other day, have driven home this point clearly: Adding work requirements to Medicaid expansion enrollees serves no useful purpose other than to kick tens of thousands of people off of their healthcare coverage (which, of course, is the whole point from the POV of those who add the requirements).
As for the one positive-sounding goal (increasing employment) which supporters always use to try and justify them, that's a complete joke:
The first major study on the nation's first Medicaid work requirements finds that people fell off of the Medicaid rolls but didn't seem to find more work.

Since Arkansas implemented the nation's first Medicaid work requirements last year, a new study published in the New England Journal of Medicine has found, Medicaid enrollment has fallen for working-age adults, the uninsured rate has been rising, and there has been little discernible effect on employment.

The research appears to confirm some of the warnings from Medicaid advocates who opposed the Trump administration's approval of work requirements in Arkansas and other states. People are losing Medicaid coverage, often as a result of confusion rather than failure to meet the work requirements, but they aren't finding jobs and getting insurance that way. They are simply becoming uninsured.
Michigan expanded Medicaid under the ACA without including work requirements or other bureaucratic strings back in 2014, and since then between 640,000 - 680,000 low-income Michiganders (it varies from week to week as people gain or lose other coverage) have had fairly comprehensive, extremely low-cost healthcare coverage with minimal fuss & bother...
...until last year, when it was time to renew the original 5-year Medicaid expansion waiver, so the GOP-controlled state legislature decided to tack on Trump Administration-approved work requirements in spite of the fact that there's tons of evidence that the vast majority of those on Medicaid already either work, are in school, care for a sick/infirm relative or are otherwise engaged in reasonable activities making the reporting requirement absurdly burdensome and pointless...as well as the requirements being on shaky legal ground at best.
In February, a study by the Manatt Health found that between 61,000 - 183,000 of those ~650K will likely get the boot once the work requirements are added starting on January 1, 2020, regardless of whether they're complying with the requirements or not, because the claims that this is supposed to goad people into "pulling themselves up by their bootstraps" is a load of horse crap. The point is to kick people off Medicaid in order to "save" the state money.
Unfortunately, Michigan Dems who oppose the requirements have their hands mostly tied. They're trying to minimize the damage the best they can, and have somehow shamed/pressured the GOP leaders into making the reporting requirements slightly less onerous...but that really amounts to just nibbling around the edges.
The new 5-year waiver was signed into law by GOP Gov. Rick Snyder last year and approved by the Trump Administration...and while Michigan did elect a Democratic Governor who opposes the requirements in Gretchen Whitmer and make gains in both the state House and Senate, both still remain firmly in the hands of the Republican Party, which has no intention of reversing themselves.
Fortunately, according to an analysis by U of M law professor Sam Bagenstos, Gov. Whitmer might be able to mitigate the damage:
..For now, Gov. Whitmer is stuck with the work requirement. But she does have room to implement it in a way that blunts its worst harms. Indeed, if she makes the right choices, she could protect 70,000 or more Michiganders from being thrown off the rolls by that requirement.

...To solve this problem, exemptions from Michigan's new work requirement must, so far as possible, be determined automatically by state officials — without any need for application or certification by the individual beneficiaries.

...But the statute does not limit the automatic exemptions to those that it specifically enumerates. It provides that, when the Michigan Department of Health and Human Services implements the work requirement, the requirement "must include, but is not limited to," the eligibility standards and exemptions listed in the legislation.

...If MDHHS were to administratively exempt individuals in these counties from the work requirement, the high-end estimate is that only about 109,000, instead of 183,000, people would be thrown off the rolls. That would still be a substantial harm, but it would potentially protect over 70,000 people from losing their Medicaid lifeline.
Of course, the exact number of enrollees Gov. Whitmer might be able to save isn't known, but I certainly hope she pushes it as far as possible...especially given a new analysis by the Commonwealth Fund which was just released today:
If these projects are fully implemented, we estimate that approximately 589,000 to 811,000 people would lose their Medicaid coverage after 12 months. This amounts to about one-quarter to one-third of the 2.5 million people who would be subject to the new rules, and includes 128,000 to 184,000 just in Kentucky and Arkansas combined. These are losses only associated with the work requirements and do not account for other elements like monthly premiums or new paperwork requirements that may trigger additional losses.

...HHS has encouraged states to impose work requirements using Section 1115 demonstration projects to test the claim that they would improve health, employment, and incomes. In more than 50 years of prior policy, work has never been a condition of Medicaid eligibility.

...Most adult Medicaid beneficiaries work or are limited in their ability to work because of health problems, schooling, child care, or other needs. Many who would lose Medicaid eligibility are working or trying to work, but are unable to comply with the rules because they face major barriers to steady employment or cannot navigate the procedural barriers.
The study goes into detail about the methodology utilized...
Based on prior analyses of work requirements in SNAP and Arkansas and variations in policies summarized above, we estimate that coverage losses will range from a low of 15 percent to 20 percent of the target population in Utah to a high of 30 percent to 45 percent in New Hampshire (Table 2). We do not estimate losses for Wisconsin because the state intends to disenroll individuals not meeting the work requirements for 48 months, while our analysis focuses on effects in the first 12 months.

We estimated the size of the target population (i.e., the number of Medicaid enrollees who may have to meet or show an exemption from the new work requirements, for each state). The target population include those who fall into the age range and Medicaid eligibility category (e.g., expansion or traditional parents) required to complete work activities, according to state policies. Beneficiaries outside the specified eligibility categories or above the age range should not be impacted. We obtained data from state websites on the number of Medicaid beneficiaries in the specified eligibility category or categories as of April or May 2019. Most states with approvals are applying the requirement to expansion adults only. Indiana is also including very low-income parents eligible for Medicaid under traditional criteria. Wisconsin has not implemented an ACA Medicaid expansion and is applying the requirement to childless adults eligible under a separate waiver (BadgerCare). Since Utah's partial expansion just began in April, actual enrollment is not yet available. Utah estimated that 70,000 to 90,000 adults would participate under its waiver.

The state caseload data do not specify enrollment for the target age ranges. To account for this, we estimated the proportion of nondisabled Medicaid enrollees in the target range (e.g., 19–49) among those ages 19–64, using 2016–2017 American Community Survey data obtained from the Minnesota Population Center. We applied this proportion to state-reported enrollment data. We estimate that the total number of beneficiaries likely to lose coverage is 589,000 to 811,000 (Table 2)
Here's their bottom line: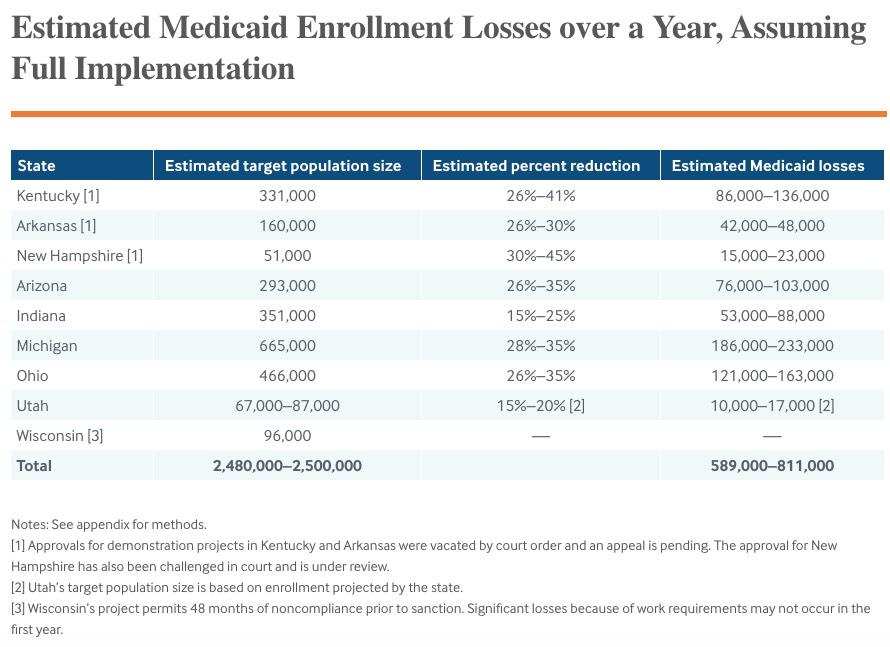 Yes, that's right...the study projects that the number of Michiganders who will likely lose coverage next year alone are 27% - 200% higher than Manatt projected (which itself was already 3x higher than the Michigan House Fiscal Agency had previously projected, I should note). In sheer numbers, that's between 50,000 - 125,000 more enrollees being thrown under the bus.
The projections in Utah may be the smallest of the nine states in the study, but that's also perhaps the most insulting, since Utah is one of three states where Medicaid was cleanly expanded via a statewide ballot initiative (that is, the voters made it clear they didn't want work requirements or other such hurdles gunking things up)...only to have the state legislature ignore the voters and insist on adding a bunch of crap to the program anyway.