Red Alert: #TexasFoldEm lawsuit set for oral arguments Sept. 10th
Wed, 08/15/2018 - 9:14am
I haven't really written much about the idiotic (but incredibly dangerous) #TexasFoldEm lawsuit in over a month, but it just jumped back into the news in a big way:
Oral arguments have been scheduled for Sept. 10 in a Texas lawsuit seeking to strike down Obamacare as unconstitutional.

The case was filed in February by 20 Republican state attorneys general. They're seeking a preliminary injunction halting enforcement of the federal health care law.

The Trump administration has partly sided with the plaintiffs in seeking to strike down the Affordable Care Act's insurance protections, including the prohibition on denying coverage to individuals with pre-existing medical conditions.

The lawsuit is certain to factor in the mid-term elections. Democrats have already pilloried Republicans for trying to eliminate one of the most popular provisions of Obamacare. Polling shows widespread support for pre-existing condition protections across party lines.

The arguments are scheduled to take place at 9:30 a.m. before Judge Reed O'Connor.
As a reminder, here's the entire #TexasFoldEm argument in a single image: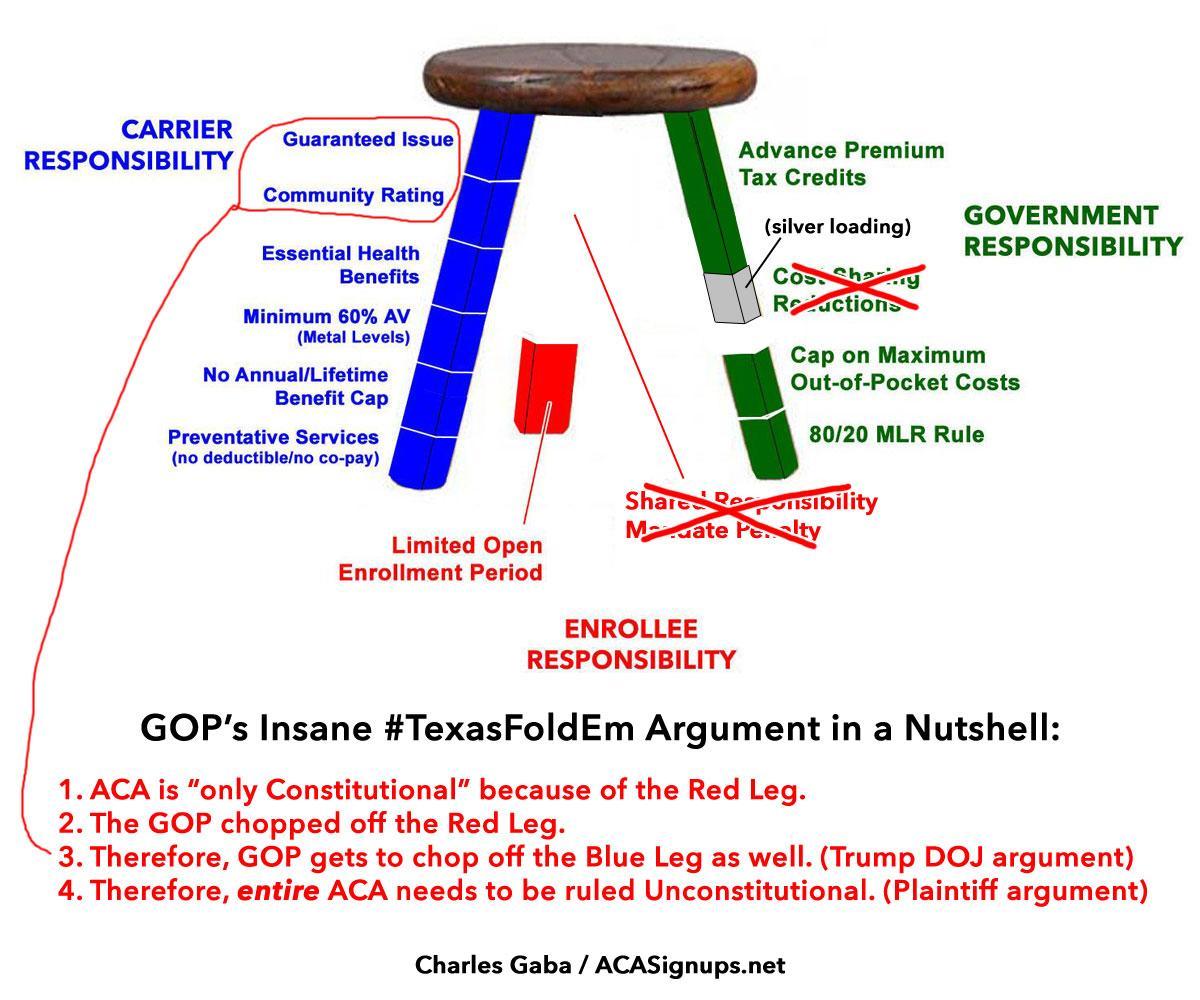 Depending on how this plays out, here's what this could mean:
10 million people losing individual market healthcare coverage
15 million people losing Medicaid healthcare coverage
130 million people with pre-existing conditions losing coverage protection if they're ever faced with buying coverage on the individual market.
Young adults age 19-26 would no longer be allowed to stay on their parents' coverage
The return of annual/lifetime coverage limits
The return of discrimnatory pricing for women
No more limits on out-of-pocket expenses
The return of the Medicare Part D donut hole
No more limits on insurance carrier price gouging
No more protections against being kicked off your policy for forgetting about a single doctor's appointment or prescription from years earlier (rescission)