Michigan: Silver loading...and here's just HOW MUCH Silver is being loaded
Sat, 10/14/2017 - 1:08am
Several healthcare wonk colleagues and I have been carefully piecing together the CSR sabotage price loading strategies for every state over the past week or so. This changed from a theoretical exercise to a real one due to Donald Trump officially pulling the plug on Cost Sharing Reimbursement payments effective immediately late Thursday night.
As in most states, the Michigan Dept. of Financial Services, seeing the potential writing on the wall, sent out a memo to all individual market insurance carriers instructing them to submit two different sets of rate filings for 2018: One assuming CSR payments would continue, the other assuming they won't: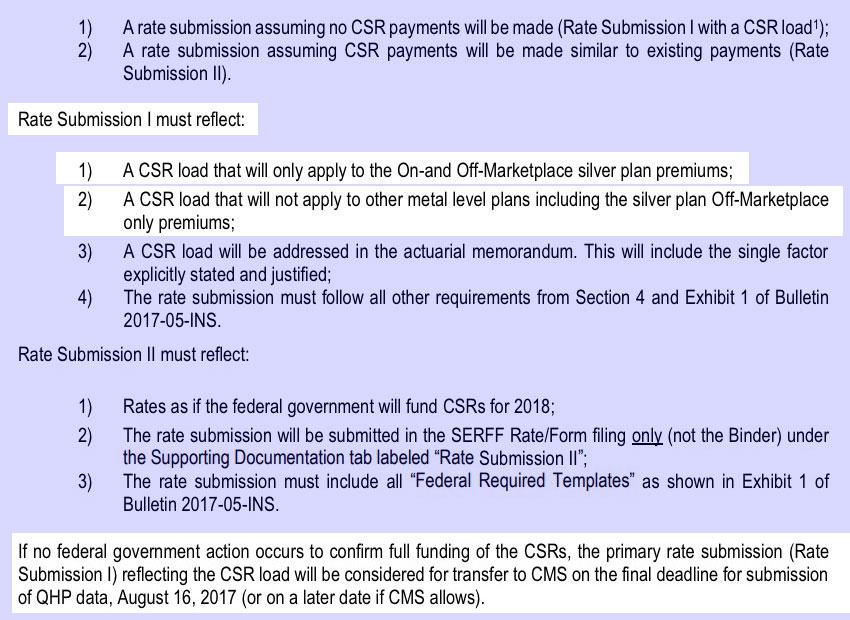 Back in September, when crunching the numbers for the with/without CSR average rate increases, I was only interested in the overall rate hikes (which assumed an even spread across all ACA-compliant plans), and came up with an average of around 16.8% if CSR payments continue, or 26.8% if they aren't, with the CSR load tacking an additional 10 points to the overall prices.
Since then, one of the carriers has dropped out completely (Health Alliance Plan, which cited the CSR factor as a major reason for bailing). Another carrier, Alliance Health & Life, only offers off-exchange plans anyway, which aren't impacted by the CSR issue. However, that still leaves 9 other insurance carriers offering individual policies on the Michigan ACA exchange.
Again, that 10 point average assumes an even spread across all metal levels. It's considerably higher when limited to Silver plans only. I decided to dig up the actual rate filings justifcation memos for six of the nine to get an idea of just how much unsubsidized Silver plans will be shooting up in Michigan (remember: if you receive tax credits, those will increase as well to match the rate hikes, so subsidized enrollees shouldn't see their premiums increase more than nominally):
Blue Cross Blue Shield of Michigan
About 20% of the market
Average increase if CSRs are paid: 26.9%
Average increase if they aren't paid: 31.7%

Extra surcharge on Silver plans only: 9.9%
Blue Care Network:
About 40% of the market
Average increase if CSRs are paid: 13.8%
Average increase if they aren't paid: 22.6%

Extra surcharge on Silver plans only: 14.8%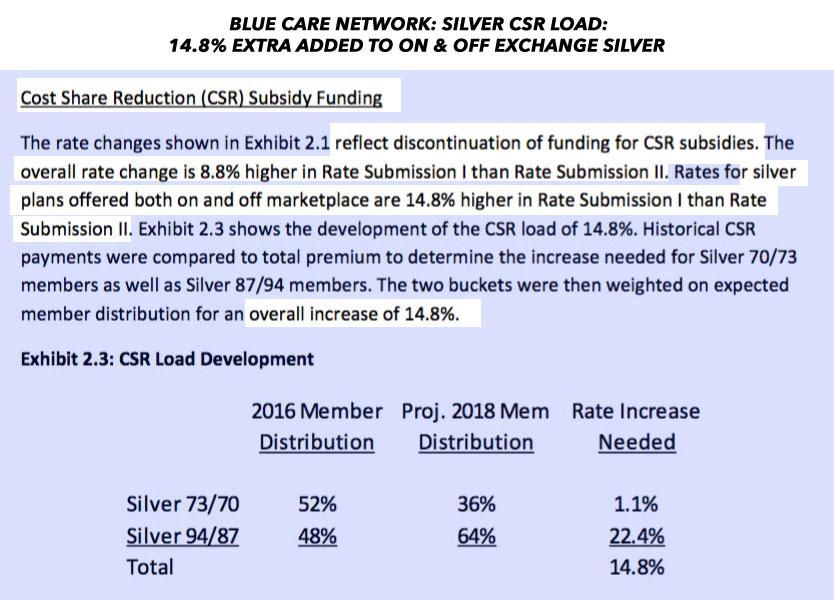 Meridian Health Plan:
About 2% of the market
Average increase if CSRs are paid: ~30% (?)
Average increase if they aren't paid: 59.4%

Extra surcharge on Silver plans only: 37.9%

Molina Healthcare:
About 9% of the market
Average increase if CSRs are paid: ~20%
Average increase if they aren't paid: 42.8%

Extra surcharge on Silver plans only: ~33.4%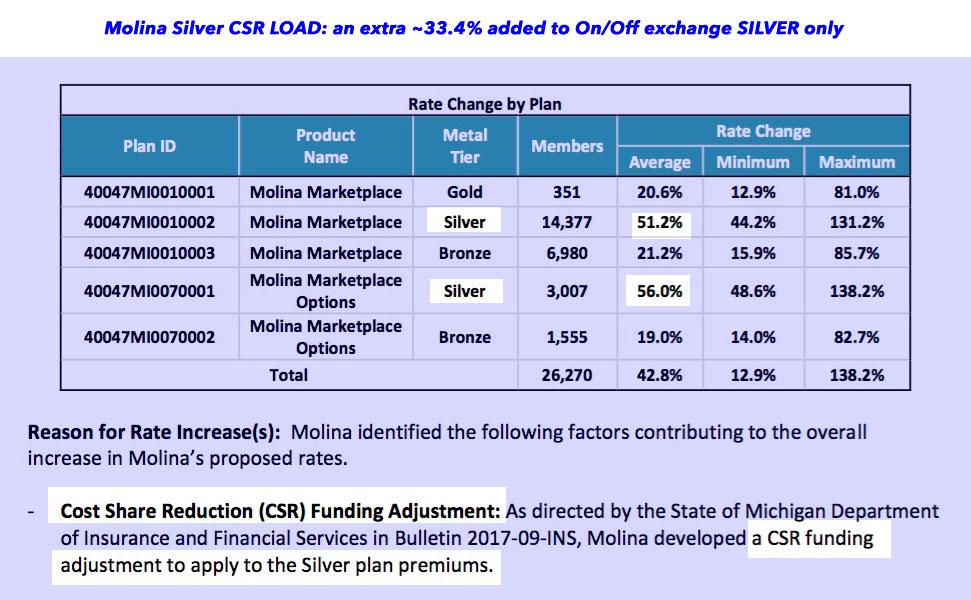 Physicians Health Plan:
About 2% of the market
Average increase if CSRs are paid: 16.3%
Average increase if they aren't paid: 25.6%

Extra surcharge on Silver plans only: ~20.0%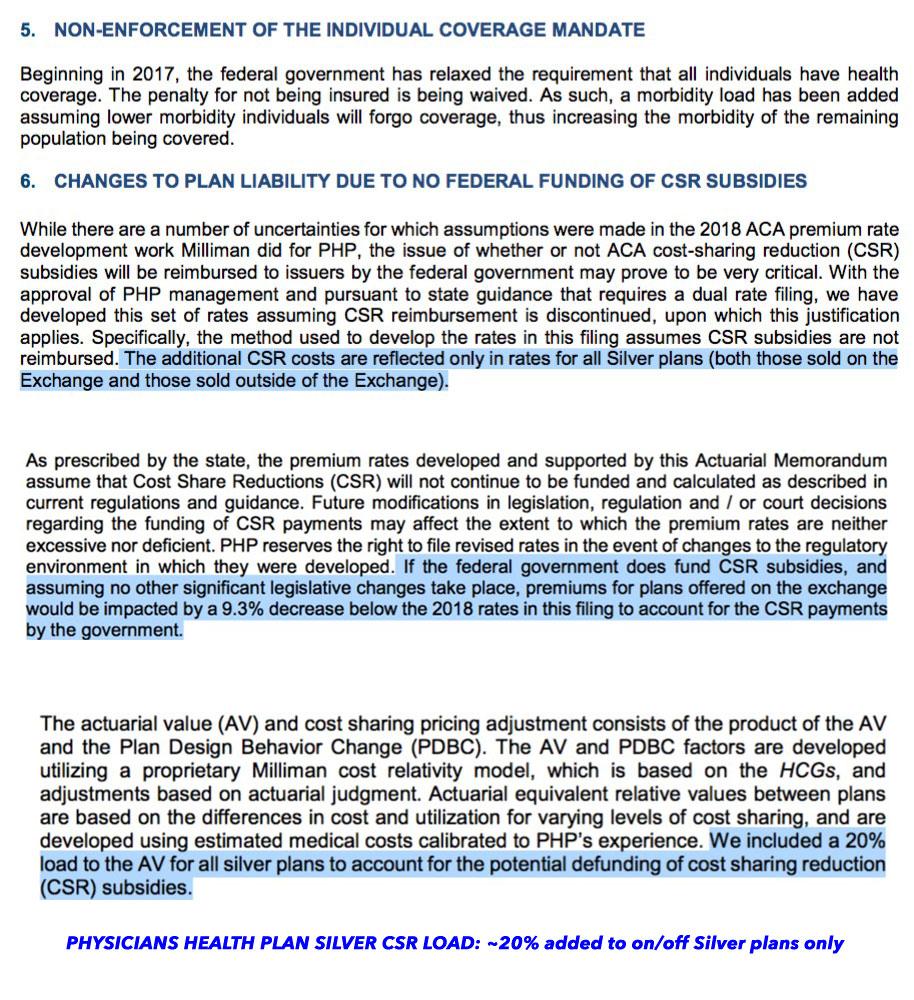 McLaren:
About 1% of the market
Average increase if CSRs are paid: ~16.9%
Average increase if they aren't paid: 26.6%

Extra surcharge on Silver plans only: 19.0%