UPDATE: Colorado: 16.3K QHPs in 13 days (30% higher than last year!)
Mon, 11/14/2016 - 9:24am
I noted last week that contrary to my concern that OE4 might get off to a slow start due to people holding off until after the election, the early enrollment numbers appear to be right on pace with my official projections after all. In fact, the single day's worth of data provided for HealthCare.Gov ("over 100,000"* enrollments on 11/09 specifically) is 17% higher than what I was expecting it to be, although obviously that could vary widely day to day. The numbers from Minnesota are also extremely impressive, running over 6x higher than the same period last year, that's mostly due to their unique enrollment cap situation, so that's not much of an indicator of any other state.
*(Update 11:55am: This Washington Post article gives HC.gov's 11/09 tally as 105K instead of simply "over 100K").
Until today, the only other hard data I had was from Massachusetts: 10,251 QHP selections in the first 8 days, or 1,281 per day. That compares to 4,027 in the first 7 days last year, or 575/day. Yup...MA is also enrolling people 2.2x faster than they did last year. I'm not sure whether Massachusetts has any special situation going on which would make it an outlier the way Minnesota does.
That brings me to Colorado, which is about to hold their monthly board meeting and which has helpfully posted their meeting materials publicly: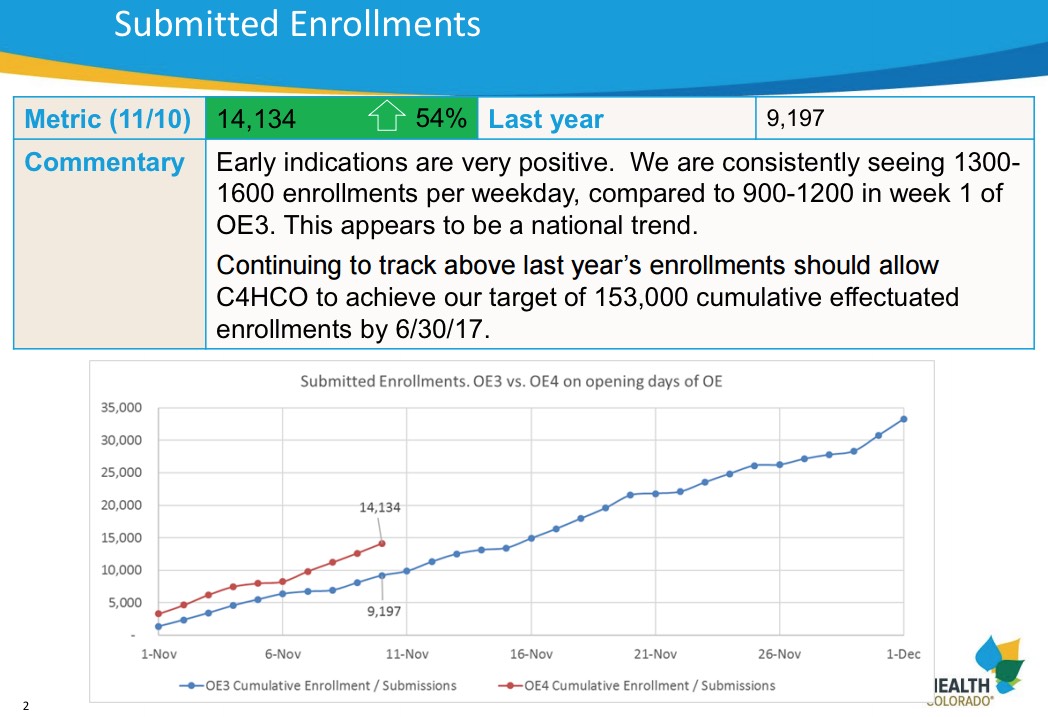 As you can see, Colorado is also pacing impressively higher than last year, though not quite as dramatically as MA or MN...they're at 14.1K in 10 days, or 54% higher than the 2016 Open Enrollment Period. They also note flat-out that this "appears to be a national trend".
UPDATE: The Connect for Health Colorado website has posted a more formal press release which includes even more current data:
Between Nov.1 and Nov. 13, more than 16,000 Coloradans selected health coverage for 2017 through the state health insurance Marketplace, according to new data released today by Connect for Health Colorado®.

"The number of initial sign-ups during the first two weeks of Open Enrollment are very encouraging," said Connect for Health Colorado® CEO Kevin Patterson.  "There has been a lot of talk about the future of healthcare since the election but I want everyone to remember that the financial help to buy health insurance is still available for next year. I urge everybody to review their options and complete their enrollment before the last-minute rush."

The pace of sign ups is running 30 percent higher than last year, Patterson said, with 1,300 to 1,600 plan selections submitted each weekday during the first days of the annual Open Enrollment Period. Enrollees submitted 16,305 plan selections through Sunday. The total was 12,496 for comparable days in 2015. The 2017 plan selections include 2,648 customers who are new to Connect for Health Colorado.

November 9, the day after the election, saw more than 1,400 plan selections, one of the busier days so far.

Whether you are renewing or enrolling for the first time, you must complete enrollment by December 15, to have coverage January 1, and avoid a gap in your coverage. Open Enrollment runs through January 31.
OK, so that's 16,305 in 13 days, or 1,254 per day on average, vs. last year's 961/day, or a 30% increase as they noted.
I'm not going to modify my own official projections based on any of this however; it's possible that the early wave will be cancelled out by more of a levelling off later on. However, for the moment, it looks very much like if I'm off with my national estimate of around 1.4 million in the first 13 days, it's because I'm lowballing the figure.