Guest Post: Our Obamacare Gratitude Is Huge
Thu, 01/14/2016 - 4:55pm
Note: I tend to focus almost exclusively on the wonky "bean counter" side of the ACA at the expense of the human side. In addition, I haven't done a Guest Post in quote awhile, so this . one is ideal. Maurice Harris wanted to tell his story, a case study of how the ACA has helped him and his wife. You can find Maurice's other musings at his own blog, The Accidental Rabbi --Charles
Thank you Pres Obama and all in Congress who made Obamacare happen.
I'm sharing a screenshot of the adjusted insurance premium we will be paying even though it's the kind of info I'd usually treat as very private. But because there are powerful political forces determined to get rid of the ACA should they ever get the chance, I feel it's important to share our family's concrete example.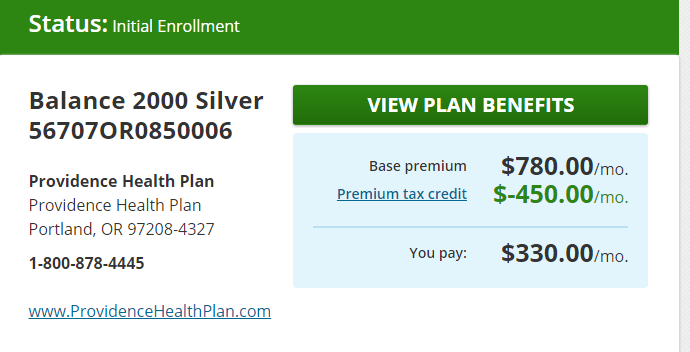 We used the exchange for the 3rd year in a row last month to renew our coverage for 2016, and we received a modest subsidy based on our projected income, and we were very grateful. Then I lost my job unexpectedly. Our family was able to exercise the provision of the law that allows people who experience a job loss to re-submit their online application and get a bigger subsidy to cover their health insurance costs. The amount of our subsidy has doubled, making our health insurance costs much more affordable during this uncertain and challenging time for us financially. If/when Melissa or I get our next job, we'll have to report that change as well and then we'll get a smaller subsidy, which is fair.
One thing I hadn't expected to happen was that because our estimated 2016 income dropped from what I'll call very middle class to lower middle class, not only did our subsidy to pay the insurance premiums increase, but our deductible and co-pays decreased dramatically, which I've learned is also part of how the law helps working families stay insured.
I can't say enough about what this law has meant to our family. Before the ACA exchanges opened, we were only able to get coverage from one insurance company, and it was costing more than we could afford and rising unpredictably. We built up thousands of dollars in credit card debt trying to keep up with it. We tried shopping around for coverage, but no other company would insure us due to pre-existing conditions. With two kids, a mortgage, student loans, etc., we'd reached the point where we were seriously considering dropping our coverage to make ends meet, and hoping for the best. This law has saved our family's butts.
To my conservative friends, please consider us and the millions of families like ours who benefit from this law, which is based on a model that originated with the Heritage Foundation, a conservative policy think tank, and which was promoted by Romney when he was gov of MA. I ask you to be open minded about it and not just oppose it because Obama shepherded it into law.
To my very lefty, Bernie Sanders enthusiast friends, please consider us as well, and please don't refrain from voting for Hillary or any other Dem who ends up the nominee because you've been told they're too centrist or corporate friendly and it "doesn't make a difference." You're literally helping to screw my family if you do that. The uninsured rate in this country has been cut in half, and the mental health relief people like us receive from this law, just from not having to worry about how to stay insured, is enormous. These aren't just stats. This is real. Thanks for listening.