South Dakota: Up to 8,000 QHPs
Sat, 03/22/2014 - 3:32pm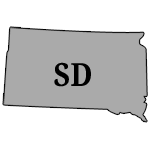 Nice find out of South Dakota from contributor Maurice H.; SD was at 6,765 on 3/01. This represents only an 8% increase over February's rate in March so far, although I'm not sure how much "just over 8K" is or what date that number runs through (I'm assuming 3/20).
Just over 8,000 people have signed up for health care coverage in South Dakota.  Those signing up in the last week will also need to pay their first month's premium to get coverage. But those premiums may be lower than people expect. 

"In the state of South Dakota about 90 percent of the people purchasing insurance are getting subsidies from the federal government," Krystolpolski said.