HUGE: Minnesota House *also* passes MinnesotaCare Public Option to launch in 2027 (and much more)!
Thu, 05/25/2023 - 4:01pm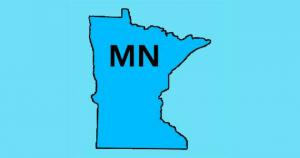 This is an updated version of a similar post from last month, when the legislation passed the MN Senate.
As I've written about several times, recently New Mexico passed (and Gov. Lujan Grisham signed) the first "true" Public Option bill, which will allow any permanent New Mexico resident to enroll in Medicaid regardless of income via a sliding premium scale. Today there's big Public Option news in another state: Minnesota.
The main distinction between the New Mexico and Minnesota approaches has to do with which existing publicly-funded healthcare program they're based on. While New Mexico went with Medicaid (which half the state's population is already enrolled in anyway), Minnesota is basing theirs on their Basic Health Plan program, MinnesotaCare. I first wrote about this back in February.
Under the ACA (aka Obamacare), states have the option to create a Basic Health Program for people with incomes a little above the upper limit for Medicaid eligibility, and for legal immigrants who aren't eligible for Medicaid because of the five-year waiting period.
In short:
If you earn up to 138% FPL, you enroll in Medicaid.

If you earn 138 - 200% FPL, you enroll in a Basic Health Plan policy (BHP).

If you earn 200% FPL or higher, you enroll in a Qualified Health Plan policy (QHP).
Federal funding for BHP programs is supposed to be equal to 95% of the total amount of advance premium tax credits (APTC) and cost sharing reduction (CSR) assistance that the enrollees would otherwise have been eligible for had they otherwsie enrolled in a QHP using the ACA exchange.
Of course, the state itself can also throw in additional funding to make the BHP plans more generous if they wish...which is a key point to keep in mind. The coverage has to be at least as affordable and at least as good as a benchmark silver plan with Cost-sharing reduction benefits applied.
...Over 1.2 million residents of the [New York & Minnesota] are now enrolled in BHP coverage, or roughly 7.5% as many as are enrolled in exchange-based Qualified Health Plans (QHPs).
...Minnesota Democrats, who now have full control over both chambers of the state legislature and the governor's office at the same time, have decided that they want to transform MinnesotaCare once again into something much bigger. Via Steve Karnowski for the Associated Press:
Lawmakers went to work Wednesday on a proposal to allow all residents to buy into the state-run MinnesotaCare health insurance program, not just low-income workers struggling to get by.

...Under the proposed expansion, premiums would be on a sliding scale that the state would develop later. The state would also develop an option for businesses with under 50 employees to participate.

The change would take effect in 2026, assuming the federal government approves, and eligibility would no longer depend on immigration status. During the transition, the bill would raise state subsidies for "gold" plans purchased through the MNsure exchange for 2024 and 2025.
Recently a Minnesota House committee passed the bill in question...(which also does some other important things):
On an 11-7 vote, the House Health Finance and Policy Committee approved HF2930 Thursday after adopting a delete-all amendment. The bill's next stop is the House Ways and Means Committee.

Sponsored by Rep. Tina Liebling (DFL-Rochester), the omnibus health finance and policy bill would lower the new spending from $791.15 million to $769.99 million over the 2024-25 biennium.

The bill, in part, would also:

require medical assistance to cover medically necessary abortions;
allow a designated support person for reproductive health care appointments;
repeal laws limiting abortion access;

add a "public option" to MinnesotaCare;

limit-enrollee cost-sharing for prescription drugs;
establish a direct payment system for MinnesotaCare and medical assistance; and
eliminate deductibles, co-payments, and coinsurance for medical assistance.
On April 19th, the full Minnesota Senate passed an "omnibus" Health & Human Services bill which would include the MinnesotaCare public option expansion as well:
Saint Paul, Minn. – Today a broad coalition of labor, rural, immigrant, arts and advocacy groups applauded the Minnesota Senate for passing a MinnesotaCare Public Option proposal (SF2995) in the health omnibus budget bill. The MinnesotaCare Public Option expands access to affordable health coverage by allowing more Minnesotans the option of buying into MinnesotaCare, paying a premium based on their income. Organizations and advocates urged lawmakers to adopt the House bill language (HF2930) that allows all Minnesotans without status to access MinnesotaCare. As passed, the Senate bill only allows children without status to access MinnesotaCare, leaving behind thousands of Minnesotans without status who are frontline workers.

The MinnesotaCare Public Option bill expands eligibility to Minnesotans enrolled in the individual health insurance market who earn more than the current MinnesotaCare income limit, which is 200% of the federal poverty line or $55,000 per year for a family of four. The MinnesotaCare Public Option immigrant inclusion policy would end the ban on eligibility for undocumented immigrants, allowing them to enroll in MinnesotaCare and contribute to their coverage at the same affordable premiums paid by other Minnesotans at their income level.
Setting aside the issue of allowing all undocumented immigrants to participate vs. just undocumented children, this is still a massive step forward.
From the text of the (extremely long & densely-worded) bill itself:
Sec. 18.  Minnesota Statutes 2022, section 256L.04, is amended by adding a subdivision to read:

Subd. 15.  Persons eligible for public option. (a) Families and individuals with income above the maximum income eligibility limit specified in subdivision 1 or 7 but who meet all other MinnesotaCare eligibility requirements are eligible for MinnesotaCare. All other provisions of this chapter apply unless otherwise specified.

(b) Families and individuals may enroll in MinnesotaCare under this subdivision only during an annual open enrollment period or special enrollment period, as designated by MNsure in compliance with Code of Federal Regulations, title 45, parts 155.410 and 155.420.

EFFECTIVE DATE. This section is effective January 1, 2027, or upon federal approval, whichever is later, subject to certification under section 32. The commissioner of human services shall notify the revisor of statutes when federal approval is obtained.
One key change is that it looks like they've bumped out the implementation date by a year to 2027. It's also interesting to note that while those currently eligible for MinnesotaCare (in the 138 - 200% FPL income range) can enroll year-round, the expansion restricts enrollment for those over 200% FPL to the normal Open Enrollment (and Special Enrollment) periods available for ACA exchange enrollment.
As for the sliding scale premium pricing, that hasn't been determined yet, although children up to age 20 wouldn't be charged any premium regardless of income, which is interesting:
(d) The commissioner shall establish a sliding premium scale for persons eligible through the public option under section 256L.04, subdivision 15. Beginning January 1, 2027, persons eligible through the public option shall pay premiums according to this premium scale. Persons eligible through the public option who are 20 years of age or younger are exempt from paying premiums.
The next step happened this week. Via Jeremy Olson of the Minnesota Star Tribune:
Minnesota lawmakers passed an 844-page "billosaurus" Monday that leans on a $17.5 billion budget surplus to expand medical, dental and child care benefits and fund new shelter options to address homelessness.

The health and human services budget includes priorities for a legislature controlled for the first time in a decade by the DFL, including increasing reimbursement rates and removing barriers to abortion services. Plans to dramatically increase access to MinnesotaCare were delayed a year, but the legislation extends the publicly subsidized health benefits to as many as 40,000 undocumented children and adults.
It looks like the final version of the bill actually passed the House and Senate on the same day. Besides the sliding scale premiums, it also includes a new tax on healthcare providers to help cover the expansion of MinnesotaCare.
It's not all good news...apparently a healthcare affordability board was nixed from the bill to appease one rather high-profile special interest:
The legislation was good for Mayo Clinic, which threatened to relocate a billion-dollar expansion over a proposal to create a health care affordability board that would set growth targets and penalize Minnesota hospitals that exceed them.

The board is being replaced by a center within the Minnesota Department of Health that will analyze escalating health care costs but won't fine or penalize high-cost providers.
I guess they can waggle their fingers and send cranky letters or something. Ah, well.
Oddly, the article kind of buries the lede:
A public option to make MinnesotaCare available beyond its low-income limits was delayed at least a year to first study its economic impact. A plan for the state to try to reduce drug costs by taking direct control of its pharmacy benefits was delayed as well.
OK, so it goes into effect in 2027 vs. 2026. A bit irritating, but assuming it actually goes through, that'll do. The part about small businesses (those w/fewer than 50 employees) is also intriguing for a number of reasons, including the potential for ICHRA enrollment, which I haven't written about in a long time but plan on posting something new about soon.
I took a quick look at the monster text of the final bill as passed this week, and found some interesting tidbits:
The "enhanced subsidies for gold plans" appear to be covered here:
Subd. 13.  Transitional cost-sharing reductions. 

(a) The board shall develop and implement, for the 2025 and 2026 plan years only, a system to support eligible individuals who choose to enroll in gold level health plans through MNsure.

(b) For purposes of this section, an "eligible individual" is an individual who:

(1) is a resident of Minnesota; (2) has a household income that does not exceed 400 percent of the federal poverty guidelines; and (3) is enrolled in a gold level health plan offered in the enrollee's county of residence.

(c) Under the system established in this subdivision, the monthly transitional cost-sharing reduction subsidy for an eligible individual is $75.

(d) The board shall establish procedures for determining an individual's eligibility for the subsidy and providing payments to a health carrier for any eligible individuals enrolled in the carrier's gold level health plans.
In short, the bill will provide $900 in Cost Sharing Reductions (CSR) to Gold Plan enrollees who earn less than 400% FPL (for 2 years only).
The official ACA CSR subsidies are available to enrollees in Silver plans who earn up to 250% FPL, although they're pretty weak from 200 - 250% FPL, so this will effectively be beneficial to enrollees who earn 200 - 400% FPL on Gold plans. It's not a huge thing but hey, saving $900/year is saving $900/year.
The part about eliminating cost sharing for medical assistance (aka Medicaid) is also covered:
(f) For services provided on or after January 1, 2024, the medical assistance benefit plan must not include cost-sharing or deductibles for any medical assistance recipient or benefit.
That may not sound like a big deal, but if your income is low enough to be on Medicaid in the first place those co-pays can really take a bite out of your income. For comparison, the current co-pays range from $3 to $20 per visit.
In any event, the bill is on its way to the Governor's desk for signing; after that, the next step will be the actuarial analysis and the actual funding of the expanded program which will come next year.