Georgia GOP aims for "state control" of ACA exchange...while spending $5M to promote a site which does nothing
Thu, 02/02/2023 - 9:11am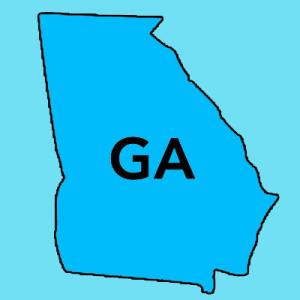 h/t to Wesley Sanders for calling attention to this story by Ariel Hart & Greg Bluestein of the Atlanta Journal-Constitution:
Georgia GOP leaders have proposed a bill that they hope will lead to a state takeover of the health insurance exchange marketplace for Affordable Care Act plans.

...Traditionally a majority of Georgians shop for ACA plans on the federally run marketplace website, healthcare.gov. Eighteen states use their own marketplace website, according to the Kaiser Family Foundation. The key feature of these sites is they allow shoppers to objectively compare their options for price and coverage.

It's unclear exactly what the state's replacement would be.
If this was any other state besides Georgia--even any other GOP-controlled state--I'd say good for them since it would presumably just mean that they were the latest state to move to their own state-based exchange (which is how the ACA was originally envisioned anyway). This would give them the ability to hook the SBM into their state databases for auto-enrolling residents receiving SNAP benefits/etc into $0-premium coverage, or to integrate supplemental subsidies as nearly a dozen states do today, and so forth. There's several upsides to moving to an SBM, up to & including reducing the user fees (although those have been significantly reduced on the federal exchange in recent years anyway).
HOWEVER, this is Georgia under Gov. Brian Kemp:
Under the Trump administration, Gov. Brian Kemp proposed to block Georgians from shopping on healthcare.gov, and instead lead them directly to private health insurance companies and brokers. Georgians already have access to those private industry sellers, but Kemp aides said that blocking healthcare.gov and further promoting the private companies would benefit Georgians.

The Biden administration suspended Kemp's proposal.
As I wrote about several times over the past couple of years:
The Georgia Access model would eliminate the use of HealthCare.gov, transitioning consumers to decentralized enrollment through private web-brokers and insurers. The state would establish its own subsidy structure to allow for 1) the subsidization of plans that do not comply with all the ACA's requirements; and 2) enrollment caps if subsidy costs exceed federal and state funds.

There's not a single part of the paragraph above which shouldn't be setting off major alarms.

...It's important to note that this proposal wouldn't simply move Georgia from HealthCare.Gov over to a state-based ACA exchange the way that 18 other states already have; those are basically just state versions of the federal website. Health insurance policies sold on them are still required to be ACA compliant, and ACA subsidies are still restricted to enrollees in those policies, as they should be.

What Georgia's waiver would do is something very different which would completely undermine many of the primary reasons the Patient Protection & Affordable Care Act was passed in the first place.
With that in mind, I'd be extremely wary of Georgia's latest proposal. The AJC article seems to indicate that it would involve GA moving to a state-based exchange...
..."I think the result will be we'll we'll finally be able to finish up (Gov. Brian Kemp's health proposals) and we'll have more Georgians covered, more lives covered," Watson said. He said the bill was the governor's and he introduced it on Kemp's behalf.

A spokesman for Kemp, Garrison Douglas, said in a written statement that a state-based exchange "gives Georgians higher quality access and greater control in the insurance enrollment process."
...but, again, I'm extremely skeptical of this proposal for the reasons outlined above.
Also, there's this:
The Kemp administration took credit too, noting that it spent $5 million on advertising for a website it set up leading people to insurance companies and brokers, GeorgiaAccess.gov. A spokesman for the state Office of Insurance said the website drew 334,000 unique views — meaning the site was viewed from that many different computers or phones.
The article doesn't clarify what period of time those 334,000 website visits took place over, but I'm assuming it was over the 3-month Open Enrollment Period from November 1 - January 31st. If so, that'd be around 3,700 site visitors per day, which isn't particularly impressive. My own website has often exceeded that level of traffic.
They spent $5 million to generate 334,000 visits, or around $15 per site visitor to date. By comparison, I spend exactly $0 in advertising for ACASignups.net.
The thing is, GeorgiaAccess.Gov doesn't actually let you enroll in anything. Unless I'm missing something, as far as I can tell, it's what I referred to in my website developer days as a "brochure" website...it's literally just a WordPress site with perhaps dozen pages of text, images and links to other websites. I have no idea how much they spent on developing the website itself, but if it was more than a few thousand dollars at most they got ripped off. Don't get me wrong, it looks nice, but it's literally just an informational site (it actually says that at the bottom of the page).
Oh yeah...take a look at the list of "healthcare partners" that the site links to. Notice anything missing?
CareSource
Friday Health Plans
Cigna
VIA Benefits
United Healthcare
Kaiser Permanente
Enterate
Aetna
Ambetter
Alliant
HealthSherpa
W3LL
Stride Health
HealthMarkets
Oscar
Catch
Anthem
That's right: HealthCare.Gov isn't listed at all.
Don't get me wrong: There's nothing wrong with listing these sites (although mixing individual carrier sites together with brokerage sites which let you compare all ACA plans side by side isn't cool), and a few of them even advertise on ACA Signups (HealthSherpa and W3LL, at the moment)...but to not even list the official federal ACA exchange is clearly a deliberate symbolic move on Kemp's part.