UPDATE: CMS tells Georgia tough patooties; they still aren't allowed to kill HC.gov in 2023
Tue, 08/09/2022 - 2:30pm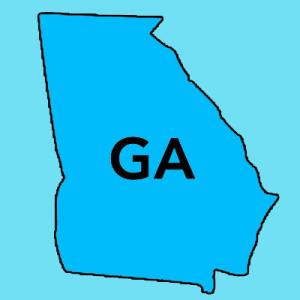 Back in April, I did some minor champagne cork popping after the Centers for Medicare & Medicaid Services rightly put the kibosh on the so-called "Georgia Access Model" waiver pushed by GOP Governor Brian Kemp:
The Georgia Access model would eliminate the use of HealthCare.gov, transitioning consumers to decentralized enrollment through private web-brokers and insurers. The state would establish its own subsidy structure to allow for 1) the subsidization of plans that do not comply with all the ACA's requirements; and 2) enrollment caps if subsidy costs exceed federal and state funds.

There's not a single part of the paragraph above which shouldn't be setting off major alarms:

Georgia expects the waiver to increase enrollment in the individual market by about 30,000 people for plan year 2022. This is a significant number of individuals, but the waiver could result in coverage disruption for the more than 450,000 individuals who are already enrolled in ACA coverage through HealthCare.gov. The 30,000 number also pales in comparison to the 1.4 million people who are uninsured in Georgia, more than half of whom are already eligible for ACA subsidies but not enrolled.

It's important to note that this proposal wouldn't simply move Georgia from HealthCare.Gov over to a state-based ACA exchange the way that 18 other states already have; those are basically just state versions of the federal website. Health insurance policies sold on them are still required to be ACA compliant, and ACA subsidies are still restricted to enrollees in those policies, as they should be.

What Georgia's waiver would do is something very different which would completely undermine many of the primary reasons the Patient Protection & Affordable Care Act was passed in the first place.
Five months later I was pleased to report that the Centers for Medicare & Medicaid Services (CMS) did the right thing:
NEW: Fed'l govt. suspends Gov. Kemp's plan to separate GA from HealthCare.Gov with no replacement. CMS points to expected coverage losses for Georgians. GA has 90 days to submit a corrective plan but this may be the beginning of the end... #gapol

— Laura Colbert (@ColbertLLC) April 29, 2022
CMS even gave me a personal shout-out for my public comment opposing the "Access Model:"
...Commenters also asserted that Georgia's initial assumptions in its waiver application are now incorrect given the major changes that have impacted the baseline. For example, one commenter noted that monthly QHP effectuations for 2022 will be at least 140,000 people higher than Georgia assumed it would be, perhaps as much as 200,000 higher due to the COVID-19 SEP and the enhanced subsidies under the ARP.36 Additionally, these commenters noted that the changes have impacted the baseline such that as of December 15, 2021, nearly 654,000 Georgians selected Marketplace plans, 37 exceeding Georgia's target enrollment for the Georgia Access Model by 261,000 people.

Commenters noted that changes in law (e.g., ARP), policy (e.g., increased outreach, the COVID19 SEPs), and other circumstances (e.g., regulations such as the extended 2022 OEP, and the new SEP opportunity for those at or below 150 percent FPL) increased enrollment, thereby impacting the State's initial baseline analysis and projections for the Georgia Access Model.

36 Charles Gaba – Individual public comment, available here.

37 Centers for Medicare & Medicaid Services, "Marketplace Weekly Enrollment Snapshot: Week 6," December 22, 2021. Available here.
Sure enough, I'm comment #101 (page 79 - 81). Huh.
As I warned at the time:
In accordance with STC 17, Georgia will have 90 days from the receipt of this notice to respond with a written challenge to the Departments' current determinations or to submit a corrective action plan, consistent with the process discussed below.
"90 days from the receipt of this notice" happened to be July 28, 2022...and sure enough, just 24 hours before the response deadline...
Dear Administrator Brooks-LaSure:

This letter is in response to your letter dated April 29, 2022, in which the U.S. Department of Health and Human Services (HHS) and U.S. Department of Treasury (collectively, "the Departments"), stated that they would suspend implementation of Part II of Georgia Access unless Georgia submitted either a corrective action plan or a written challenge to the Departments' determinations prior to July 28, 2022. This letter is Georgia's written challenge.
Nowhere in the letter did Kemp's office attempt to actually modify or correct the waiver request...they simply claimed that a) Georgia doesn't have to comply with CMS's additional information request and b) the existing waiver request supposedly complies with the requirements as it is. Both of these arguments were full of hooey, but, y'know, points for giving it a shot.
Anyway, today the Centers for Medicare & Medicaid Services have made it official:
I am sending this letter to the State of Georgia ("Georgia" or "the State") from the Centers for Medicare & Medicaid Services (CMS) within HHS on behalf of both Departments. The Departments have reviewed the State's letter and are suspending implementation of the Georgia Access Model effective August 9, 2022. CMS will continue to operate the FFE in Georgia, and Georgia consumers will retain access to HealthCare.gov for plan year (PY) 2023 to purchase qualified health plans in the individual market. Georgia may submit a corrective action plan to bring the Georgia Access Model into compliance with the statutory coverage guardrail for the Departments' consideration to resume implementation for PYs 2024–2026.
I believe that ACA Section 1331 waivers are typically approved for 5-year periods, after which they have to be reauthorized. Georgia's waiver was a 2-parter; the first part (reinsurance) already went into effect for 2022. The "Georgia Access" portion was originally scheduled to run for four years (2023 - 2026), but CMS has put the kibosh on it for 2023.
They're actually being more than generous in not scrapping the "GA Access" scheme entirely in my view; instead they're giving Kemp another chance to prove it makes any sense whatsoever for the three years after that.
The full response from CMS suspending the Access Model for 2023 is 21 pages; I won't repost all of it, of course, but here's a taste:
The Departments have reviewed the State's written challenge. While Georgia had 90 days from receipt of the Departments' April 2022 letter to address the concerns raised, the State did not submit a corrective action plan to demonstrate how the State would improve the Georgia Access Model to meet the statutory coverage guardrail and ensure the waiver would not result in substantial projected coverage losses in the State, nor did its written challenge provide analysis demonstrating that the waiver would comply with the coverage guardrail absent corrective action.

Further, after review of the State's written challenge, the Departments are upholding their determinations that: (1) the State materially failed to comply with the STCs by repeatedly refusing to provide the Departments with the information requested as part of the Departments' monitoring and oversight authority;8 and (2) the State has not demonstrated that the Georgia waiver, with the Georgia Access Model in place and absent corrective action, meets the statutory coverage guardrail in light of changes in federal law, policy, and other circumstances that materially affect the without-waiver baseline scenario.

In addition to these findings, the Departments have also determined, based on readiness reviews conducted to date, that Georgia has not satisfied certain operational readiness requirements for a novel state program such as the Georgia Access Model. Nor has the State provided an adequate outreach and communications plan. These operational and planning deficiencies are an additional basis for suspending implementation of the Georgia Access Model under the applicable STCs. For all of these reasons, suspension of the implementation of the Georgia Access Model will go into effect August 9, 2022.
CMS also gives a shout-out to some of my healthcare wonk colleagues:
Georgia's written challenge likewise fails to recognize that the Departments' assumptions at the time of approval were based on then-current federal outreach spending. Since approval, federal spending nationally on outreach has increased from $10 million at the time of approval to $100 million in PY 2022 (similarly, Navigator funding was $10 million and is now $80 million).

Given that change in federal funding, the Departments' assumption in its updated analysis that federal outreach spending in the without-waiver baseline scenario would exceed State and private brokers' marketing and outreach spending under the Georgia Access Model is reasonable. Further, the advertising assumptions in the Acumen analysis are reasonable and supportable based on consideration of available literature on how public- vs. private-sponsored advertising levels change in response to market share.

Recent research that has been published since initial approval of the waiver highlights that reductions in federal spending on advertising and outreach are not necessarily offset by increases in private spending on advertising.31, 32
31 Myerson et al. (2022) find that funding cuts to the Navigator program between 2017 and 2019 were not associated with changes in the number of private sector TV advertisements aired targeting marketplace health insurance. The authors conclude that private sector entities did not increase their advertising to compensate for reductions in federal spending on Navigator activity. See Myerson R, Anderson D, Baum L, et al. Association of funding cuts to the Patient Protection and Affordable Care Act Navigator Program with Privately Sponsored Television Advertising. JAMA Network Open. 2022;5(8):e2224651.

32 Shafer et al. (2021) find that Marketplace insurers generally do not replace 1-for-1 the decline in federal sponsored advertising. The authors concluded that insurers instead behave in ways that benefit themselves strategically, advertising more when becoming a monopolist but not filling the gap left by former competitors. See Shafer P, Anderson D, Baum L, et al. Changes in Marketplace Competition and Television Advertising by Insurers. American Journal of Managed Care. 2021;27(8):323-328.
Mazel Tov to all at CMS and who worked on these studies.
Of course, this also means that a whole bunch of Georgia insurance carriers are now stuck paying for "White Label" EDE systems which they won't need for at least another year...