Texas: Friday Health Plans bails; another ~230K enrollees will have to pick a different day of the week
Sat, 10/15/2022 - 12:07pm
It was just four days ago that Bright Healthcare, which had been aggressively expanding their individual market coverage area footprint as recently as a year ago, suddenly announced that they were doing a complete 180 and instead pulling out of virtually the entire individual & small group markets nationally starting in January 2023.
This shouldn't have been as much of a surprise as people thought, however; Bright had already announced back in April of this year that they were pulling out of five states, and healthcare analyst Ari Gottlieb had written an impressively-researched post about the warning signs surrounding Bright's plight back in August, which I expanded upon here at the time.
In any event, Tuesday's announcement by Bright that they were pulling out the other nine states they're currently operating in means that nearly a million ACA individual market enrollees will either be automatically shifted to different insurance policies via different carriers or they'll have to log into their accounts and actively pick a different policy themselves. This represents upwards of 8% of all on-exchange individual market enrollees nationally, including an estimated ~262,000 in Texas alone.
Well, just one day after the Bright Healthcare bombshell news broke, Texas-based health insurance broker Jenny Chumbley Hogue sounded the alarm on another large carrier bailing on Texas next year:
TX Marketplace Rumor Mill: Friday Health Plans is OUT for 2023. @LouiseNorris @charles_gaba @bjdickmayhew

— Jenny Chumbley Hogue (@kgmom219) October 12, 2022
And its confirmed. Email received from Friday. Buckle up folks! Individual OEP in Texas is going to be a bumpy ride! https://t.co/AMNJ4rPyr3

— Jenny Chumbley Hogue (@kgmom219) October 12, 2022
Sure enough, here it is (again, this relates to the Texas market only, not other states):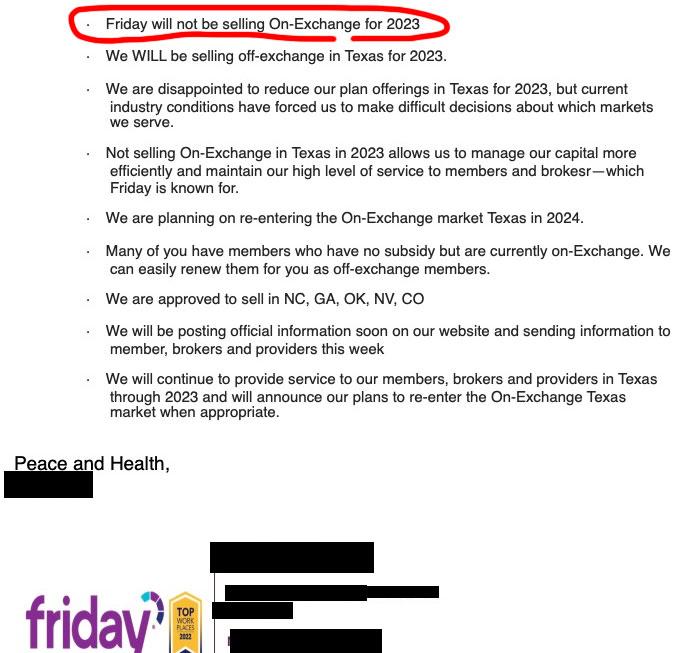 Friday will still be offering individual market policies in Texas' off-exchange market next year, but that's only around ~20% of the states total market, so this is still a pretty big deal for the ~230,000 Texans currently enrolled in on-exchange Friday plans:

It's worth noting that Friday's other option was apparently to jack up their (unsubsidized) premiums by a whopping 30%, which goes to show just how ugly their balance sheets must be for their Texas risk pool.
In any event, between Bright and Friday, this means that upwards of 28% of Texas' entire on-exchange ACA market is about to have to pick a different healthcare plan from a different insurance carrier starting November 1st.
Oh, one more thing: It's also worth noting that Bright Healthcare was apparently planning on--and had been approved for--expanding their Texas individual market operations as recently as mid-September before pulling the plug earlier this week: