A #BFD: President Biden signs Inflation Reduction Act (IRA) into law!
Fri, 08/12/2022 - 6:11pm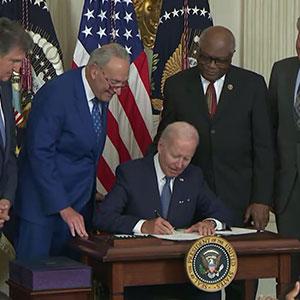 UPDATE 8/16/22: President Biden officially signed the Inflation Reduction Act into law this afternoon!
Annnd there you have it: In a strict party-line 220-207 vote, the Inflation Reduction Act (a stripped-down version of the Build Back Better Act, which was originally branded as the American Families Plan) finally passed the U.S. House of Representatives after passing the U.S. Senate 51-50 (with Vice-President Harris as the tie-breaking vote) on Sunday. I presume President Biden will be holding a big, formal signing ceremony sometime next week.
A big chunk of the bill is related to climate change, of course, and another large chunk of it is purely related to deficit reduction. As for the healthcare provisions, here's a summary of what's included:
13 million Americans WON'T see their healthcare premiums jump dramatically!
For me and this website, of course, this is the most critical point: If the IRA hadn't passed, starting January 1st, 2023, a good ~13 million ACA exchange enrollees would have seen their monthly health insurance premiums skyrocket by an average of over $800 per year apiece. For 1.5 million of them, the cost would have jumped by an average of nearly $3,300 apiece.
Instead, the American Rescue Plan's enhanced ACA subsidies will continue for another three years. While making this permanent would've been ideal, this at least provides peace of mind for ACA enrollees through the end of 2025 and buys Democrats more time to hopefully make it permanent in the near future (er...assuming they're able to hold onto control of both the House and Senate, that is...)
The extension is an even bigger deal than it sounds in several states: As Anthony Wright, executive director of Health Access California reminds me, several states (primarily California, New Mexico & New Jersey, but also Colorado, Connecticut, Maryland, Massachusetts, Vermont & Washington State) have their own state-based supplemental ACA subsidy programs in place.
If the ARP subsidies had expired, these programs would have had to be repurposed in an attempt to partially fill the gap...but with ARP subsidies bumped out for another three years, they can instead go to further reducing premiums, deductibles & co-pays instead!
The Kaiser Family Foundation has an excellent slideshow explaining the other healthcare-related provisions; here's a summary:
For the first time, requires the federal government to negotiate prices for some of the highest-spending drugs covered under Medicare

Requires drug companies to pay rebates if prices rise faster than inflation for drugs used by Medicare beneficiaries

Eliminates 5% coinsurance for catastrophic coverage in Medicare Part D in 2024

Adds a $2,000 cap on Part D out-of-pocket spending in 2025

Limits annual increases in Part D premiums for 2024-2030

Limits monthly cost sharing for insulin products to $35 for people with Medicare

Expands eligibility for Medicare Part D Low-Income Subsidy full benefits

Eliminates cost sharing for adult vaccines covered under Medicare Part D and improves access to adult vaccines under Medicaid and CHIP

Further delays implementation of the Trump Administration's drug rebate rule
As you can see, aside from the ACA subsidies, nearly every other healthcare provision of the IRA is limited to Medicare enrollees only. This is one of the limitations of the Senate's arcane "reconciliation" process, which among other things requires bills to have "direct & significant" federal budgetary impact in order to pass with a simple majority.
So what healthcare provisions included in BBB didn't make the cut? Sabrina Corlette of the Georgetown Center on Health Insurance Reforms lays them out:
Filling the Medicaid Gap. BBB would have temporarily extended Marketplace subsidies to individuals under 100 percent of the federal poverty line in the 12 states that have not yet expanded Medicaid.
The good news is that both North Carolina and South Dakota may end up passing ACA Medicaid expansion this year after all, which (if both do so) would reduce the number of non-expansion states to 10 and the number of Americans caught in the Medicaid Gap down by ~230,000 or so (out of ~2.2 million nationally). This is probably the single biggest healthcare-related gap in the IRA's scope in my view.
Post–partum BBB would have permanently required state Medicaid programs to provide 12 months of postpartum health coverage.
The Biden Administration has authorized nearly 20 states to do exactly this, but the other 30 remain, and it only lasts for five years for those which do so. This would make it permanent nationwide.
Continuous Coverage for Children. BBB would have permanently required state Medicaid programs to provide 12 months of continuous coverage for children.

CHIP Funding. BBB would have made federal funding for CHIP permanent.

Medicaid Funding for the Territories. BBB would have provided a permanent, significant increase in federal Medicaid funding for Puerto Rico and the other territories.

Home- and Community-based Services. BBB would have provided states the option of permanently receiving a 6-percentage point increase in their Medicaid matching rate for home- and community-based services for Medicaid enrollees with long-term care needs, if they improve and expand home and community-based services.

Insulin Affordability. The BBB would have required insurers to cover certain insulin products and exempt them from enrollee deductibles and limit cost-sharing.
The second biggest missed opportunity in the IRA is that the $35 co-pay cap is limiated to Medicare enrollees only, instead of all Americans (or at the very least, those with private insurance as well).
Still, even without these, the IRA is, in the end, a pretty big deal regardless...and remember, these are just the healthcare provisions. Given the razor-thin margins Democrats have in the House and Senate, including two, shall we say, less-than-cooperative members, it's pretty impressive they managed to get anything through in the end.