Snowbirds & Vaccine Tourism: Revisiting the unusual Miami-Dade County phenomenon
Tue, 11/16/2021 - 8:45am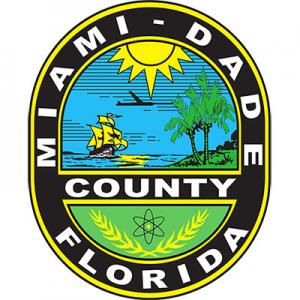 Back in early September, I began noticing something very odd going on with my county-level scatter-plot graphs which broke out COVID cases/deaths by what percent of the population had been fully vaccinated:
As you might expect, there's a clear drop-off in new COVID cases per capita as the vaccination rate of the counties goes up. There seems to be a slight drop-off starting around 50% fully vaccinated, followed by a steep drop-off starting around 65% vaxxed. There's a third drop-off at around 75%, but there's literally only a handful of counties which have achieved that high a vaccination rate so far anyway.

HOWEVER, there's one major outlier over the 65% threshold...Miami-Dade County.

According to the Centers for Disease Control, Miami-Dade has fully vaccinated 68% of their entire population (1.84 million out of 2.72 million residents). I use the slightly lower official 2020 U.S. Census popualtion count for Miami-Dade County (2,701,767), which makes the vaccination rate slightly higher still: 68.24%.

And yet, somehow the 10th-largest county in the United States, which has the 6th highest vaccination rate of any county over 1 million residents, also has the highest new case rate of any county over 1 million residents.
Well, since then the disparity has only grown larger: According to official data from the Centers for Disease Control, Miami-Dade County now not only has the highest vaccination rate of any county over 1 million residents, it also has the 4th highest of any county over 100,000 residents.
Normally this would be something to cheer about, but at the same time, of all counties which are more than 70% fully vaccinated, Miami-Dade also has the highest COVID death rate since June by far of any county with over 1 million residents (nearly 3x higher than Honolulu, HI) and the second highest of any county with over 100,000 residents (second only to Sumter County, also in Florida):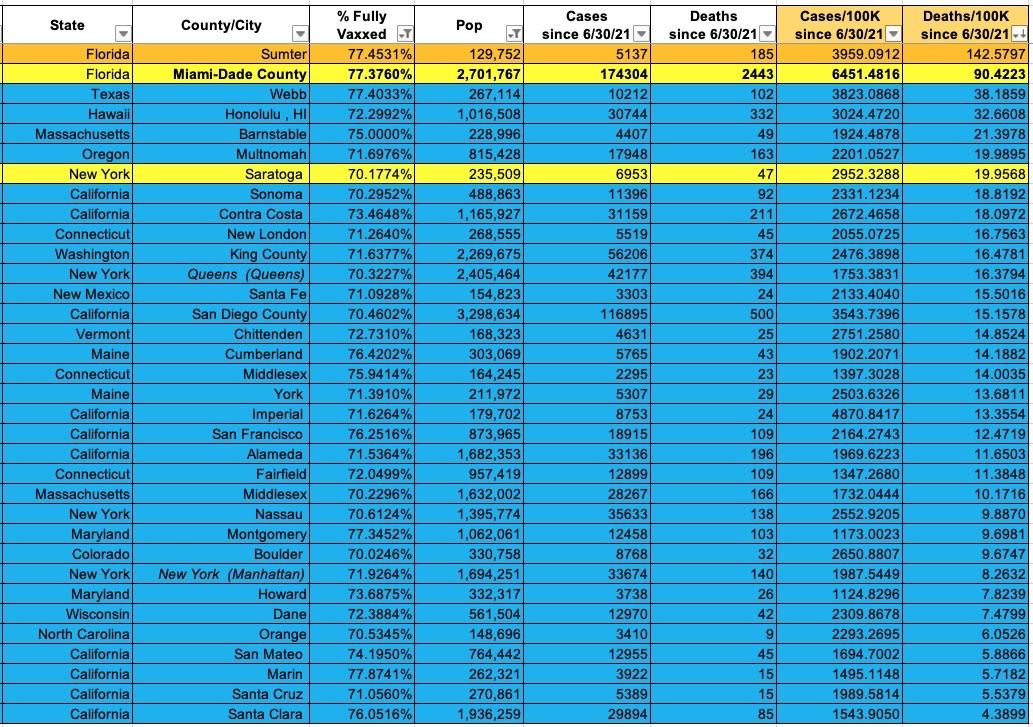 Sumter County's top ranking here isn't terribly surprising seeing how this is home to The Villages, the massive Trump-loving retirement community, which comprises over 60% of the total population. Sumter may be heavily vaccinated, but when you combine nearly 82% of the population being over 65 with that massive Trump support, it's not terribly surprising that they're still facing a high death rate.
Miami-Dade County, on the other hand, didn't seem to make much sense at all on the face of it when I first wrote about the discrepancy...until I started talking to people from Florida, and from Miami-Dade County specifically.
Hi guys: MIA is a major international hub with direct flights from all over Latin & South America. We effectively set ourselves up for vaccine tourism, with shots given at the airport, on the sands of South Beach, etc. Which I supported! All humans deserve shots, but the data collection was clearly not set-up to account for that. But to your original point re: international tourism, it's yet another way that Miami is not like the rest of Florida. In fact: we now have the busiest international airport in America.
Besides vaccine tourism, the other likely factor which has been suggested by many people is the "snowbird" effect: Seniors who usually live up north and only spend the winter in Miami-Dade, who got vaccinated in M-D back in January/February 2021 before flying back up north for the rest of the year.
In any event, here's the vaccination-based case/death rate graphs I posted yesterday, but with Miami-Dade County separated out so you can see what each would look like if the county wasn't included. Sure enough, for both case rates and death rates, the bracket in question drops significantly: