Keep posting your REAL-WORLD examples of #ACA savings thanks to the #AmRescuePlan!
Fri, 04/02/2021 - 10:33am
Last month I posted an explainer with a bunch of colorful graphs & charts explaining how much various households could save thanks to the expanded/enhanced ACA subsidies included with the American Rescue Plan. I included 8 different households, using the national average ACA benchmark plan premium for 2021:
Single Adults age 26, 40, 50 and 64
Single Parent; Nuclear Family; Empty Nesters w/College-age kid; 60-yr old couple
Here's how much the "Nuclear Family of four" example (40-yr old ocuple with 2 children) would theoretically save, assuming they choose the avg. national benchmark Silver plan: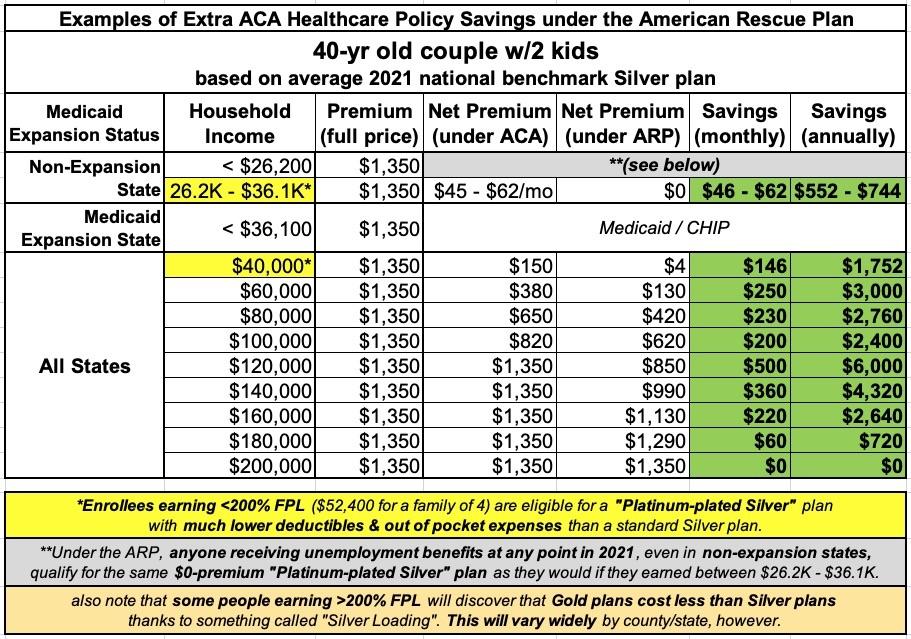 HOWEVER, these are all theoretical. What does this look like in the real world?
Well, now that the newly expanded ACA subsidies are LIVE at HealthCare.Gov (other ACA exchanges will be coming online soon as well), we're starting to get some actual case studies...and some of these are just as dramatic as the examples I illustrated last month. Let's take a look (I'll be updating this entry from time to time over the next week or two):
I am a insurance agent in NC - just processed my first enrollment on HealthCare.Gov with APRA subsidy change. Small biz owner's premium for him and his fam went from $ 1672 to $ 25.

— Christopher Smith (@042377_LedZep) April 1, 2021
Assuming they didn't switch plans, this is pretty clearly a perfect example of someone just over the "Subsidy Cliff" threshold; there's no way their premium dropped that much if they were already receiving subsidies. They went from paying full price to receiving $1,647/mo in subsidies.
I asked for a few more details:
Do you mind if I ask what county & what the ages of the family members are? (If you can't I totally understand)

— Charles #GetCovered-ba (@charles_gaba) April 1, 2021
Buncombe County, NC. 55, 52, 14. BCBSNC Bronze 7000.

— Christopher Smith (@042377_LedZep) April 1, 2021
Sure enough:
Go to HealthCare.Gov/see-plans and enter a zip code for Buncombe County, NC (I used 28801)
Choose "You and Other People", Married, 1 Dependent
Enter the ages above (55, 52, 14)
Enter $107,000 for the estimated annual income for 2021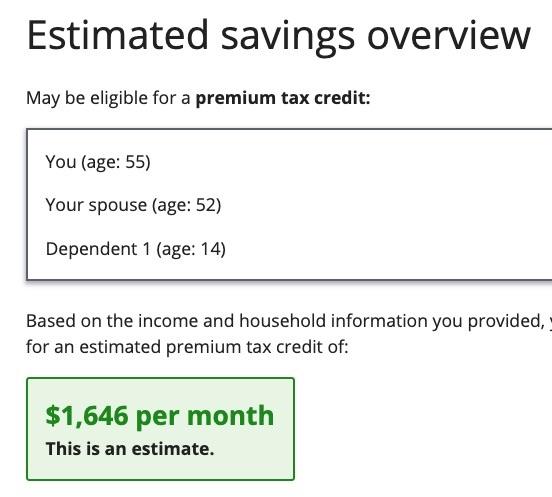 THIS FAMILY JUST SAVED NEARLY $20,000/YEAR.
If you then go to "View Plans," you'll see the BCBSNC Bronze 7000 listed second: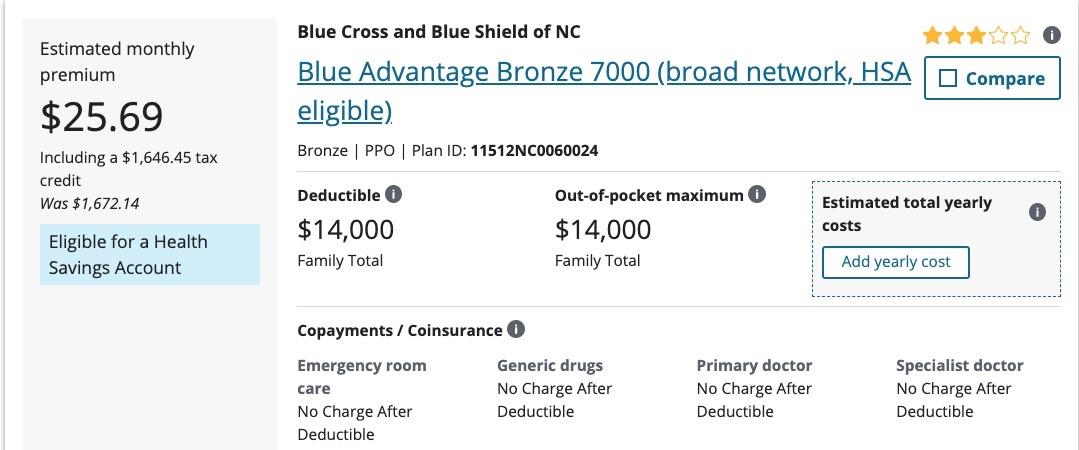 Granted, the $14,000 deductible/MOOP is still pretty steep, but it is a Bronze plan...and it's eligible for a Health Savings Account, which is something I'm not personally a big fan of, but everyone's situation will vary.
The point is that this family just saw their premiums plummet from over $20,000/yr down to just $300. That's a 99% reduction.
In fact, even if they have a catastrophic year and completely max out the deductible/OOP ceiling, their worst-case scenario would still go from $34,066 in medical expenses to $14,300...a 58% reduction.
I'll be posting other examples below as they're brought to my attention:
Our premiums just dropped by $223/mo.!

— Ty Schalter (@tyschalter) April 2, 2021
Gold plan for a family of five, for less than $100 out-of-pocket more than the trash-fire bronze plan we were on last year. SO much better!

— Ty Schalter (@tyschalter) April 2, 2021
Had a $87/month premium for my silver plan. Now it's $0. And it looks like my OOP max dropped too.

— Brian Coty (@BrodyCoty) April 2, 2021
We are a couple previously just over the cliff for subsidies. Premium now reduced by $1000 per month.

— TexKauai (@TexKauai) April 2, 2021
And we switched from an off-exchange silver plan to a no deductible gold plan.

— TexKauai (@TexKauai) April 2, 2021
HEY ! If you're currently on health insurance that you bought from an ACA exchange or HealthCare.Gov: go and re-submit your application. We kept the same plan but our monthly premium dropped! We will save over $2,000 for the year! Thanks for head's up @charles_gaba!!

— Nona #GetMasked (@NotGr8flJstDead) April 3, 2021
I called HealthCare.Gov yesterday. My family premium amt paid went down about $125.00 monthly for the same bronze plan. They did make me fill out a new application. The lower amount should begin in May. I'm a real-world example!

— Sheannz (@sheannz1) April 2, 2021
Got a Marketplace Plan?
Log in and update your application.
I just had a 62 year old woman making $75K a year lower her premium from $879/month to $475.

— Jenny Chumbley Hogue (@kgmom219) April 6, 2021
I went on @healthsherpas to claim the #ARPA subsidy increase for #ACA individual coverage and my premium went from $390 for a family of six (yep, six!) to $55. Yay for Congress doing things! (cc @GeorgeK_HS @charles_gaba @kgmom219 @LouiseNorris @AlekaGurel @cynthiaccox)

— Shandon Fowler (@ShandonFowler) April 7, 2021
Here ya go! Ocean Isle Beach, NC 28469

$87K Income. Current premium: $917. New ARPA Premium is $271

— Jenny Chumbley Hogue (@kgmom219) April 7, 2021
I just did and saved an additional $150/mo! Thank you Charles!

— Well Hello (@LucyHarrizon) April 3, 2021
You saved my son $90 per month.

— Gwen Markham (@markham_gwen) April 11, 2021
Here's one from the comments of one of my posts over at Daily Kos:
FYI for self employed: Figuring out what income you should report on the Healthcare.gov website is pretty hard to do, I found.

I'm pretty sure you should report your AGI — Same as you put on your Federal 1040.

Thanks to Charles' advice last week, I reduced my premium by $1500 a month!
I just found out the new COVID bill DOUBLED my discount (tax credit) for my marketplace insurance!! I now pay only $211 p/m for a family of four full coverage+dental+vision w/ low deductible..I'm seriously sooo excited! #adulting #BidensAmerica #obamacare #AmericanRescuePlan

— Ellie Greene (@ellie_greene) April 10, 2021
Was this from a bot? Because it seems botish.

This is dumb. l just updated my HealthCare.Gov info. (More annoying process than it should be). Saved additional $57 per month.

FYI. Texas.

— Harry C (@hcouch22) April 12, 2021
I decided to keep my current plan, for simplicity's sake, but was pleased to see so many more choices this time around. I was paying $103. a month for a mid-level silver plan, already subsidized because of being fairly low income, but that has gone down to $49. a month. All co-pays, deductibles, etc. are staying the same, which is fine, because it's a CSR plan. The monthly savings more than makes up for my rent going up this spring, i.e. I come out a few dollars ahead.
I was able to upgrade from a bronze plan to a silver plan for only $10.50/month.
My co pay [premium] went from $87 to $1 and change!
Last week I commented on one of your posts regarding the trouble I had at healthcare.gov with security questions. I did contact someone at the phone number supplied, who assisted quite professionally and with courtesy. I am not afraid to admit that it was operator error, as is usually the case for any online activity I attempt.

Bottom line is that I have successfully applied and will have no monthly premiums! Thanks for your continued service here!
I love ARPA.
Single Female, age 59, paying $841/month.
New Premium is $460!

— Jenny Chumbley Hogue (@kgmom219) April 14, 2021
Yes, I would be happy to move you from your junk plan at $440 month with a $10K deductible to an ACA Blue Cross plan at $265 with a $75 deductible.

56 year old woman, family history of breast cancer and she was cried because she hadn't been able to have a mammogram in 2 years

— Jenny Chumbley Hogue (@kgmom219) April 15, 2021
My premium dropped $118/month. Thank you
.@POTUS .@VP .@HouseDemocrats .@SenateDems

— Zoe-Sedition Has Consequences (@DeepInTheHills) April 16, 2021
Thank you. I just adjusted my application and I'm getting an extra $100/mo. I will now have a gold plan for $28.

— Skibo For Hermitage Commissioner (@Skibo4Hermitage) April 23, 2021
And also remember people if you already have the ACA please go in and recalculate your income. Under @POTUS the cost of the ACA has come Down. Mine came down from $156.00 per month to $73.00 per month and I have no deductible and I have vision and dental included.

— DARLIGHT (@DARDYER) April 24, 2021
Yes, my premium declined as well, with a 0 deductible policy.

— Matthew Falls (@MatthewFalls6) April 24, 2021
I received an email asking me to essentially re-sign up (I had been in my 'new year' for a couple of months) and after doing so, my monthly premium was half — $259 to $132! Thank you Joe!
While I'm unfortunately waiting for #COVID19 results for my daughter and the rest of my family (praying it is a stomach virus) I received notice from @CoveredCA and my insurance will now be $1 month. Thank you @POTUS @charles_gaba
Wow. pic.twitter.com/3o0IPa1Ef0

— Alison (@Staffingals) April 28, 2021
I'm shocked! I got a prompt from HealthCare.Gov to check my rate and behold! I re-registered my 2021 Application and I get $180 per month subsidy. My lowest premium in 20 years!

— melissa connor (@melissaplusone) April 29, 2021
@charles_gaba yesterday, shenanigans at SSA terminated Medicare I have been on since 1994 due to disability. Today, I am on #ACA Anthem Gold plan with a low deductible, lower copays than Medicare & lower copays for all of my drugs. All drugs covered too. Cost $9.90 per month! 1/2

— Tee Votes Blue (@TeeTweetsHere) April 30, 2021
I am saving so much on the #ACA healthcare that I also added the best Delta Dental plan my dentist takes for $31.

Yesterday: $222 premium for #Medicare & Part D with no dental.

Today: $40.90 premium for better Anthem Gold plan plus dental & much lower out of pocket. 2/2

— Tee Votes Blue (@TeeTweetsHere) April 30, 2021
My husband and I were stuck in that purgatory of the ACA premium subsidy cliff, resorting to a series of junk, short-term, catastrophic plans costing $300/month with….wait for it….$24K annual deductibles for the 2 of us. We made the very uncomfortable choice of gambling on our good health vs. paying ~$2,400/month (which we could not afford) for the minimum ACA plan (we're in MT).

With the passage of Biden's American Rescue Plan and premium caps by income — and after reading your great, informative diaries — I applied for a Bronze ACA plan and qualified for a $1,400/month subsidy! So we now pay $170/month for a legitimate ACA plan covering both of us with much lower deductibles than our previous junk plans, plus all the other bennies of ACA (preexisting conditions, annual dr. visits). Truly a BFD in our household. Thank you Joe! And you too Charles!
Hey tweeps if you are on Obamacare you need to call the Marketplace 800-318-2596 and proactively ask them if you qualify for a lower premium. I just got $300 knocked off my premium. They redo your existing app and rerun the numbers. This is because of the #AmericanRescuePlan.

— Lady Danbury's eyebrows (@KimShoeCrzy) April 5, 2021
And my monthly premiums were just cut in half. That's a good deal!

— JODI SMITH (@JodiMapwife1) May 11, 2021
Yes, Ambetter actually reached out to me to reconfigure the monthly premium and it went from $300 a month to $175 a month in an instant. That's more like what I expected from ACA Obamacare.

— JODI SMITH (@JodiMapwife1) May 11, 2021