Michigan: After 8 months of doing nothing, GOP wants to impeach Gov. Whitmer for saving thousands of lives
Mon, 11/16/2020 - 11:50am
LANSING – Emergency orders Gov. Gretchen Whitmer has issued under the Emergency Powers of Governor Act are struck down, effective immediately, the Michigan Supreme Court said Monday in a 4-3 order that added an exclamation mark to an Oct. 2 ruling.

...Monday's Supreme Court ruling is in response to a lawsuit brought by the Michigan Legislature. The Oct. 2 ruling, which was a 4-3 decision striking down the Emergency Powers of Governor Act of 1945, was in response to questions sent to the court by a federal judge handling a lawsuit brought by medical service providers in western Michigan.

Monday's ruling means hundreds of thousands of Michiganders could lose their unemployment benefits "in a matter of days," Whitmer spokeswoman Tiffany Brown said. Among the orders struck down, and not replaced by a health department order, is one that extended Michigan unemployment benefits to 26 weeks, up from 20.

House Speaker Lee Chatfield, R-Levering, hailed the ruling.

"Another big win at the Supreme Court today!" Chatfield said on Twitter. "The law is the law, and partisan politics can't change that. The people will finally have their voices heard in this process. The House is in again tomorrow, and I hope the Governor is ready to cooperate. It's time to work together!"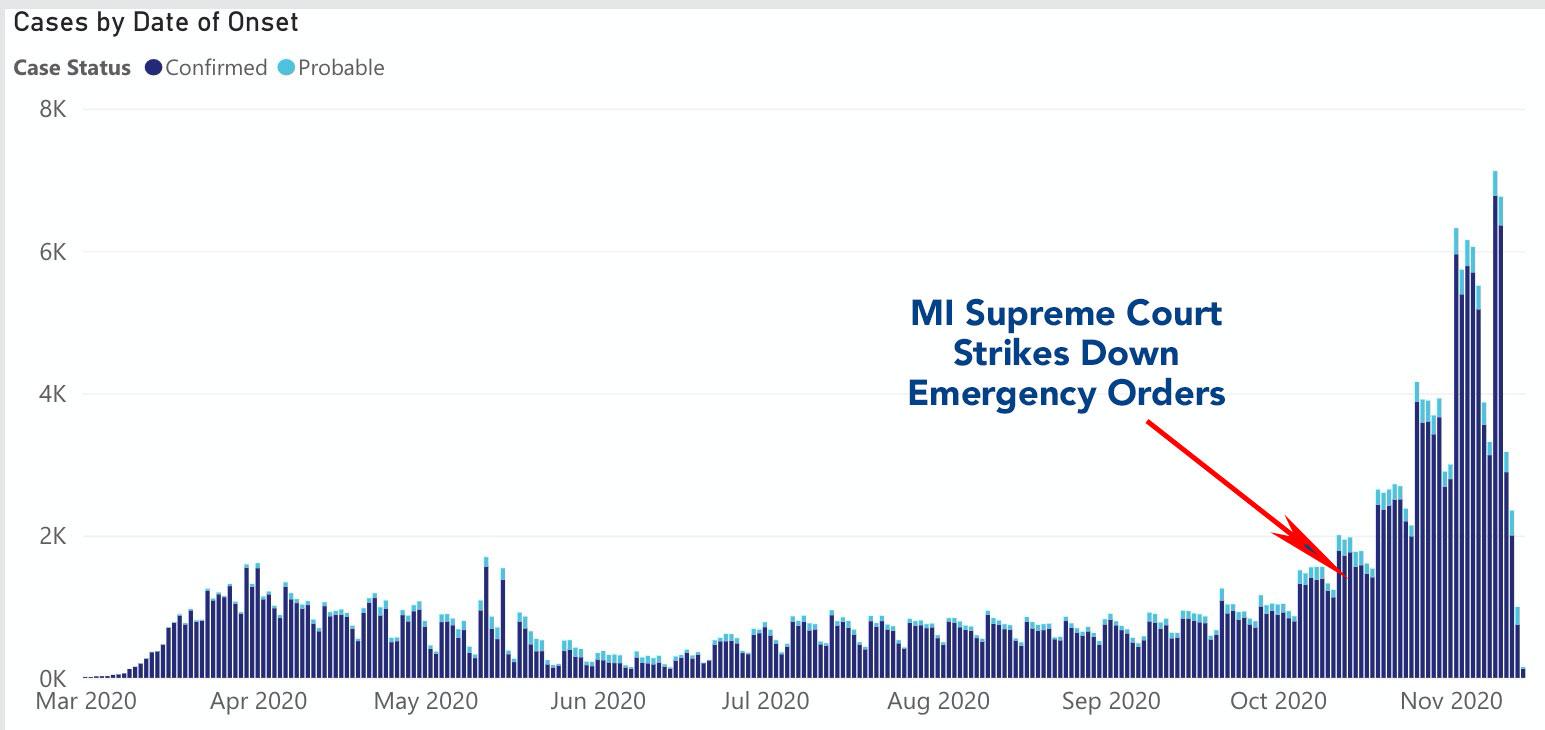 GRAND RAPIDS, Mich. — New details reveal a group of extremists charged in a plot to kidnap and presumably execute Gov. Gretchen Whitmer, allegedly planned to take hostages in the state capitol and execute them on live television.

A filing by the Michigan Attorney General's Office argued against the release of Pete Musico, 42, of Munith, one of the eight men charged with state level terrorism charges in the thwarted kidnapping plot in early October. Six other men face federal charges for their role in the plan.

...The Attorney General's Office said Fox proposed recruiting 200 men to storm the Capitol while the legislature was in session, take hostages, and execute them on television over the course of week. A secondary plan was to storm the Capitol, lock the exits, and set fire to the building, according to the court filing.

Court records show Musico hatched his own "Plan B" to target the homes of politicians and kidnap them, according to the filings.
November 15th, 2020:
Last week, Gov. Whitmer said that she held a quadrant call with @SenMikeShirkey, @LeeChatfield, and other legislative leaders

Whitmer said Republicans dismissed her proposal for a statewide mask mandate, but also didn't present a plan to slow the spread of COVID-19 when asked. https://t.co/CzKDPOGmcU

— Mark Cavitt (@MarkCavitt) November 16, 2020
Oh, yeah, and this on the same day:
With Michigan's pandemic numbers raging similarly out of control, you might expect that state legislators would be meeting in emergency session to consider additional measures, especially now that Whitmer's authority has been circumscribed.

But so far, the only emergency Republican legislative leaders are concerned about is the prospect that Joe Biden will be certified as the winner of Michigan's presidential election. Last week, after the House and Senate Oversight Committees subpoenaed state election officials in a desperate hunt for evidence of voter fraud, both chambers adjourned for their annual deer hunting recess, spurning Whitmer's pleas for legislation codifying a statewide mask mandate.
That's right: Michigan Republicans decided that deer hunting takes precedence over mitigating a deadly pandemic.
As my son quipped today, "they don't need to shoot the deer...just infect them with COVID."
November 16th, 2020:
Today, myself and a growing list of Michigan Legislators have decided that @GovWhitmer has crossed the line and will be calling for #ImpeachWhitmer hearings. The list of violations is long and the call is overdue #MIGOP #MILEG

— Matt Maddock (@matthewmaddock) November 16, 2020
See? They do have a "plan" after all! The "plan" is to impeach Gov. Whitmer for daring to saving thousands of lives while they sat on their asses for 8 months and did nothing except put more people at risk!