California: @CoveredCA announces new SEP for Wildfire Victims & those who lose their job/income during the #COVID19 pandemic
Mon, 08/24/2020 - 3:50pm
this just in via Covered California:
Covered California Opens New Paths to Coverage for Wildfire Victims and Those Who Lose Their Job or Income During the Pandemic and Recession

Covered California establishes a new special-enrollment period to benefit victims of the 500+ wildfires raging across the state.

In addition, Covered California announced new paths to coverage that will run through the end of 2020, for Californians who have lost employment or income due to the pandemic and resulting recession.

The moves come during ongoing uncertainty in the lives of Californians caused by the wildfires and the continuing fight against COVID-19.

More than 271,000 people have signed up for coverage through Covered California since the exchange's initial announcement of a special-enrollment period in response to the pandemic.

La versión en español de este Comunicado puede ser descargada en este enlace.
SACRAMENTO, Calif. — In an effort to help Californians who have been impacted by the wildfires burning across the state, and to build on the help provided to those affected by the COVID-19 pandemic and the ensuing recession, Covered California announced the establishment of new paths to coverage during the current special-enrollment period. Consumers who are victims of the wildfires, or who lose their jobs — even if they do not receive health care coverage through their employer — and those who suffer a loss of income, could be eligible to sign up for coverage.

"Right now, many Californians face a triple threat, with hundreds of wildfires burning during a pandemic and recession, and Covered California wants to make sure they have access to the health care they need," said Peter V. Lee, executive director of Covered California. "Providing these paths to coverage will ensure that those who have lost jobs, suffered a loss of income, or have been affected by wildfires have an opportunity to get health care coverage, whether it is through Covered California or Medi-Cal."
I asked for some clarification regarding just how this new Special Enrollment Period differs from the current one (which is open to any California citizen/documented resident who's currently uninsured) and the normal SEP rules (which offer a 60-day SEP if you lose qualifying healthcare coverage), and it was explained as follows:
The current "open" SEP ends on August 31st.
Normally, it's losing qualifying healthcare coverage which triggers the Qualifying Life Event; this new SEP expands eligibility to losing employment/having a singificant income drop, which isn't necessarily the same thing. Many small businesses don't provide healthcare coverage for employees, after all.
The new SEP starts on September 1st and runs through the end of 2020* In other words, instead of a 60-day window, this basically expands it to a 122-day window.
You still have to provide appropriate documentation of your job/income loss. Not sure how they're handling proof of "being affected by wildfires"...perhaps using your zip code?
*(technically that would be 12/31, but realistically the latest it would apply would be 11/15, since if you enroll on 11/16 or later your policy wouldn't kick into effect until January anyway, which means you might as well just enroll using the normal Open Enrollment Period).
Covered California's regulations allow it to establish a special-enrollment period for people affected by the current statewide state of emergency. As of Friday, there were approximately 560 wildfires raging across the state, including two of the biggest in state history, sparked by nearly 12,000 lightning strikes.

"The emergencies facing our state right now will continue to have a long-lasting impact on Californians, and Covered California is doing what it can to meet people's health care needs, so they have one less thing to worry about," Lee said. "If you have been affected by the wildfires, or lost your job or income because of the pandemic and recession, we're opening our doors for eligible individuals to get health coverage through Covered California or Medi-Cal."

Covered California initially responded to the COVID-19 emergency by opening the health insurance exchange from March 20 to Aug. 31 to any eligible uninsured individuals who needed health care coverage. With that special-enrollment period expiring at the end of the month, the new qualifying life events will continue to help consumers sign up for health care coverage during this turbulent time.

The most recent data shows that 271,820 people signed up through Covered California for health care coverage between March 20 and Aug. 20, which is more than twice the number who signed up during the same time last year.
This brings the total number of confirmed COVID-19 SEP ACA exchange enrollees nationally up to around 557,000 nationally (369,000 confirmed across 9 states with their own ACA exchanges plus around 188,000 "extra" SEP enrollments via HealthCare.Gov). I also estimate that the remaining 4 state-based exchanges (DC, Idaho, Rhode Island and Vermont) have added perhaps 17,000 more SEP enrollments specifically due to the COVID-19 pandemic. Idaho never opened up a formal COVID SEP, but they have at least eliminated the verification requirement for standard SEP enrollees.
All told, I estimate that perhaps 574,000 people have enrolled in ACA exchange policies to date specifically thanks to either "open" COVID-19 SEPs or loosened SEP requirements to date: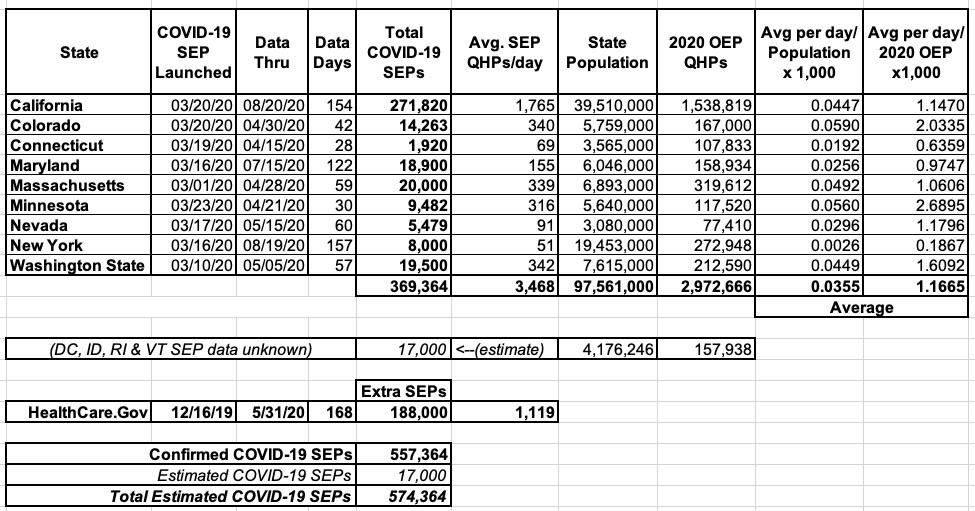 I still estimate that a good 440,000 - 640,000 more people would have enrolled in exchange plans by now if HealthCare.Gov (and Your Health Idaho) had offered a 2-month fully "open" SEP, but whatever.
Every year, Covered California provides eligible consumers the opportunity to sign up for health care coverage outside of the traditional open-enrollment period if they experience a qualifying life event. These can include events like losing your health insurance, moving, getting married or having a baby.  

Overall, 339,530 people have signed up for coverage since Covered California ended its open-enrollment period on Jan. 31, which is nearly twice as many as seen during the same time period last year.
This means that 67,710 people enrolled in CoveredCA policies via the extended open enrollment period before it became a COVID-19-related thing, or roughly 1,410/day over 48 days. The average from 2/01 - 8/20 is 1,689/day. California typically enrolls around 910/day via Special Enrollment Periods, so that checks out.
While millions of Californians have lost employment or income due to the recession, Covered California's announcement comes on the heels of that state announcing that many receiving unemployment benefits will get at additional $300 per week. People who sign up through Covered California will have access to private health insurance plans with monthly premiums that may be lowered due to federal and new state financial help that became effective in 2020. After selecting a plan, their coverage would begin on the first day of the following month — meaning individuals losing job-based coverage would not face a gap in coverage.

Medi-Cal Coverage

Consumers who sign up through CoveredCA.com may find out that they are eligible for no-cost or low-cost coverage through Medi-Cal, which they can enroll in online. Those eligible for Medi-Cal can have coverage that is immediately effective.

California has halted Medi-Cal renewal reviews and discontinuances through the end of the public health emergency, ensuring that those already enrolled can continue their coverage. The decision will free up county resources to process new enrollments. The Department of Health Care Services also received expanded authority to expedite enrollment for seniors and other vulnerable populations through Hospital Presumptive Eligibility; expand the use of telehealth; and to provide COVID-19 testing, testing-related services and treatment to the uninsured, among other steps to make it easier to access care.

All Covered California and Medi-Cal Plans Offer Telehealth Options

All health plans available through Covered California and Medi-Cal provide telehealth options for enrollees, giving individuals the ability to connect with a health care professional by phone or video without having to personally visit a doctor's office or hospital. 

All medically needed screening and testing for COVID-19 is free of charge. This includes telehealth or doctor's office visits, as well as network emergency room or urgent care visits for the purpose of screening and testing for COVID-19. In addition, Medi-Cal covers costs associated with COVID-19 in both its managed care plans and with fee-for-service providers. Covered California health plans will help cover costs that arise from any required treatment or hospitalization.

New State Subsidies Help Californians Lower Their Health Care Costs

Californians who sign up for coverage may be able to benefit from a new state subsidy program that expanded the amount of financial help available to many people. The subsidies are already benefiting about 625,000 Covered California consumers. Roughly 576,000 lower-income consumers, who earn between 200 and 400 percent of the federal poverty level (FPL), are receiving an average of $608 per month, per household in federal tax credits and new state subsidies (which averages $23 per household). The financial help lowers the average household monthly premium from $881 to $272, a decrease of 70 percent.
Again, CoveredCA "households" typically have around 1.4 enrollees apiece, so that's roughly 411,000 households x $23 x 12 = $113 million in extra state subsidies this year to those already receiving APTC assistance.
In addition, nearly 32,000 middle-income consumers have qualified for new state subsidies, with an average state subsidy to eligible households of $504 per month, lowering their monthly premium by nearly half. 
That's around 23,000 households x $504/mo x 12 = $139 million in state subsidies for enrollees who don't qualify for official federal APTC assistance.
Many of those eligible for the new middle-income state subsidies are an estimated 280,000 Californians who are likely eligible for new state or existing federal subsidies but kept their "off-exchange" coverage. They are also eligible to switch to Covered California and benefit from the financial help.
AGAIN: There's around 280,000 Californians who are leaving money on the table, potentially thousands of dollars for many fo them.
Staying Safe While Getting Help Enrolling

Covered California is working with the more than 10,000 Certified Insurance Agents who help Californians sign up and understand their coverage options through phone-based service models.  

"Over the past several months, our staff and insurance agents across the state have been working to help thousands of people over the phone or through virtual meetings to help people get the coverage they need," Lee said. "Health care coverage through Covered California of Medi-Cal can be just a phone call away."

Consumers can easily find out if they are eligible Medi-Cal or other forms of financial help and see which plans are available in their area by using the CoveredCA.Com Shop and Compare Tool and entering their ZIP code, household income and the ages of those who need coverage.

Those interested in learning more about their coverage options can also:

Visit www.CoveredCA.com.
Get free and confidential assistance over the phone, in a variety of languages, from a certified enroller.
Have a certified enroller call them and help them for free.
Call Covered California at (800) 300-1506.