Pennsylvania running contrary to the #COVID19 red/blue trend line...but there may be a reason
Tue, 04/28/2020 - 11:43am
Over the past few days, I've collected and analyzed the daily COVID-19 cases at the county level in Michigan and Wisconsin to see what patterns are emerging as time goes by. I've tried to do this via two criteria: Population density (urban vs. rural) and politically (red vs. blue). The latter, of course, shouldn't even be a thing, but of course it is; pretty much every policy decision being made by the Trump Administration is based on tribal politics, so it'd be naive not to look at the data in that light.
So far, I've found clear and obvious trends in both midwest states, which happen to be two of the three most closely-watched swing states this year: While the urban centers (Detroit/Metro Detroit in Michigan; Milwaukee/Madison in Wisconsin) started out with much higher rates of infection than the rest of the state, over the past few weeks this has shifted dramatically, and appears set to continue to do so.
Here's Detroit, Metro Detroit (which includes the rest of Wayne County along with Oakland and Macomb Counties), and the Rest of Michigan: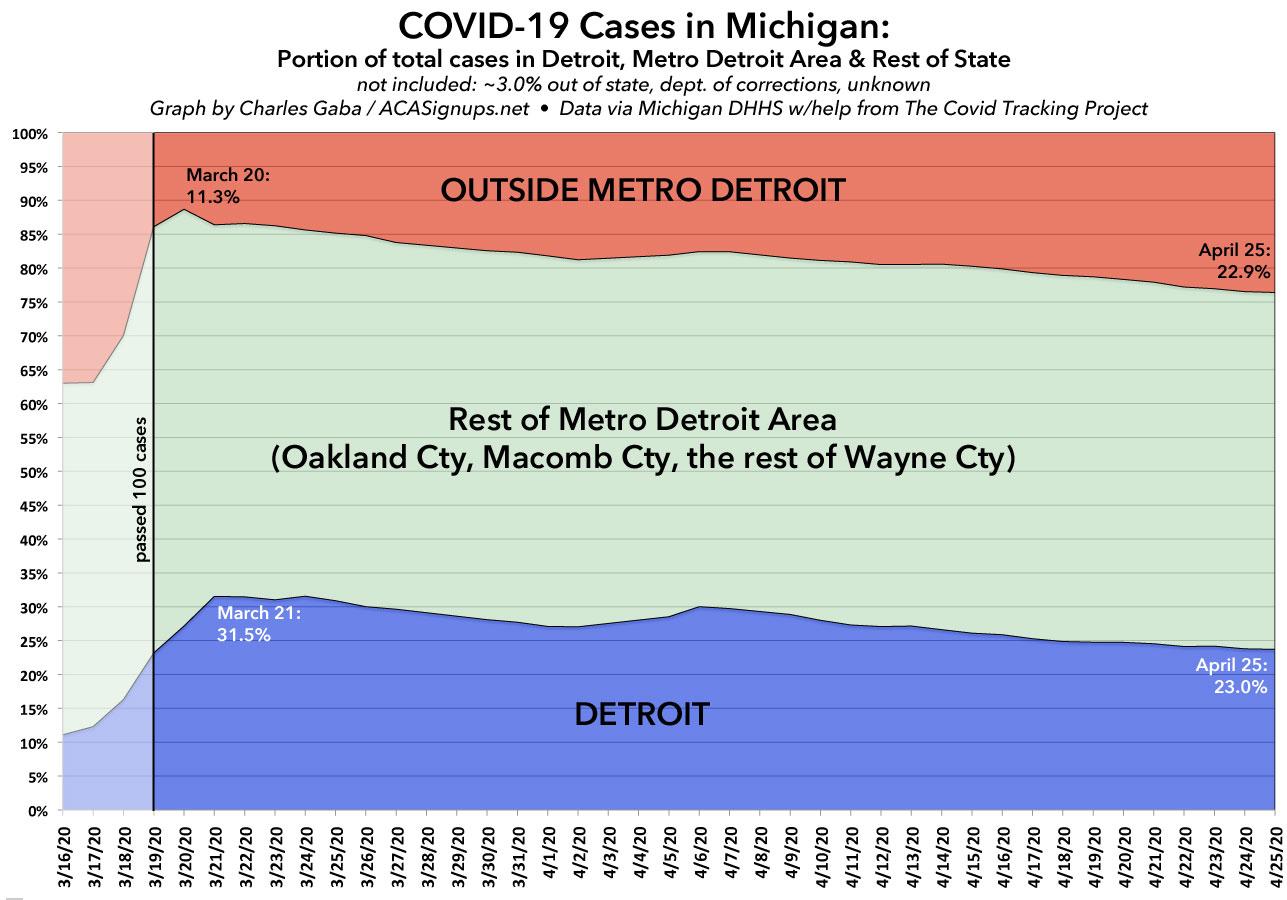 For Wisconsin, I used Dane County (Madison) and Milwaukee County (Milwaukee). This isn't an exact representation since these cities only make up about 50% and 60% of the county populations respectively, but I don't have the daily city-level data available for either one: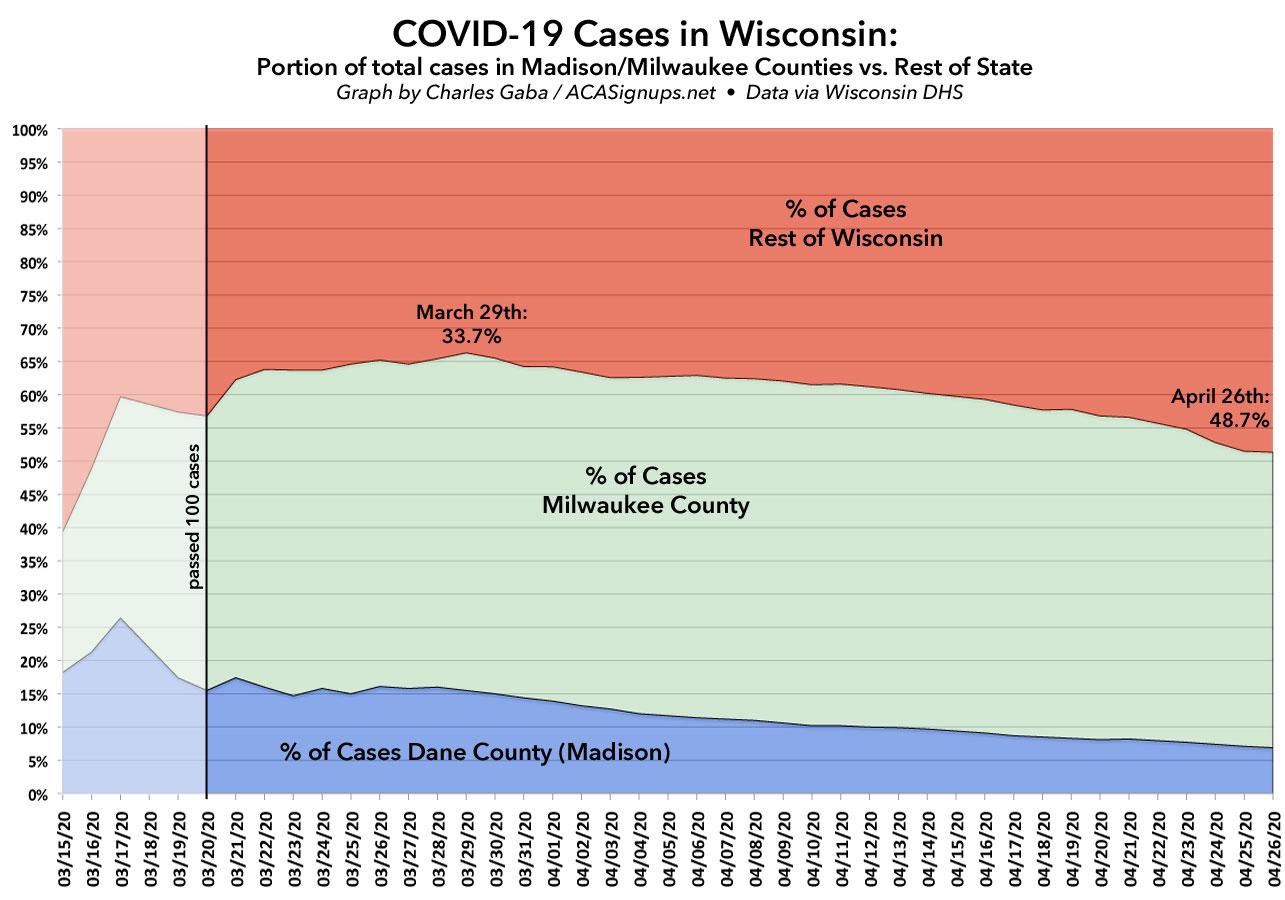 Today I'm looking at the third "failed 2016 blue firewall" state which put Donald Trump over the top: Pennsylvania. For the Keystone State, I used Philadelphia and Pittsburgh as the "urban centers" to go by. As it happens, Philadelphia the City is also the same as Philadelphia the County, so there's no discrepancy there. Pittsburgh is a very different story...while it's the 2nd largest city in the state, it only makes up about 25% of Allegheny County. I debated whether to include it or not but decided to do so until I get better information.
In any event, Pennsylvania seems to be going against the grain on the trend lines, both "urban vs. rural" as well as "red vs. blue":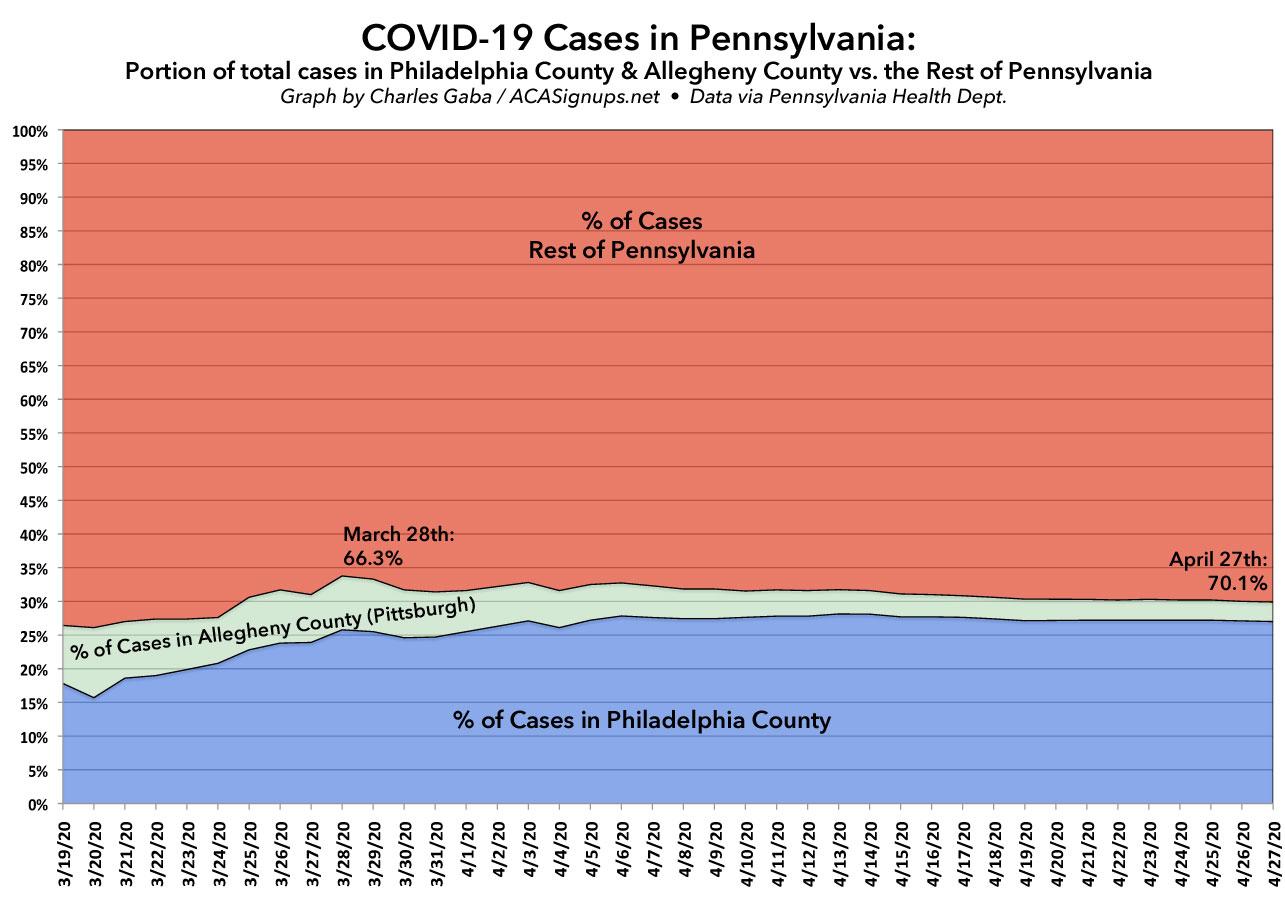 Unlike Michigan and Wisconsin, which started out with significantly higher COVID-19 rates in their urban centers but which have since seen a gradual but clear trend of the less densely-populated portions of the state increasing their share of cases, Pennsylvania seems to have stayed pretty steady for six weeks straight. The parts of the state outside of Philly and Allegheny have seen their share of total cases increase...but only by a few percentage points, rising from 66% exactly a month ago to 70% today.
Looked at from a strict red/blue County angle (technically, Trump 2016 vs. Clinton 2016), the trend is a little more clear, but still not nearly as dramatic as the first two states. Trump counties have increased from 19% of all cases to nearly 32% this week...but most of that increase happened in late March. Once April hit, things seemed to level off quickly, and the relative proportions have stayed virtually even for the past week or so: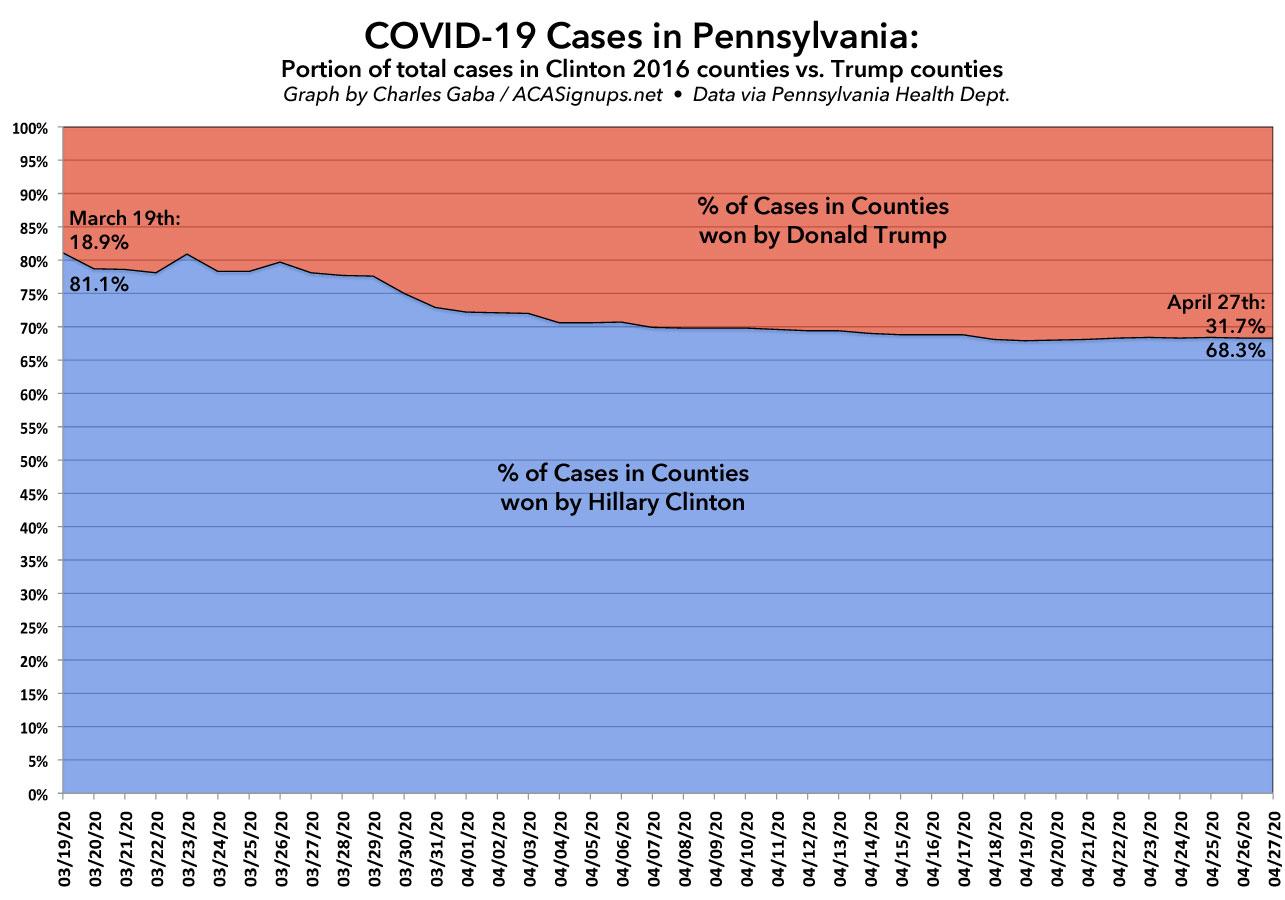 So what's going on in Pennsylvania which differs from Michigan or Wisconsin? Well, there's probably a lot of answers, but here's one offered by someone who says she's a Michigan transplant now living in the Philadelphia suburbs:
Fascinating article. I grew up in Oakland county (Birmingham) and live in PA-Philly burbs. For what it is worth, I have a couple of thoughts on why PA isn't quite following the trend

— Kathy (@kathyinbluebell) April 28, 2020
1) There is no equivalent to "Up North" in rural PA. No vacation spot where people in the big city suburbs have vacation homes the would head out to. Here in the Philly area, the vacation homes are at the shore, and no one is going to NJ now

— Kathy (@kathyinbluebell) April 28, 2020
2)Ironically my home county, Montgomery was the 1st hot spot in the state and shut down 1st. I say ironically because it was brought here by people who attended a huge Biomedical conference up in Boston. Montco has a large population of people who work in Pharma and other

— Kathy (@kathyinbluebell) April 28, 2020
Biomedical industries. This is a place that takes science and scientists very seriously. Plus a lot of these jobs actually can be set up to work from home. On my block, at least half of people worked from home before the virus hit.

— Kathy (@kathyinbluebell) April 28, 2020
3) Finally, keep your eyes on the PA numbers. We had a big death rally in Harrisburg last week. It drew several state reps and senators. You may very well see rural numbers increase over the next week or so.

— Kathy (@kathyinbluebell) April 28, 2020
As I understand it, it takes 10 - 15 days from the time they're infected for most people to actually start showing any symptoms, so if there's any incresase in Harrisburg cases from this event (located in Dauphin County), they probably wouldn't show up until around May 7th or so. We'll see.