UPDATE: Aetna's Pennsylvania Mystery Revealed (and it's just as sleazy as you'd expect)
Mon, 01/23/2017 - 6:30pm
Hey, remember back in August 2016 when Aetna, just three months after saying how great things were going for them on the ACA exchanges (to the point that they might even expand into several additional states), did a complete 180º by announcing that they were instead going to leave 11 of the 15 states they had been participating in?
At the time, it seemed awfully suspicious; as I noted on 8/15/16:
Oh. Well, I'm sure that was just a sheer coincidence, right? No doubt Aetna will clear this up with an unequivocal statement to put any speculation to...

From Peter Sullivan of The Hill:

Asked if the DOJ's actions on the merger had any relation to Monday's announcement, Aetna spokesman TJ Crawford did not directly say yes or no.

"This is a business decision based on higher than projected medical costs that resulted in a second quarter pre-tax loss of $200 million, which we project will grow to in excess of $300 million by the end of 2016," he said.

Uh-huh. I see.
Well, you may recall that it turned out that their bailout decision had a lot to do with the ongoing attempt at merging with competitor Humana after all:
Aetna CEO Threatened Obamacare Pullout If Feds Opposed Humana Merger
Give us our merger or we'll quit Obamacare, the insurer told Justice Department officials in a July letter.

The big health care news this week came from Aetna, which announced on Monday it was dramatically scaling back participation in the Affordable Care Act ― thereby reducing insurer competition and forcing customers scattered across 11 states to find different sources of coverage next year.

Aetna officials said the pullout was necessary because of Obamacare's problems ― specifically, deep losses the insurer was incurring in the law's health insurance exchanges.

But the move also was directly related to a Department of Justice decision to block the insurer's potentially lucrative merger with Humana, according to a letter from Aetna's CEO obtained by The Huffington Post.
In other words, this was (depending on how you look at it) an attempt at extortion on the part of Aetna: "Nice healthcare exchange you've got there! It'd be a shame if anything happened to it!" Others defended this as being an acceptable business maneuver, if admittedly hardball in tone. After all, if Aetna really was losing money in those states, they'd be justified in pulling out of the exchanges regardless of what was going on with the merger.
However, there was one other twist on the whole thing which was a bit of a head-scratcher: As David Anderson (aka Richard Mayhew) noted at the time, one of the states Aetna pulled out of was Pennsylvania...even though they appeared to be making a profit there:
One of the states Aetna pulled out of is Pennsylvania. This is odd as a friend of the blog pointed out to me offline. Below Aetna's rate application memo for the individual market in Pennsylvania. You should look closely at the highlighted segment.

...Aetna was profitable in 2015 in the individual market in Pennsylvania. It is projecting to be profitable in 2017. The filing memo was drafted in late May and submitted to the Pennsylvania regulators in early June. Conditions have not changed enough to make Pennsylvania a money loser in under two months.
I picked up this ball and ran with it a bit, digging up a few additional rate filings for Aetna in Pennylvania, and confirmed that:
...sure enough, they made a profit in Pennsylvania in 2014 and 2015 and were certainly expecting to continue to do so in 2016 and 2017. Yet they're including Pennsylvania among the 11 states they're pulling out of. Why?
At the time I left it there, as there were other fish to fry.
Today, however, it looks like this little mystery has been answered...and it's not a pretty picture:
A federal judge has ruled against the proposed merger of Aetna and Humana, arguing the deal is "likely to substantially lessen competition" in health insurance markets nationwide.

The decision in favor of the Department of Justice by Judge John Bates surprised many financial analysts, who were confident the deal would get approval since Aetna agreed to sell some of its business to another insurer, Molina Healthcare. But the ruling is a major win for consumer groups, economists and antitrust officials, as well as hospitals and doctors, who feared the deal would raise health insurance premiums.
There's several reasons given for the judge killing the deal, but this is the one most relevant to this saga:
Obamacare exchanges played a role, too: Aetna and Humana said there shouldn't be any worries about their individual market plans either since there isn't any overlap. But the judge wasn't buying it. Aetna bailed on many Obamacare markets for 2017, but the judge said that withdrawals were politically motivated to help Aetna's case in the lawsuit — and Aetna could re-enter the exchanges in the future if it wanted.

"Because Aetna's withdrawal from the public exchanges in the 17 complaint counties was to avoid antitrust scrutiny, the court gives that evidence little weight in predicting whether Aetna will continue to compete on the exchanges in the future," the judge wrote. David Anderson, a health policy analyst at Duke University, pointed out this ploy out last August when Aetna dropped its profitable Obamacare plans in Pennsylvania.
But here's the kicker: According to the official court decision (which focuses mostly on Florida, not Pennsylvania) not only was Aetna also making a profit on the Florida ACA exchange, they were only profitable because of their exchange business down there...yet they bailed out of the state anyway (note: The "Mayhew" referred to here is Jonathan Mayhew, Aetna's Head of Exchange Business):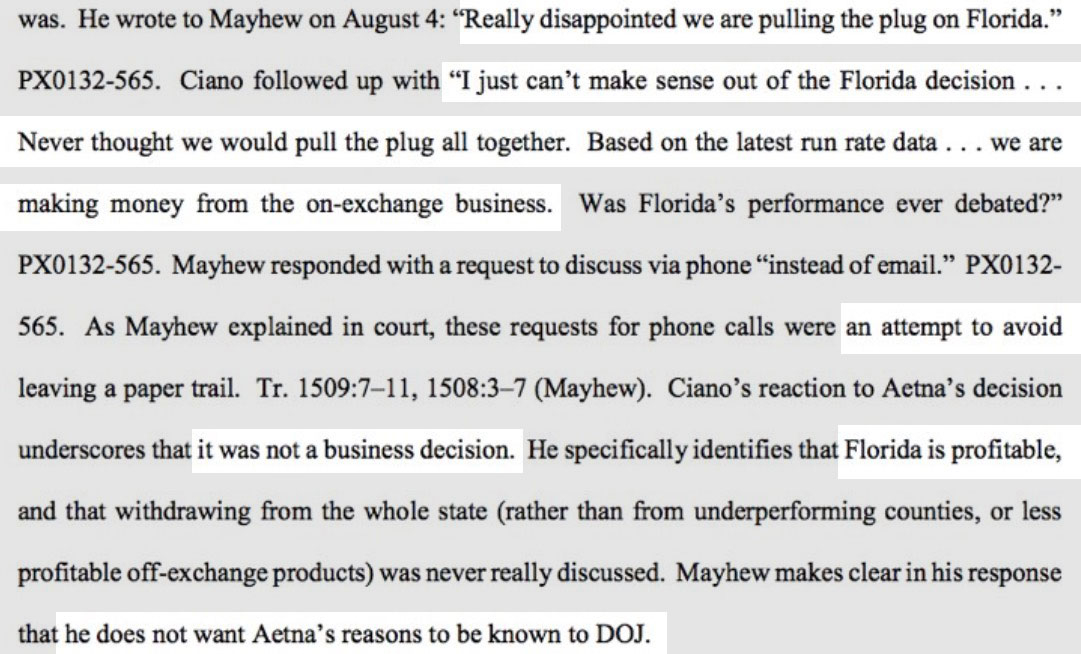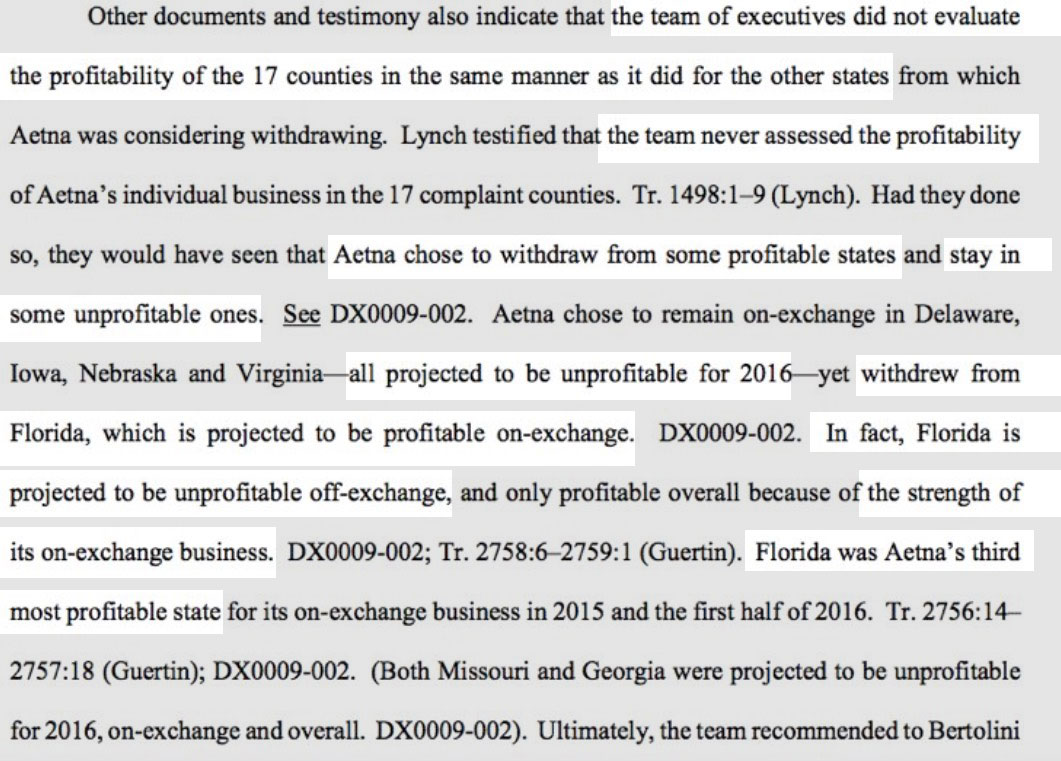 Yes, that's right. While it remains true that many of the carriers which participate on the ACA exchanges are indeed losing money in those markets, it now appears that in at least one case, one of the highest-profile insurance companies which bailed out of nearly a dozen states last year to many huge, ugly-sounding headlines did so purely to avoid antitrust scrutiny.
So, how many people did Aetna's little stunt screw over? Well, the only states where I know they were making a decent profit are Pennsylvania and Florida.
In Pennsylvania they had over 31,000 exchange enrollees as of January 1, 2016. This number should have increased by about 15% since the open enrollment period hadn't ended yet, but then dropped somewhat throughout the rest of the year via normal attrition. My guess is that at least 25,000 Pennsylvanians were still enrolled in effectuated policies by the time the 2017 open enrollment period started.
As for Florida, according to their 2016 filing (screen shot below), they had around 36,000 exchange enrollees in 2015 (see below); it's safe to assume this stayed around the same last year, but even if you knock it down a bit that's still a good 30,000 people total.
In other words, Aetna kicked at least 55,000 people off their policies for no acceptable reason whatsoever (remember, this doesn't include any of the other profitable states).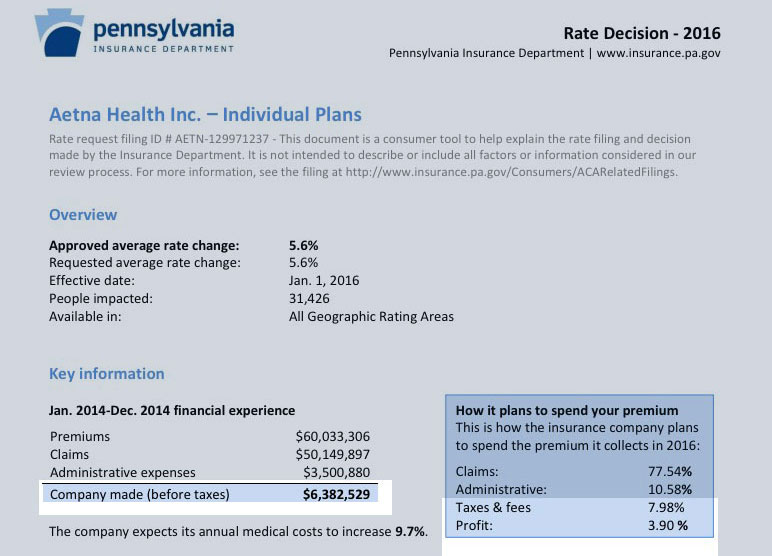 UPDATE: Very nice catch by ian douglas rushlau over at Daily Kos...check out this quote from the Pennsylvania insurance commissioner at the time of the announcement:
"I am disappointed Aetna is withdrawing from the federal health insurance marketplace in Pennsylvania, and many other states, due to financial losses on the state exchanges created under the Affordable Care Act," Pennsylvania Insurance Commissioner Teresa Miller said Tuesday.
Miller was appointed by Dem Gov. Tom Wolf in 2015 (who supports the ACA) and the Insurance Commissioner position in PA is officially nonpartisan, so you can't claim partisanship here. And this is more of a general statement about the withdrawl--it's not like she had any reason to immediately turn to her aides and say "Quick!! Double-check to see whether Aetna made a profit or took a loss here in Pennsylvania's individual market last year before I give this general statement to the press!" But it does underscore the point that Aenta was screwing around here.
UPDATE: Oh, wow...via Twitter, Michael White pointed out something I should've noted earlier:
Both Florida and Pennsylvania are swing states...and Hillary Clinton ended up losing by a tiny margin in both of them.
I'm not gonna say there's a connection, but it's worth noting.