So here's what I was up to last week...
Sun, 01/26/2020 - 5:11pm
I spent most of last week in Washington, D.C. for the 25th Annual Families USA Health Action Conference:
Families USA, a leading national, non-partisan voice for health care consumers, is dedicated to achieving high-quality, affordable health care and improved health for all. Our work is driven by and centered around four pillars: value, equity, coverage, and consumer experience. We view these focus areas — and the various issues unique to each area — as the cornerstones of America's health care system.

Public policy analysis that is rooted in Hill and administration experience, movement-building advocacy, and collaboration with partners are deep-rooted hallmarks of our work. In turn, our work promotes a health system that protects consumers' financial security as much as it does their health care security.

As we advance our mission by combining policy expertise and partnerships with community, state, and national leaders, we forge transformational solutions that improve the health and health care of our nation's families and speak to the values we all have in common.

...Families USA's Health Action Conference is an exciting two-day event combining inspiring sessions featuring state and national experts with lively networking opportunities alongside hundreds of colleagues in the health policy and advocacy space. Join us as we celebrate our 25th conference, Our Nation's Health in the Balance, to gear up for your critical work in 2020 and beyond!

Who Should Attend Health Action?

Community leaders
Social Justice advocates and activists
Health care and policy professionals
Oral health groups and partners
Children's health champions
Representatives of people with disabilities
Enrollment Assisters
Primary Care Associations and health center outreach and enrollment staff
State-based health care advocates
Advocacy professionals from national organizations
This was my third time attending the conference, but since I was gonna be in DC anyway, I decided to come in a day or two early and schedule meetings with some House Congressional staffers. My primary mission was to try and encourage them to get their bosses to cosponsor H.R. 1868 and/or H.R. 1884, aka the Health Care Affordability Act and the Protecting Pre-Existing Conditions and Making Health Care More Affordable Act.
Yes, that's the official title of the second one, and yes, it's absurdly long and impossible to remember, so I've simply shorthanded it as ACA 2.0, since that's effectively what it amounts to.
The larger bill (H.R. 1884) was originally introduced in 2018 and then reintroduced last March to much pomp and circumstance...Speaker Pelosi held a big press conference for it and everything. It was then broken into about a dozen smaller, standalone bills (including H.R. 1868), several of which actually passed the House a couple of months later. Unfortunately, H.R. 1868 wasn't among them, even though it's (in my opinion) the single most important one for strengthening and improving the Affordable Care Act.
H.R. 1884 has 160 cosponsors (including one Republican, believe it or not...although I'm not sure if that one counts since it's Jeff Van Drew of NJ-02, otherwise known as the freshman "Democrat" who switched parties the day after the House Impeachment vote last month). This means that there's around 70 more Democrats who haven't cosponsored the bill yet, so I decided to meet with the staffers of as many of them as I could to try and convince them to encourage their bosses to get onboard. H.R. 1868 only has 36 cosponsors, but it's included with the larger bill as well, so it's safe to assume that any member who supports 1884 also supports 1868.
I ended up meeting with staffers for not just 11 House Democrats but also 3 Senate Dems who I wasn't originally scheduled to meet with (more on those later on). Some of them actually already have cosponsored the bills already, but I met with them anyway because a) one of them is the lead sponsor of H.R. 1868 (Lauren Underwood); b) one is the chair of one of the committees in charge of this type of bill (Bobby Scott, who's chair of the Education & Labor committee); and one is from Michigan (Debbie Dingell). In order, I met with staffers for:
Susan Wild (PA-07)
Anthony Brindisi (NY-22)
Bobby Scott (VA-03)
Joe Cunningham (SC-01)
Lauren Underwood (IL-14)
Sean Patrick Maloney (NY-18)
Peter Welch (VT-AL)
Jim McGovern (MA-02)
Debbie Dingell (MI-12)
Chuy Garcia (IL-04)
Rosa DeLauro (CT-03)
As you can see, it was a pretty wide range ideologically and geographically (although there's 2 each from New York and Illinois).
All 11 meetings went well. Of those who haven't signed on as cosponsors yet the reasons vary, but it had nothing to do with having a problem with the content of the bill itself. I learned a lot about the politics, timing and framing of cosponsoring, some of which I won't go into at this time. I will note, however, that once a member of the House or Senate does sign onto a bill as an official cosponsor, removing their name during the current 2-year Congressional session is a bigger deal; they have to make a unanimous consent request on the House floor, and risk being attacked for "flip-flopping", so there are valid reasons for not doing so even if they fully intend on voting for the bill if & when it actually makes it to the floor for a full House vote.
I don't know whether my meetings will make any difference in the number of cosponsors (a couple, perhaps?) or the likelihood of the bills being voted on (likely no impact at all), but I appreciated all the staffers taking the time to meet with me and they were all professional, courteous, seemed genuinely interested and took notes. It was a little surreal because the impeachment trial was going on in the background on TVs in every one of the offices.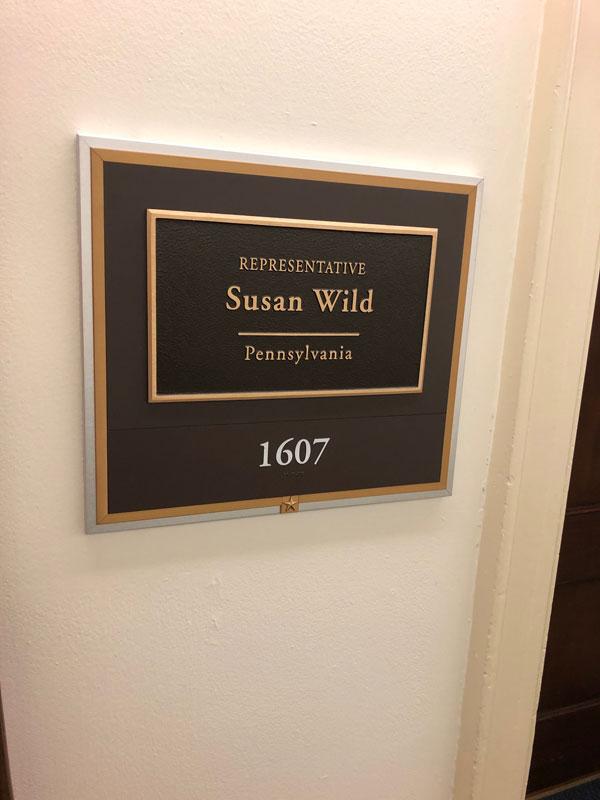 One of the highlights of the trip was that after nearly three years of only talking to him online, I finally got to meet a personal healthcare advocacy hero of mine, Peter Morley. If you're not familiar with Peter, here's a pretty good overview of his story from Forbes. Peter helped me arrange for many of my House meetings and also allowed me to tag along with him for several of his own meetings with Senate staffers, including Jacky Rosen of Nevada, Chris Murphy of Connecticut and Senate Minority Leader Chuck Schumer of New York.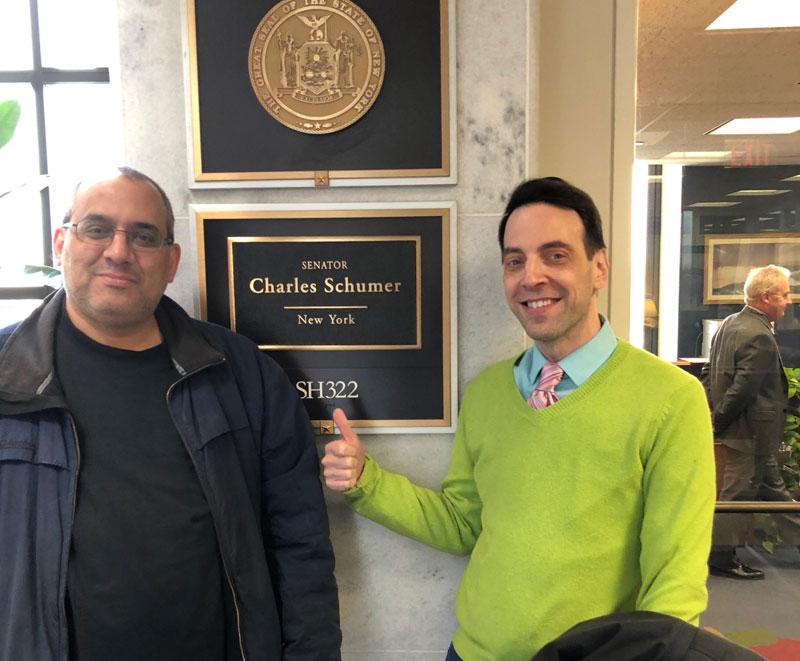 It's important to note that six of the 11 House members whose staff I met with are cosponsors of the House Medicare for All bill, H.R. 1384. This doesn't mean that they're opposed to also cosponsoring H.R. 1884 (ACA 2.0) as well. In fact, several dozen House members are cosponsors of both bills, acknowledging that they aren't competing with each other--ACA 2.0 is intended primarily to tide things over for a few years while a larger overhaul of the U.S. healthcare system can be passed, signed, implemented and ramped up.
I should note, however, that even having to wait a few years is unacceptable to many people. Case in point, my friend Rebecca Wood, who I wrote about last summer. Rebecca reminded me that her own situation is pretty dire:
Yesterday, while flying back home. Some random man next to me was chatty. Since I was strapped in next to him for the next hour, I was pleasant and chatted back. The guy behind us was either whistling or snoring like he was whistling. I'm not sure which because I only heard him.

Before I realized it was the guy behind me, I kept pausing mid-conversation to discreetly reposition my teeth. I thought the sound was coming from me. My teeth sometimes whistle when I talk and it's horribly embarrassing.

It was then I realized, I think about my mouth every waking hour of the day (and often when I sleep). When people look at me, I wonder if I'm drooling, if my smile is awkwardly asymmetrical, and if my lips aren't stuck unknowingly in a weird position.

Speech is difficult and taxing. There are words I avoid because my mouth now lacks the ability to say them. I rewrite speeches based on my ability to get words out. Again, sometimes I whistle when I speak. Meals are miserable. Every single time I sit down to eat, I wonder if there will be something I can eat without choking. I strategize how to cut things up that aren't normally cut up. And, there are only a few things I can chew. I've felt hunger for years now.

And then, there is the pain. Parts of my jaw bone have healed jaggedly. So, if I chew too much of what I can chew, the pressure of jagged bone against my teeth cuts through my gums from the inside and bleeds. The permanent nerve and tissue damage is chronic. The headaches, TMJ, and face pain is constant. Plus, the allergy I've developed to my teeth makes my mouth feel as if it's been burned.

I don't get a minute's rest from it all. I'm always thinking about it.

I know I'm going to die before I would if I could afford adequate medical care. While upsetting, that's not the part that really pisses me off. The part that infuriates me is that in addition to time being stolen from me, quality of life is taken as well.

All of it is unnecessary and preventable. If I lived in any other industrialized country, I'd still play jazz trumpet, be a park ranger, and no one would know who I am.

That is the difference between you and me. You haven't lived with this. That is why you are OK with slowly achieving Medicare For All. I needed Medicare For All yesterday. I know there are people who need it today. Every day we wait, there are unknown numbers of people being forced to live with what I live with and worse.
Rebecca is absolutely correct about this: While I've had some medical issues in my life, I've been fortunate enough not to ever have to suffer through anything close to what she's dealing with. But I've talked to and heard from many people who have and are...and while some of them agree with her that the time has come for full-blown universal single payer healthcare in the United States, others who are in equally dire situations see things differently and still think healthcare reform will have to be done in several individual, incremental phases.
Many Medicare for All activists have compared achieving it to the moon landing, pointing out that when JFK called for the US to put a man on the moon within a decade, everyone thought it was impossible and yet somehow we pulled it off. The problem with the metaphor is this: What if Kennedy had called for it to be done within five years instead of ten? Or, what if he had called for a manned mission to Mars instead? If either of those had happened, the project would not only have failed...but it very likely would have lost public and political support from the get go or at best been scrapped partway into the process.
I don't know which of these is the correct metaphor. Maybe it IS time to go for it all at once...or maybe attempting to do so would jeopardise all the progress we've made to date.
As for the actual conference, that was equally interesting and insightful, although I only caught parts of it. Unfortunately, I did a lousy job of taking notes, but my friend and fellow healthcare wonk/blogger Andrew Sprung took copious notes and has an excellent writeup which captures the overall tone of the event:
It's terrifying to watch the entire Republican party fall in behind Trump to neuter Congress's power to hold a corrupt would-be autocrat accountable for on-the-record abuse of power. Once again, the people on the stage and in the room reminded me that despite the grave threat to democracy posed by a party in power that's given up on democracy, the country has huge reserves for resistance: people who know how to be free; institutions that know how to wield political influence in service of the common good; courts that at least sometimes uphold the rule of law.

...the conference gives me a sense of strength. We are all witnessing national political institutions as we have known them decay before our eyes. Some 30% of the population or more has been brainwashed over two decades by the alternate reality constructed by Fox News and other corrupt media outlets to abandon the core values we're raised to think America stands for. But there are tens of millions of people in this country who know how to be free. Some have learned through decades of patient work how to work the levers of power. Others have just grown up with the reflexes of a free people -- and, shocked by Trump's election, have learned how to work those levers, or create new levers.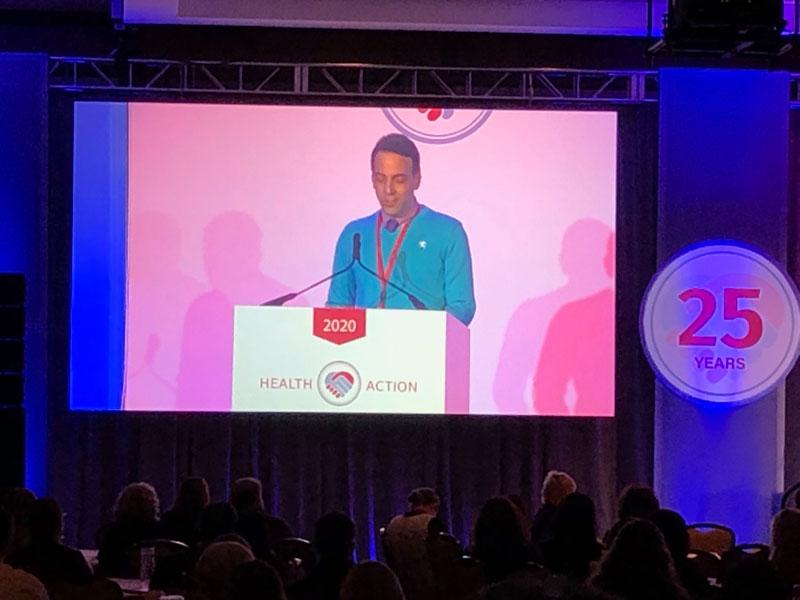 My friend Peter Morley tells his own healthcare advocacy story before introducing an opening conference video.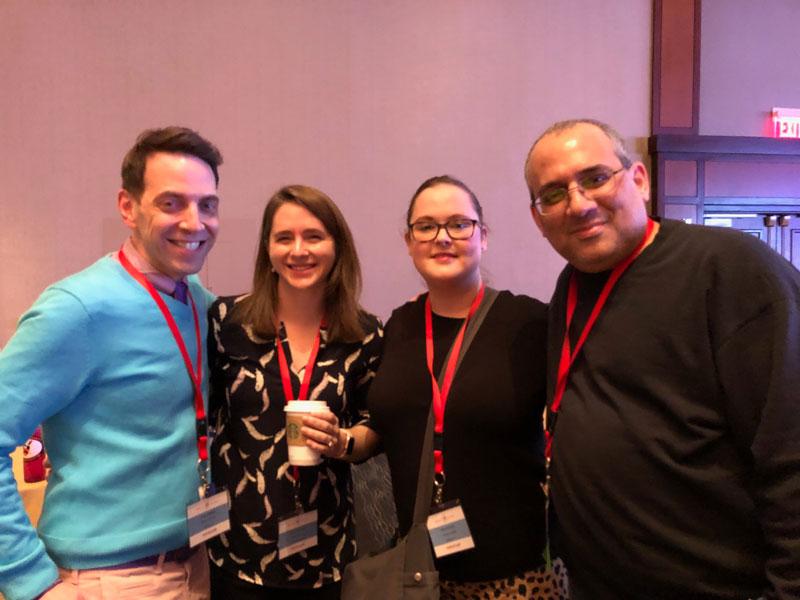 Peter Morley, Aleka Gürel, Mina Schultz and myself.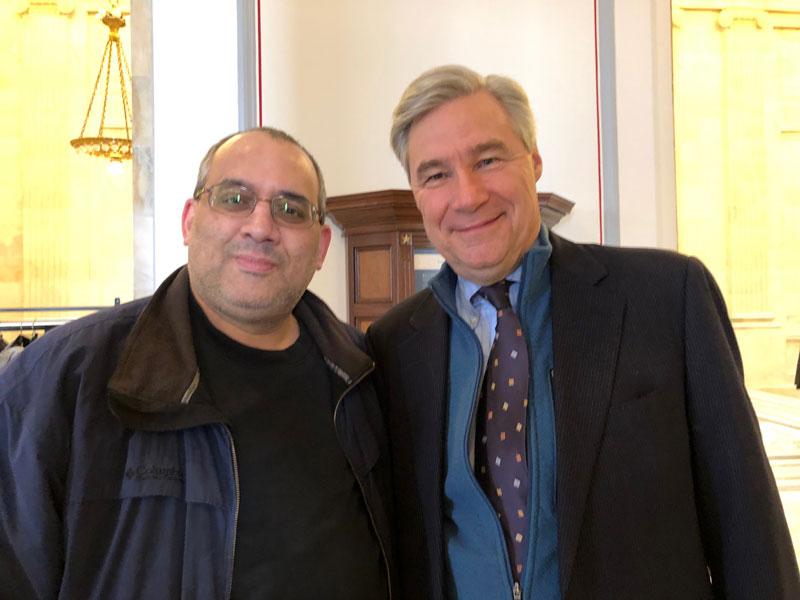 I managed to nab a quick photo with Rhode Island Senator Sheldon Whitehouse, although we didn't actually have a formal meeting.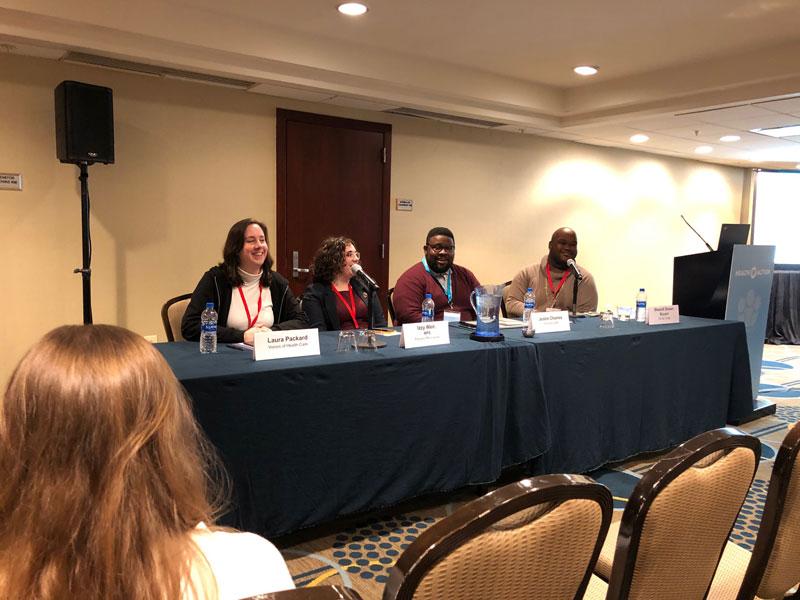 My friend Laura Packard at her own panel event with other healthcare social media/influencer experts.
Illinois Representative Lauren Underwood (IL-14) has this cool photo on her office wall where she imitates Abraham Lincoln's famous pose.
Yes, Peter and I even attempted to make an unscheduled visit to Mitch McConnell's office. It did not go well or last very long, as you might imagine.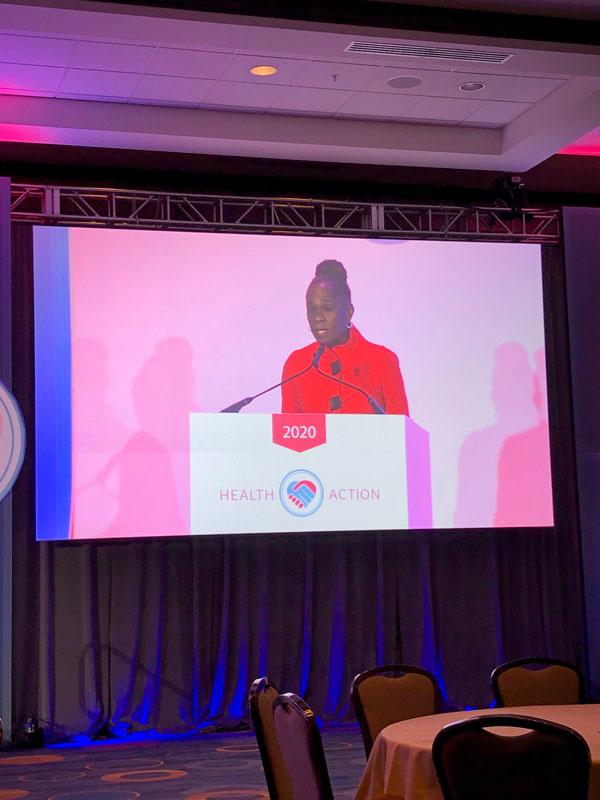 New York City First Lady Chirlane McCray speaking about maternal health equity.
My own panel was Friday afternoon and was entitled "What's Next? Coverage & Affordability Opportunities in Red, Blue & Purple States":
A surprisingly broad range of resources and options are available to streamline enrollment and to lower consumers' health care and coverage costs in the individual market. Learn about promising, innovative strategies tailored to fit very different political conditions.

Speakers:

John-Pierre Cardenas, MSPH, Independent Health Policy Adviser, formerly Maryland Health Benefits Exchange
Charles Gaba, ACASignups.net
Heather Howard, J.D., Center for Health & Wellbeing, Woodrow School of Public and International Affairs, Princeton University
Holly Hernandez, Harris Health
Moderator: Stan Dorn, J.D., Families USA
My portion of the panel was mostly an overview of the over 3 dozen actions which states have taken, are taking or could take to protect, repair and strengthen the ACA even in the absence of federal legislative changes. The other speakers went into more in-depth explanations of how some of their efforts to expand upon the ACA work, including a very clever project at the Harris Health System in Texas which has found a way for the hospital itself to legally cover subsidized health insurance premiums for many low-income enrollees.
All in all, it was a productive and enriching experience. As Andrew noted, it was a testament to both the extreme danger and boundless hope that we find ourselves on the brink of this year, not just when it comes to healthcare but also to every other part of our society and democracy.