2020 Week Six HC.gov Snapshot Report: 1.0 million QHPs, 3.88 million cumulative
Wed, 12/11/2019 - 1:58am
The Week 6 HealthCare.Gov Snapshot Report from CMS should be released sometime Wednesday afternoon, covering enrollment in 38 states from Dec. 1st - 7th.
As a reminder, here's what the Week 5 report looked like (for Nov. 1st - 30th):
There are two major things to account for when comparing the two years: First, there's a day missing due to Nov. 1st falling on a Friday instead of a Thursday this year. This likely accounts for around ~120,000 of the difference. Secondly, Nevada split off from HC.gov this year, which accounts for around ~19,000 of the gap the first 3 weeks. In addition, a small portion of the difference is likely due to Idaho and Maine expanding Medicaid; exchange enrollees earning between 100-138% FPL should be tranferred over to Medicaid instead.
All three of these factors still leave 2020 Open Enrollment around 170,000 short of the same time period last year on HealthCare.Gov through the end of November.
I'm assuming Week 6 will hit around 910,000 QHP selections, for a total of around 3.78 million.
UPDATE: The actual Week 6 Report was just released, and it actually surpassed my expectations by around 95,000 people:
Week 6, Dec 1-7, 2019

In week six of the 2020 Open Enrollment, 1,005,673 people selected plans using the HealthCare.gov platform. As in past years, enrollment weeks are measured Sunday through Saturday.  Consequently, the cumulative totals reported in this snapshot reflect one fewer day than last year.

Every week during Open Enrollment, the Centers for Medicare & Medicaid Services (CMS) will release enrollment snapshots for the HealthCare.gov platform, which is used by the Federally-facilitated Exchange and some State-based Exchanges. These snapshots provide point-in-time estimates of weekly plan selections, call center activity, and visits to HealthCare.gov or CuidadoDeSalud.gov.

The final number of plan selections associated with enrollment activity during a reporting period may change due to plan modifications or cancellations. In addition, the weekly snapshot only reports new plan selections and active plan renewals and does not report the number of consumers who have paid premiums to effectuate their enrollment.

HealthCare.gov State-by-State Snapshot 

The state-by-state Snapshot provides cumulative individual market plan selections for the 38 states using the HealthCare.gov platform for the 2020 benefit year. Cumulative individual plan selections for the states using the HealthCare.gov platform include:
Here's what the weekly and cumulative tables look like: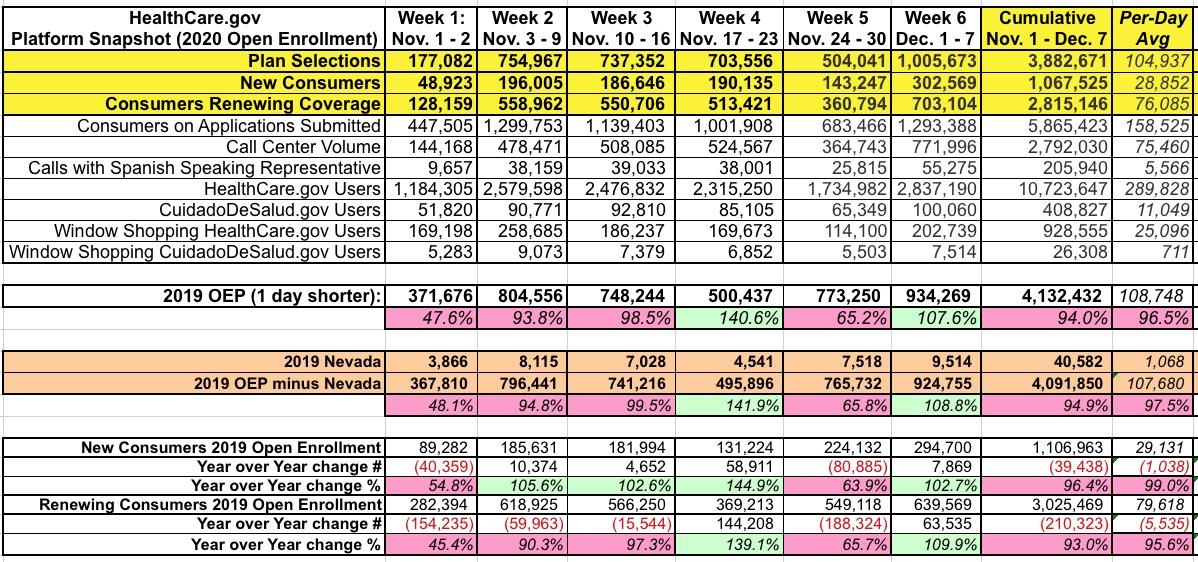 Across all 38 HC.gov states (after subtracting Nevada, which split off onto their own exchange platform this year), total QHP selections are still down 5.1% from last year, although on a per-day average, it's only down around 2.5% vs. the 2019 Open Enrollment Period.
New enrollments are still down 3.6% but Active Renewals are down 7%...or down 1% and 4.4% respectively on a per-day basis.
Here's the state-by-state cumulative numbers:
Once again, Maine continues to lag behind all other states on a year over year basis, mainly (hah!) due to their expansion of Medicaid. Also once again, Mississippi continues to lead the field, surpassing last year's QHP selections by 11% on a per-day basis...for reasons still unknown.
Other states which are outpacing 2019's Open Enrollment Period: Delaware, Georgia, Texas, Utah and Florida.