Colorado: *Final* avg. 2020 #ACA premium rate changes: 20% DROP thanks to Section 1332 Reinsurance Waiver
Thu, 10/10/2019 - 4:09pm
Back in July, the Colorado Insurance Dept. announced the preliminary 2020 avg. premium rate changes for the individual and small group markets, including making the important point that their then-pending Section 1332 Reinsurance Waiver program, if approved, would cut down on unsubsidized premiums by over 18% on average (18.2%, to be precise, according to the CO DOI, although my own analysis based on the preliminary rate filings brought it in at a 17.5% reduction).
Today they announced the final, approved 2020 rate changes...and the average premium is expected to drop even lower yet:
Gov. Polis: 2020 ACA Premiums Going Down by an Average of 20.2%

Governor Polis announced today alongside a bipartisan group of residents, legislators, and state officials that for 2020, Coloradans shopping for an individual health insurance plan will see an unprecedented reduction in premiums -- an average statewide decrease of 20.2 percent (-20.2%). This is even lower than the 18.2% preliminary decrease announced in July. As this is an average, depending on where people live and the health insurance plan they choose, some people in the rural parts of Colorado will see average decreases of over 30 percent (-30%).

"It's not every day you hear about health care costs going down, but thanks to our bipartisan work in Colorado, folks who buy their own insurance are going to see a 20 percent average reduction in premiums this coming year. This will save families thousands of dollars every year," said Governor Jared Polis. "This is just one part of our bold agenda to reduce sky-high health care costs. The days of being ripped off on health care are finally ending in Colorado."

Average decreases across all tiers for each county in 2020 range from 15.5 percent (-15.5%) to 34 percent (-34%), leading to an average reduction of 20.2 percent (-20.2%) over 2019 individual premiums, across all plans, from all companies, across the state.

"These decreases translate into real savings for Coloradans," said Colorado Insurance Commissioner Michael Conway. "These big premium decreases will give more people the opportunity to access health care for themselves and their families. For those with coverage today, these premium decreases will make life easier, which is why we come to work every day."

...Why the large decrease in individual premiums?

The key factor for these lower premiums is Colorado's reinsurance program - a bipartisan policy that has worked in other states to produce similar double-digit decreases. Reinsurance is a program for the individual health insurance market that pays a portion of high-cost claims - such as those incurred after major accidents or due to serious health conditions. All of this is invisible to consumers - they won't have to do anything to make this happen.

The reinsurance program was enabled by legislation passed by the Colorado Legislature in the 2019 session. The State had to then apply to the Federal government to run a reinsurance program, and the U.S. Department of Health and Human Services approved Colorado's application on July 31. For more information about the reinsurance program, visit the Division of Insurance "Reinsurance Program" webpage.
)As an aside, you know who DIDN'T have a DAMNED THING to to with getting Colorado's ACA reinsurance waiver developed, passed, signed or approved of by the HHS Dept? Cory Gardner. NOTHING.)
In Summit County, the Peak Health Alliance (PHA) helped to bring down the county's premiums by 34 percent, and as announced last month, people who are part of Peak will see premiums that are 39 - 47 percent lower. The PHA is an alliance that uses the Community Purchasing Model to bring together the various health insurance markets to work as one voice in bringing down the costs of health care. In recent weeks, the PHA has expanded to additional Colorado counties. Governor Polis and Commissioner Conway are working to see the consumer purchasing model expanded across the state in the coming years to produce additional savings for individual, small-group and large-group plans.

Same companies back for 2020, plus one more

As noted in the preliminary information released in July, the same companies from 2019 are offering plans again in 2020, with a new health insurance company, Oscar Health, joining the mix. That adds up to eight insurance companies offering 130 individual plans via Colorado's exchange, Connect for Health Colorado (a total of nine companies are offering 264 individual plans across the state, both on-and-off-exchange).

However, amidst all of the good news about decreases and a new company in the state, the number of Colorado counties with only one on-exchange health insurance company offering individual plans is increasing from 14 to 22 counties. This is due to the decision by two companies, Kaiser and Friday Health Plans, to stop offering individual plans in some counties.

Kaiser is leaving the individual market in Garfield, Grand, Routt, Eagle and Summit counties. Friday is leaving the individual market in Logan, Morgan, Phillips, Sedgwick, Washington and Yuma. Kaiser did not have any enrollment in Garfield, Grand and Routt counties. Similarly, Friday did not have any enrollment in the six counties it exited.

Shopping for the plan that's best for you

Big decreases in premiums are good news, but it is important that Colorado consumers don't simply zero in on the lowest premiums. It is critical to evaluate the options and choose the best plan for you, your family, your health and your finances.

Everyone should be mindful of costs beyond premiums as deductibles, co-payments and co-insurance are important considerations when choosing a plan. And beyond the dollar figures, people should also consider their doctors, their health conditions and prescriptions when choosing their 2020 health insurance. These are all factors that can impact the usefulness of a plan and its total cost.

Consumers who have questions about their current plans should contact their insurance company, Connect for Health Colorado, their insurance broker, their employer or the Division of Insurance (303-894-7490 / 800-930-3745 / DORA_Insurance@state.co.us.
Here's the final rate changes on a per-carrier basis for both markets: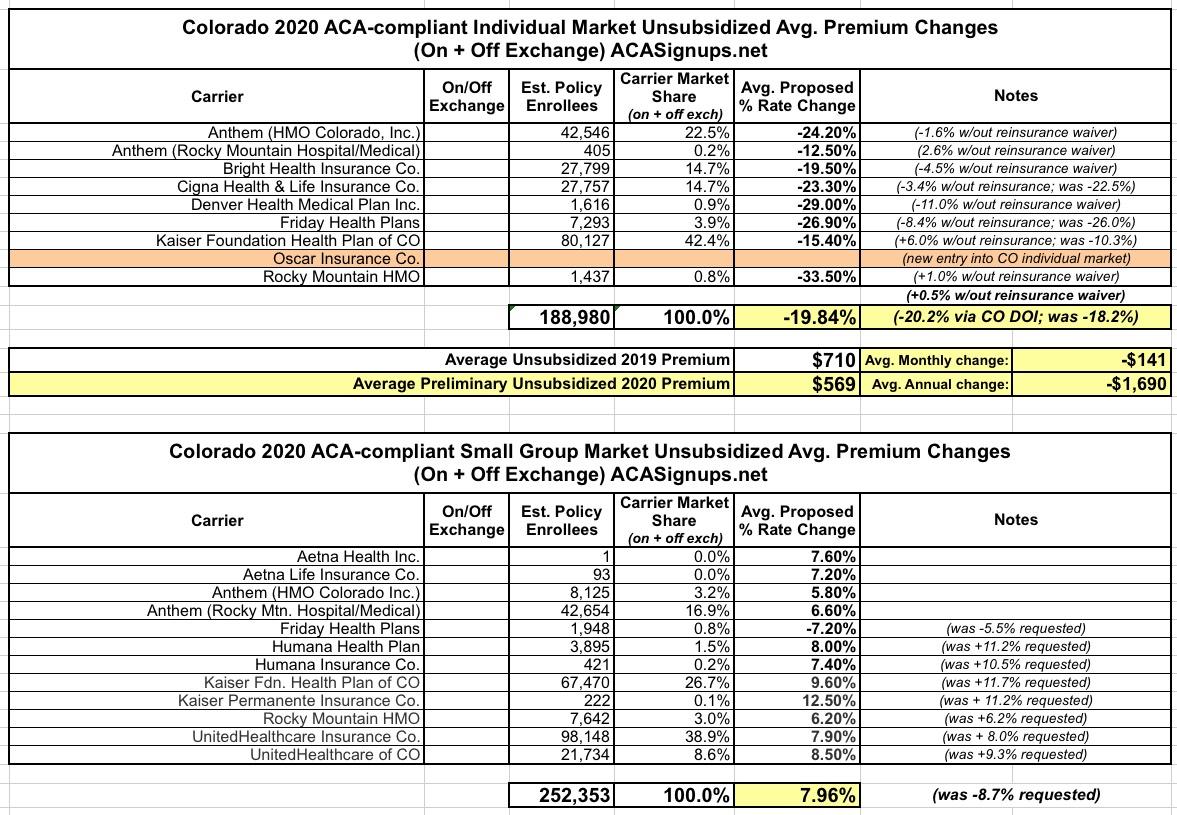 I'm still not sure what accounts for the slight discrepancy between my 19.8% drop and Colorado's 20.2%, but it's probably just related to the estimated enrollment numbers being a bit off.
In any event, the average unsubsidized ACA individual market enrollee should save around $1,700 next year thanks to these reductions.