UPDATE: New Mexico: Pre-existing condition protections PASS state Senate; on to the Governor's desk!
Tue, 03/12/2019 - 5:02pm
(sigh) Well, it was a good run while it lasted. As I noted last week, New Mexico's new Democratic trifecta government has been on something of a tear in the first few months of 2019, either passing or advancing a number of positive healthcare policies, including:
In addition, there was one more important piece of legislation which looked like it was going to go through without too much fuss: HB 436, which would simply lock in protections for New Mexico residents with pre-existing conditions at the same level that the Affordable Care Act already does nationally:
HB436 won't technically change anything for New Mexicans now...but what it would do is protect state residents in the event the ACA is ever repealed or if its pre-existing condition protections are weakened or stripped away (see: the Texas Fold'Em lawsuit).

With just nine days left in the 60-day legislative session, Thomson is optimistic there's still enough time to get her bill up to the Governor's desk.

"To me, it's pretty much a no-brainer. We're not changing anything per se," she said. "We're just locking in what's in federal law so there's not going to be any increased costs because we're already doing it."

Now that the bill passed the House it heads over to the Senate for consideration.
Unfortunately, over at the state Senate, it looks like three Republicans and one Democrat took "no-brainer" to be a challenge, because this is what ended up happening yesterday:
We are disappointed to report that the bill to protect New Mexicans with pre-existing conditions did NOT pass Senate Corporations.

YES: Mary Kay Papen
YES: Michael Padilla
YES: Bill Tallman
NO: Clemente Sanchez
NO: Bill Sharer
NO: Gregg Fulfer
NO: Pat Woods
https://t.co/nGWKRzXRi2

— Health Action NM (@HealthActionNM) March 11, 2019
Now, the last three names on this committee list aren't terribly surprising, since they're all Republicans. All 24 Republicans in the state House also voted against this common sense bill which doesn't cost New Mexico a dime and won't even have any impact on the state of any sort uniess the ACA's federal protections are ever repealed. It's a purely precautionary measure. I never expect Republicans to do the right thing, so this was disappointing but hardly surprising.
The first one, however, did sting: Clemente Sanchez, a Democratic state Senator.
Health Action New Mexico has issued the following press release in response:
NM Senate Corporations Committee votes against people with pre-existing conditions

On Monday, March 11th, on a 3-4 vote, the New Mexico Senate Corporations and Transportation Committee voted down a measure to protect people with pre-existing conditions. The legislation, House Bill 436, is sponsored by Representative Liz Thomson, 40 other House co-sponsors and Senator Jerry Ortiz y Pino.

Senator Clemente Sanchez, the Committee Chairman, joined the committee's three Republicans to vote down the measure. The bill would have added pre-existing condition protections to state law. 332,000 New Mexicans under age 65 have at least one pre-existing condition, according to the Kaiser Family Foundation. Before the Affordable Care Act (ACA), people with pre-existing conditions were denied coverage, charged exorbiant rates, and subject to coverage exclusions for their pre-existing conditions. The ACA ended those practices by reforming the insurance industry and ensuring people with pre-existing conditions are protected.

"This vote was unconscionable," said Representative Liz Thomson. "New Mexicans need to know that the state has their back no matter what happens at the federal level or in the courts. I believe that the vast majority of my colleagues agree with me. This is not over."

"As someone continuing to battle cancer, I am shocked that anyone would vote against pre-existing condition protections," said Lan Sena, a New Mexico resident and patient advocate. "It's just not right."

"We are incredibly disappointed in this vote," said Colin Baillio, Director of Policy and Communications at Health Action New Mexico. "New Mexicans shouldn't have to live in constant fear that they are going to be abandoned when they need critical health care. Frankly, New Mexicans deserve better than this."

A recent national poll found that strong, bipartisan majorities support pre-existing condition protections. Nine-in-ten say insurance companies shouldn't be able to deny people coverage or charge sick people more than healthy people. Four-in-ten said they are "very worried" they "will lose their coverage if the Supreme Court overturns these protections." President Trump's Department of Justice singled out pre-existing condition protections, calling them unconstitutional and refusing to defend those protections in court. That lawsuit suceeded in the lower courts and is expected to land in the Supreme Court.
UPDATE: Whoa! Hold the phone...Less than 5 minutes after I posted this, someone called attention to an update from less than an hour ago:
BIG NEWS: After further consideration, @SenCSanchez changed his vote on pre-existing condition protections! Thank you for giving this a closer look, Senator. Thanks to everyone who made their voices heard. The bill will now move to the Senate floor. https://t.co/rbtv3ZyAc0

— Health Action NM (@HealthActionNM) March 12, 2019
Final vote:
YES: Mary Kay Papen
YES: Michael Padilla
YES: Bill Tallman
YES: Clemente Sanchez
YES: Benny Shendo
NO: Bill Sharer
NO: Gregg Fulfer
NO: Pat Woods

— Health Action NM (@HealthActionNM) March 12, 2019
Wow! I had no idea that they could change their votes on bills the next day! Not sure if this is a New Mexico thing, or a Committee thing (vs. the full Senate) or what, but whatever...this is great news for New Mexico and common sense!
(As for the Republicans, of course, that's a different story...)
UPDATE 3/15/19: And voila: The bill just passed the New Mexico state Senate, 21 to 14:
The NM Senate passes pre-existing condition protections! Thanks to @lizthomsonnm for her persistence. If signed by @GovMLG, patients in NM will be able to rest assured that their coverage is safe, no matter what happens at the federal level or in the courts. #nmleg #nmpol

— Health Action NM (@HealthActionNM) March 15, 2019
As for that vote count, let's take a look and see how predictable it was: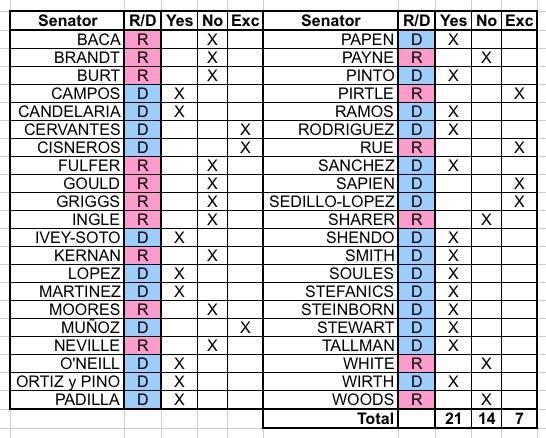 Hey, imagine that! All 14 "No" votes were Republicans, while all 21 "Yes" votes were Democrats! (Another 5 Dems and 2 GOP senators didn't vote at all).
Combined with last week's state House vote, this means that 38 out of 40 of New Mexico's Republican state legislators just went on the record as opposing coverage of pre-existing conditions. As it happens, all 40 of their seats (in both the state House and Senate) are up for grabs in 2020.