2019 Rate Hike Project Wrap-up: FINAL/APPROVED rate changes for Missouri & New Hampshire
Fri, 11/02/2018 - 9:49am
I realize this may seem a bit late in the game seeing how the 2019 ACA Open Enrollment Period has already started, but I do like to be as complete and thorough as possible, and there were still 9 states missing final/approved premium rate change analyses as of yesterday which I wanted to check off my 2019 Rate Hike Project list.
Fortunately, RateReview.HealthCare.Gov has finally updated their database to include the approved rate changes for every state, which made it easy to take care of most of these. In addition, in a few states the insurance department has also posted their own final/approved rate summary.
In Missouri, there's only four carriers offering policies on the individual market, and one of these (Medica) is new for 2019, so there's no year-over-year comparison to be made for them anyway. State regulators didn't make any changes to Cigna or Celtic/Ambetter, and only made a very minor tweak to Healthy Alliance, dropping their average rate increase from 3.67% to 2.15%. This means that instead of 1.9% overall, Missouri premiums are going up...1.6%. Not exactly earth-shattering, I know: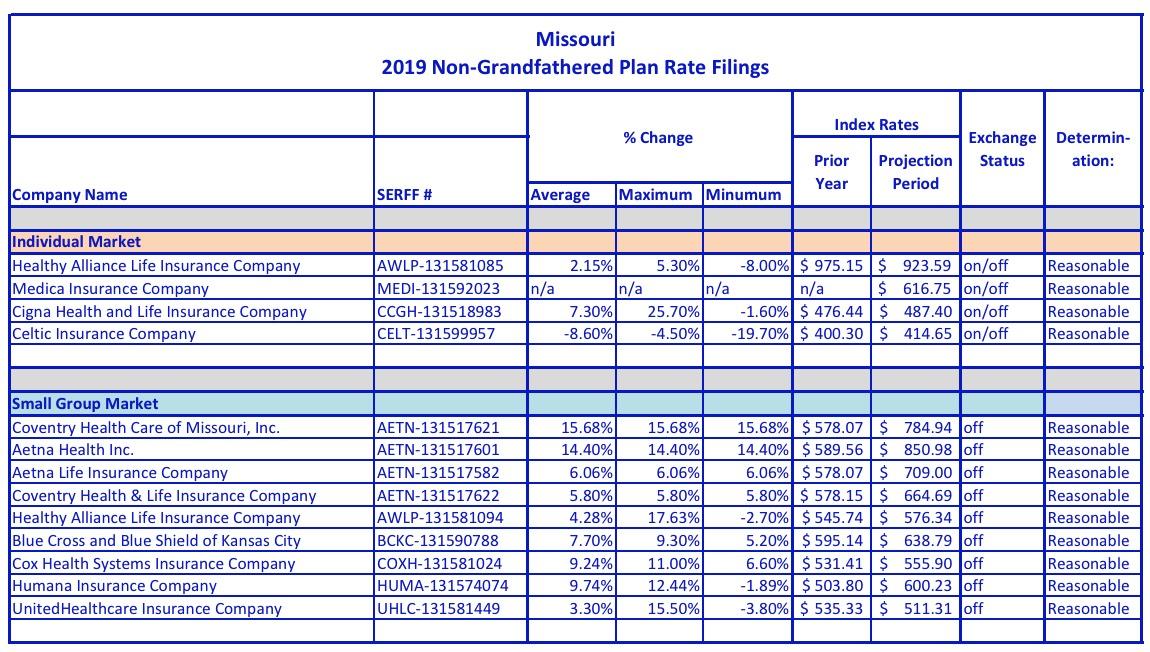 Things are slightly (and I do mean slightly) more noteworthy in New Hampshire. Again, there was no change to the requested rate changes for two of the three carriers offering individual market policies in the state, but Harvard Pilgrim did see their approved rates drop even further than the 7.4% they had requested, to -14.2%.
This causes the statewide average rate change to go from a 13.5% reduction to a 14.4% reduction:


Again, assuming my #ACASabotage estimates are accurate, this means unsubsidized enrollees will have to pay around $900 - $1,000 more apiece next year due to the individual mandate being repealed and #ShortAssPlans being expanded.