Virginia: APPROVED (?) 2019 #ACA rate hikes drop *another* 1.7 points; still would've been much lower w/out #ACASabotage
Tue, 08/28/2018 - 11:29am
When I first ran the preliminary 2019 ACA individual market rate filings for Virginia way back in May, I concluded that the average premium increase will be around 13.4%. However, a lot has changed since then.
For one thing, Virginia expanded Medicaid to 400,000 low-income residents, which should help improve the ACA risk pool and in turn knocked the average rate increase down by 2.2 points, to around 11.3%.
For another, Anthem made a last-minute decision to expand their coverage areas in the state dramatically, which also provides much-needed competition for Optima in the Charlottesville area, among others.
In addition, the state also passed what I've dubbed the #TinyGroup law, which allows some self-employed residents to cross over to small group policies as another workaround for insanely high Charlottesville area premiums.
I don't know how much these factors (or others) played into the latest developments, but I just checked in on the VA Insurance Dept. website and it looks like as of last week, average 2019 individual market premiums will only be increasing by around 9.6% now: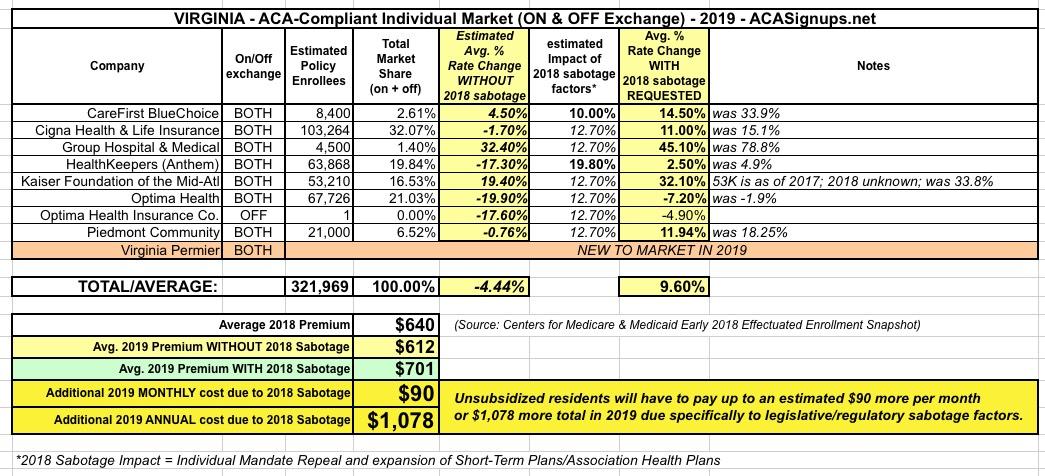 The original table below (click on it to make it readable) has different "Covered Lives" estimates in the right-hand column, but my methodology always tries to use the current enrollment numbers whenever possible, since the question at hand is how much premiums are expected to increase for current enrollees compared to what they're paying this year.
I think these are the final, approved rates, but I haven't seen an actual formal press release from the state insurance bureau so I can't be 100% sure about this: