UPDATE: Virginia: Lo & Behold: Anthem HealthKeepers expands coverage NEARLY statewide after all!
Sun, 08/12/2018 - 11:39pm
UPDATE: As noted in the comments below, it looks like Anthem won't be expanding to cover the entire state after all. Even so, this is a major improvement in the situation.
Every year, Virginia is the first state out of the gate with their preliminary healthcare premium rate changes for the following year, posting the initial rate requests in early May. For 2019, it originally looked like the carriers were asking for a statewide average increase of 15.2%, but I later corrected this to 13.4%.
However, these were just preliminary numbers. The requests still have to go through the rate review process, and the carriers often make other changes as well before the final deadlines pass.
In the case of Virginia, one of the biggest stories last year was Anthem (under the "HealthKeepers" brand) pulling out of the state for 2018 almost exactly one year ago...only to partly reverse their decision just a month later. They agreed to stick around most of the state after all...but only most of it. They still bailed on some counties, including Charlottesville, which became home to the most expensive ACA individual market rates in the country in part as a result of Anthem bailing. The only carrier offering plans in Charlottesville is Optima, and they're charging some crazy-high premiums.
For instance, a single 40-year old man (with no kids) earning $50,000/year (just above the 400% FPL subsidy cut-off level) is looking at the following options:
Bronze: $800/month, $7,200 deductible
Silver: $1,000/month, $4,600 deductible
Gold: $1,500/month, $1,500 deductible
For comparison, here in Oakland County, Michigan, that same single 40-year old would be paying something like the following:
Bronze: $220/month, $7,200 deductible
Silver: $330/month, $3,200 deductible
Gold: $450/month, $1,400 deductible
In fact, things have gotten so dire in Charlottesville that local activists actually banded together and helped push through an awkward workaround law which I've termed the "Tiny Group" Law, which would allow sole proprietors who are normally only allowed to buy policies on the individual market to instead enroll through the small group market. It's a clunky workaround which carriers its own potential downside, and it's still jumping through some legal and procedural hoops last I heard, but desperate times call for desperate measures and all that.
Well, over the weekend there was another dramatic turn of events:
MASSIVE news. @anthem has filed at the deadline to cover all of #Virginia, including #Charlottesville. If approved, consumers in Cville will see a 44% reduction from @sentarahealth Optima's 2018 monopoly, highest ever ACA rates. more to come

— Cville Healthcare (@cvillehlthcare) August 11, 2018
Assuming Anthem's 2019 are approved, here's how #Charlottesville premiums look year to year. That's @sentarahealth Optima in the red, and what they did to consumers when they got a monopoly for a year. Every last detail of how this happened will be exposed.

— Cville Healthcare (@cvillehlthcare) August 13, 2018
Sure enough, here's the original Anthem/HealthKeepers filing, including their 2019 Rating Area coverage list...
...and here's their revised 2019 filing and Rating Area listing:
As you can see, they have indeed added Charlottesville, along with Danville, Harrisonburg, Lynchberg and VA Beach-Norfolk.
This is huge news for the people of Charlottesville, and could potentially have an impact on the new law which was just passed.
In addition, I should also note that I've updated/revised my own estimate of the average 2019 ACA sabotage impact for unsubsidized enrollees. As you may recall, I originally used the Urban Institute's full impact projections for every state, which in the case of Virginia was 19.1%. Since then, based on numerous actual filing statements from the carriers, I've concluded that Urban overestimated the impact of the mandate being repealed and the expansion of short-term plans somewhat, so I've started knocking 1/3 off of Urban's projections.
As a result, while the actual average increase in Virginia is still around 13.5%, I now estimate that without #ACASabotage it would be essentially flat instead of dropping by 5-6 points as I had previously estimated.: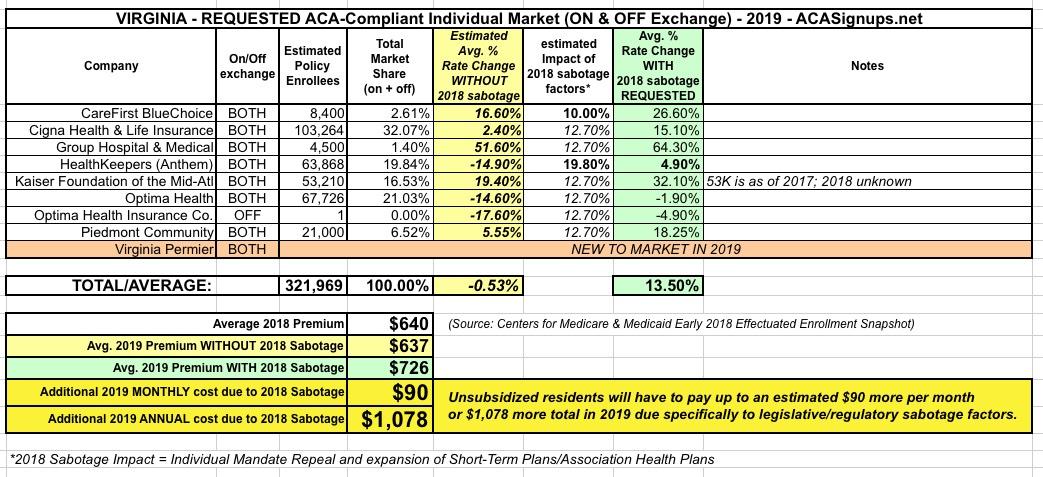 Stay tuned...