Michigan: Guess who'd be off the hook for Medicaid work requirements? Surprise!
Thu, 05/03/2018 - 9:34am
I've written quite a bit about the attempt by the GOP-controlled state legislature to push through work requirements for ACA Medicaid expansion here in Michigan. The bill (SB897) was quickly passed on partisan lines in the state Senate last week, and has now been taken up by the appropriations committee in the state House.
I actually shlepped my butt all the way out to Lansing yesterday morning to attend the committee hearing. Unfortunately, there were so many others who wanted to speak during the Public Comment period, I didn't get a chance to chime in.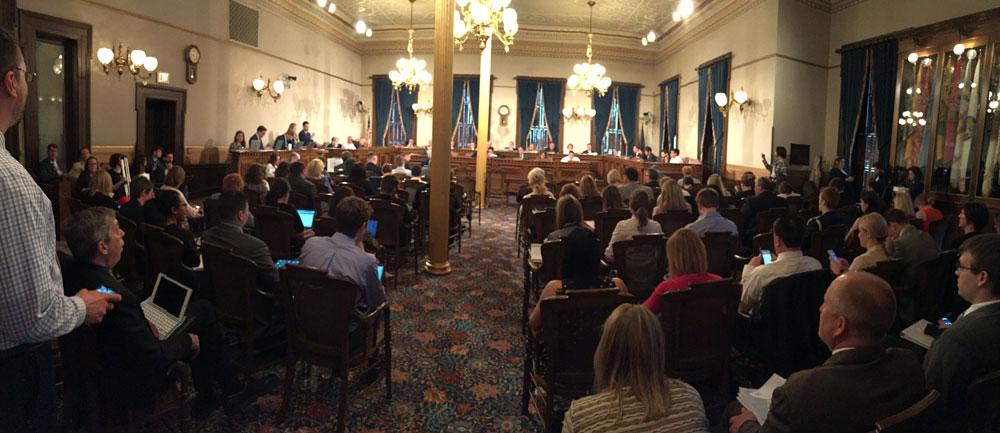 Anyway, during the hearing, there was a reference to one provision of the proposed Senate version of the bill which caught my attention:
SEC. 107B.

(E) IF A COUNTY'S UNEMPLOYMENT RATE REACHES 8.5%, ALLOW A RECIPIENT IN THAT COUNTY TO MEET THE WORKFORCE ENGAGEMENT REQUIREMENT IN THIS SECTION BY ACTIVELY SEEKING EMPLOYMENT ACCORDING TO THE MICHIGAN EMPLOYMENT SECURITY ACT, 1936 (EX SESS) PA 1, MCL 421.1 TO 421.75. IF, ONLY AFTER A COUNTY'S UNEMPLOYMENT RATE HAS REACHED 8.5%, THE COUNTY'S UNEMPLOYMENT RATE SUBSEQUENTLY DROPS TO 5.0%, THE RECIPIENT MUST, AGAIN, MEET THE WORKFORCE ENGAGEMENT REQUIREMENTS AS REQUIRED UNDER THIS SECTION.
Did you catch that? This is a safety release valve, allowing anyone who lives in high-unemployment counties an exemption from the work requirement. In theory, the idea is that it's reasonable to allow exceptions from the work requirement rule in horrible economic times, which I suppose is supposed to be praiseworthy.
However, there was something about this provision which bothered me. I couldn't quite put my finger on it, but this column by Nancy Kaffer of the Detroit Free Press nails it to the wall:
Although HB 897 threatens to end Medicaid benefits for hundreds of thousands living elsewhere in the state, it includes exemptions for people who live in counties with an unemployment rate of more than 8.5%, like the ones Schmidt represents.

Live in Detroit? You're out of luck.

The city's unemployment rate is higher than 8.5%, but the unemployment rate in surrounding Wayne County is just 5.5% — meaning Detroiters living in poverty, with a dysfunctional transit system that makes it harder to reach good-paying jobs, won't qualify for that exemption. The same is true in Flint and the state's other struggling cities.

Get that? Rural residents of up-north counties with high unemployment are protected; urban Michiganders who live in high-unemployment cities in more prosperous counties are left to twist.

This is what's called "political cover." It's also one of the ways legislators skillfully pit urban and rural Michiganders with common interests against each other.
Danielle Emerson, in the Great Lakes Beacon, further explores this too-cute-by-half gimmick:
White, Rural GOP Counties Get Exempted from Medicaid Legislation

Republicans in the legislature are working to change Medicaid in Michigan, but only for certain people, as they have tailored the language of pending legislation to exempt some of their constituents from being affected.

...Perhaps conveniently, the counties benefitting from that exemption are mostly rural, mostly white and predominately represented by Republicans, including a bill co-sponsor. And because the exemption is based on the county rather than a city, village or township, for example, those living in urban centers with high unemployment rates don't get to benefit from the exemption.

While the Free Press pointed out Detroit was one of those cities, information from Michigan agency tracking unemployment rates showed that in March, other predominately Black communities like the cities of Muskegon, Saginaw, Flint, and Highland Park also had unemployment during the month of March – the most recent month for which data is available – exceeding the 8.5 percent threshold in the pending legislation.
Anyone who knows the recent history of Michigan politics under total GOP control knows that this is insult on top of injury (or vice-versa?):
Notably, many of these majority African American communities were stripped of voting rights at various times via the state's Emergency law, so the move to also impose certain requirements for residents to receive their healthcare via Medicaid is yet more punitive action from elected officials who don't live in those communities and don't seem concerned with how those residents fare.

So, who will get exemptions? Based on the unemployment information collected, there are 17 counties with unemployment rates meeting or exceeding 8.5 percent: Kalkaska, Oceana, Alcona, Iosco, Lake, Emmet, Chippewa, Ogemaw, Ontonagon, Arenac, Schoolcraft, Roscommon, Alger, Montmorency, Presque Isle, Cheboygan and Mackinac.
According to Emerson, 12 of the 14 legislators representing the 17 counties which would be given a pass on the GOP work requirements just happen to be Republicans. Amazing coincidence.
This is a different version of the same type of discriminatory crap that Congressional Republicans tried to pull last fall under the failed Graham-Cassidy ACA repeal bill, in which states which expanded Medicaid under the ACA (most of which lean blue) would be financially punished, while the states which haven't expanded Medicaid (nearly all of which are GOP-controlled, of course) would be financially rewarded.
In fact, if you think about it, as LOLGOP notes:
Democrats should be screaming that Republicans are trying to buy off rural voters with a promise to KEEP UNEMPLOYMENT HIGH.
In related news, Aviva Aron-Dine of the Center on Budget & Policy Priorities makes an important point:
Michigan's House Fiscal Agency projects 70,000 to 105,000 people would lose Medicaid coverage under Senate-passed work requirements bill: https://t.co/BfXSwxHtEq 1/. Most of them would become uninsured 1/

— Aviva Aron-Dine (@AvivaAronDine) May 3, 2018
This estimate may well be too low; it appears to assume that no enrollees who should qualify for exemptions would lose coverage due to red tape and paperwork; in fact, many likely will, as patient groups have explained: https://t.co/MzGDDLayBc 2/ pic.twitter.com/xR9w3qqmLN

— Aviva Aron-Dine (@AvivaAronDine) May 3, 2018
But to put what's at stake in Michigan in context, a 70,000 to 105,000 coverage loss is comparable to the coverage gains that would result if Utah or Idaho passes its Medicaid expansion ballot initiative (per @urbaninstitute estimates: https://t.co/ST5iaTefns, Table 2) 3/3

— Aviva Aron-Dine (@AvivaAronDine) May 3, 2018