UPDATE: Week Four: Nailed it; 500K HC.gov QHP selections due to Thanksgiving Weekend
Wed, 11/29/2017 - 10:35am
FWIW: By midnight tonight, I'm estimating ~2.8M QHP selections via HC.gov (4.6M nationally). My prior estimate forgot to account for Thanksgiving weekend: https://t.co/NoZrEE3eTK #ACA #Obamacare #GetCovered pic.twitter.com/mB1wKcWwQP

— Charles GetCoveredBa (@charles_gaba) November 25, 2017
In week four of Open Enrollment for 2018, 504,181 people selected plans using the HealthCare.gov platform. As in past years, enrollment weeks are measured Sunday through Saturday.
Many outlets will no doubt post headlines shouting about "OBAMACARE ENROLLMENT PLUMMETS 38%!" since QHP selections were around 800K last week, but again, this is normal; enrollment always plummets over Thanksgiving weekend. Last year, for instance, HC.gov enrollment dropped from 690,505 to 438,994 over the same period...down 36.4%.
UPDATE: And regular as clockwork...

"Sign-up pace much slower in week 4 of 2018 Obamacare enrollment"

Read the entire Reuters article..."Thanksgiving" or "Holiday weekend" isn't mentioned once.
OK, what's going on with the renewals-vs-new enrollee breakout? Well, last week new enrollments had inched up to allmost exactly 25% of the total. This week it''s up further yet (30% new for the week, bringing it to 25.8% cumulative). This compares to 24.3% at the same date last year, so that's a positive sign.
Also important to keep an eye on: "Consumers on Applications Submitted", which basically means people who have filled out their info but haven't actually selected a plan yet. That's up 26% year over year as well (4.86M vs. 3.86M).
Overall, enrollments are up 30% year over year so far...although again, you'd have to tack on a small number of enrollments for 11/26 to get an exact match (it wasn't just a Sunday, but Sunday on a holiday weekend, so it was likely a pretty nominal number...probably no more than 25,000 or so at most, I'd imagine, bringing the grand total up to around 2.8 million even, or around 31% higher). This is down from around 38% higher last week, which was down from being 47% higher through week 2 and 45% higher in week 1. This, again, is pretty much in line with my expectations: There was no way that enrollment was gonna continue to run nearly 50% ahead of last year, even given the shortened timeframe.
On a weekly basis, the pace has also clearly slowed, although it's still running quite a bit ahead of last year:
Week 1 ran 45% ahead of last year (601K vs. 416K), although that was only 4 days vs. 5
Week 2 ran 48% ahead of last year (877K vs. 593K)
Week 3 ran 16% ahead of last year (799K vs. 691K)
Week 4 ran 15% ahead of last year (504K vs. 439K)
So, what's next? Well, first of all, I've updated The Graph with the Week 4 HC.gov numbers; I expect enrollments to ramp up considerably in Week 5, to around 1.2 million via HC.gov, for a total of around 4.0 million via HC.gov and 5.8 million nationally (~1.8 million via the state exchanges):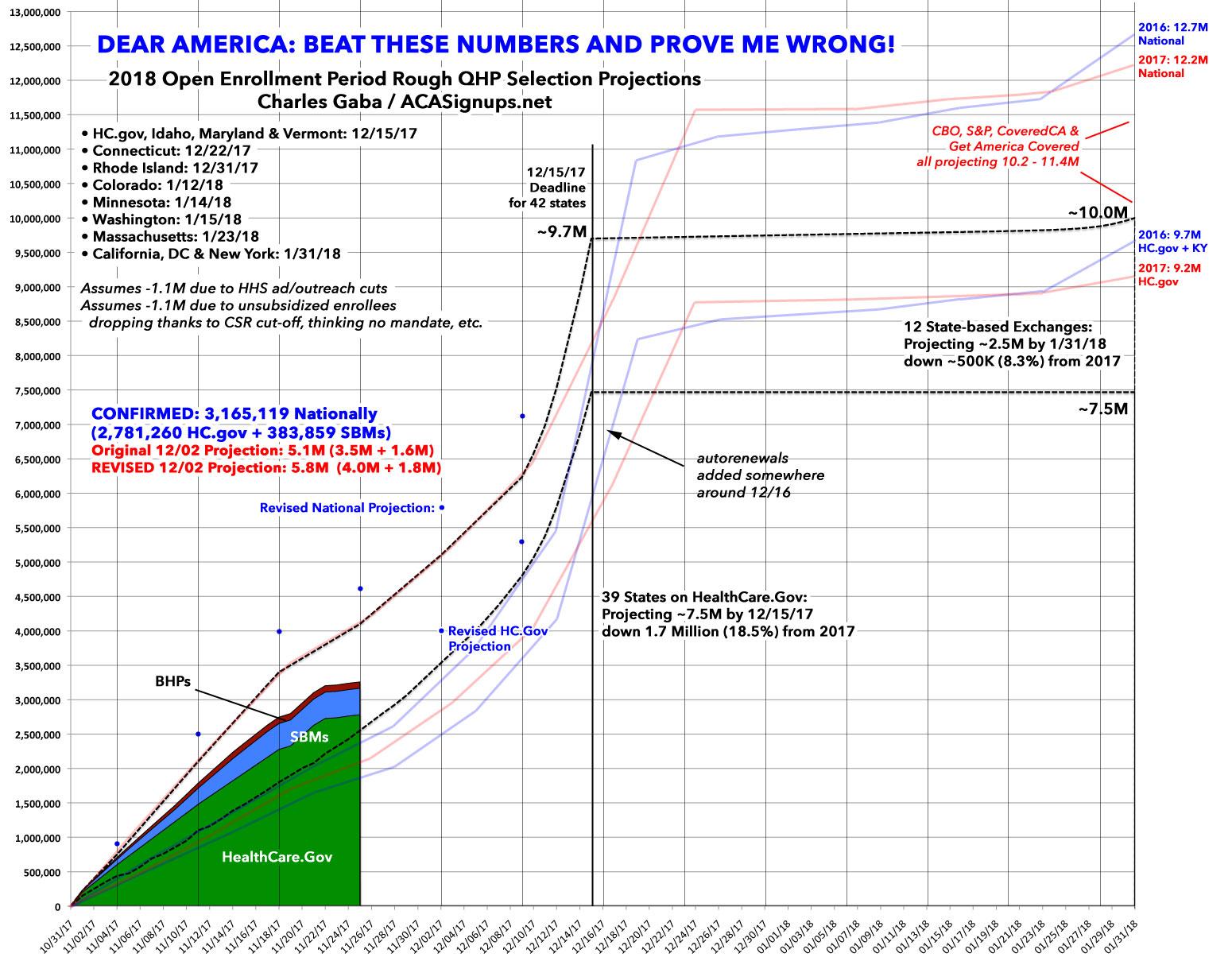 Finally, let's take a look at the state-by-state breakout:

This doesn't tell us much by itself; let's take a look at the comparison with the same time period last year (remember, you have to tack on 1 extra day, but again, that was Thanksgiving Sunday this year, so I can't imagine it amounted to much: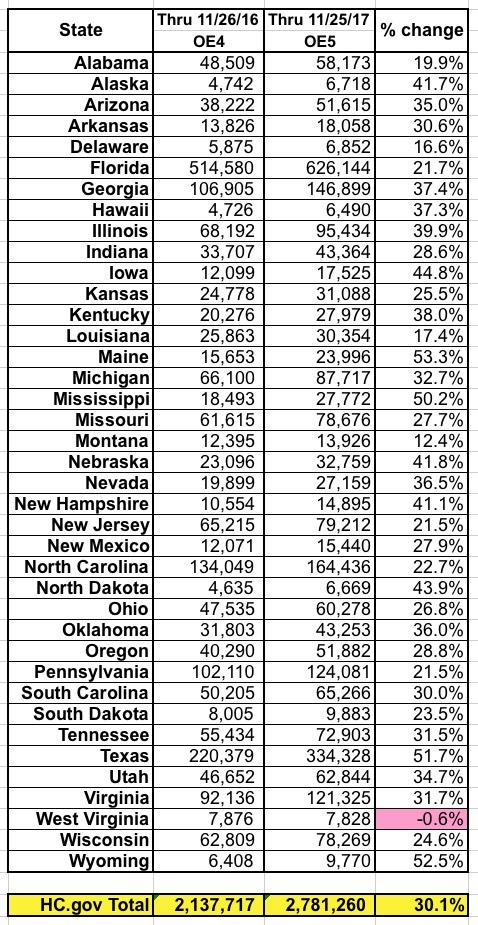 The most obvious question here is...what the heck is going on in West Virginia?? Here, I'll sort it out from highest to lowest increase over last year: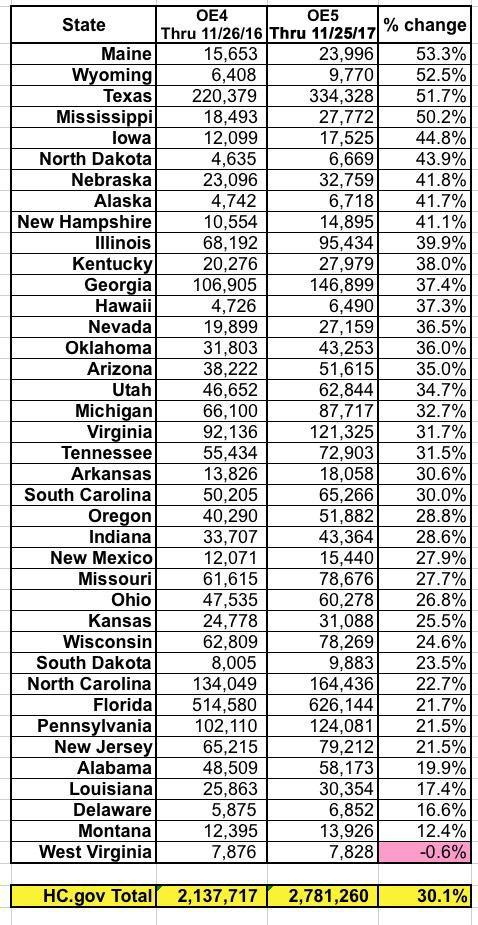 Maine, Wyoming, Texas, Mississippi are still over 50% ahead of last year. Every other state is up at least 12%...but West Virginia is actually down slightly year over year. Weird.
UPDATE: OK, it's been pointed out to me that since WV is only down 48 people from last year and the tally is missing 1 day, it's actually probably about dead even, not an actual drop. But still.
At first I thought that this may be the problem: WV is among a handful of states which chose to go the "Broad Load" route regarding the additional CSR load...
The bad news is that apparently my source re. West Virginia was mistaken; last week they said it looked like the carriers were "Silver Loading", but today I was informed that the WV insurance commissioner is "recommending" that insurance carriers "spread the increases across all metal levels", which is the worst way of handling this.
...but then I noted that other states using "Broad Load" don't seem to support this: Colorado, Delaware, Indiana and Oklahoma all went the "Broad Load" route. Oklahoma is a special case (they already loaded the CSR cost into the mix this year anyway), and Delaware is also showing very low growth...but Indiana is right in the middle of the mix (28%), and Colorado was up 25% year over year as of 11/21, so there has to be something else going on in WV. Yes, they're seeing 25% average unsubsidized premium increase next year, but that's lower than the nationawide average, so that can't be the answer either, at least not by itself.
This isn't a typo either, as far as I can tell; WV was barely ahead of last year in Week 3 either.
There's something else going on in WV this fall which doesn't seem to be impacting any of the other states. Even Virginia is up 32% in spite of having the highest statewide rate hikes in the country. Huh.