Iowa & Oklahoma: Approved rate hikes of 51% and 8.7% respectively; BCBSOK baked in CSR cost LAST year!
Thu, 10/26/2017 - 9:28am
With 43 states accounted for, Open Enrollment itself looming just 6 days from now and HealthCare.Gov's window shopping tool now open for business anyway, there aren't likely to be too many surprises left for my 2018 Rate Hike project. For that matter, healthcare consulting firm Avalere Health just published their own analysis which confirms my own closely: They have the 2018 on exchange average increase at 29.1%, while I currently have the combined on & off-exchange average (for 43 states) at 29.2%.
Still, I don't like loose ends, and those 8 missing states are bugging me, so I still want to fill them in for completeness' sake. The only big state remaining is Texas, but I'm also missing Alabama, Hawaii, Iowa, Missouri, New Hampshire, Oklahoma and Wyoming.
As it happens, Iowa and Oklahoma are easy enough to fill in; while I've been unable to find official rate approval documents for either state, there are several recent news articles which make it pretty damned clear that their requested rate increases are being approved pretty much as is. In addition, both states have only one carrier participating in the ACA exchange market anyway (Oklahoma does have a couple of smaller OFF-exchange carriers, but their numbers are too small to move the needle much).
IOWA:
August 16, 2017: Medica refiles rquest rates in Iowa for 2018
Medica has refiled rates for individual health insurance coverage with the Iowa Insurance Division for the 2018 coverage year, which affect silver level plans and bring the average rate increase of silver plans to 56.7 percent over 2017 rates.

The move comes after a lack of certainty over the funding of cost sharing reductions provided by the U.S. federal government.

Previously, Medica filed 2018 rates with an average 43.5 percent increase over 2017. Iowa consumers may see higher premium increases if they are moving from another insurer to Medica. Final rates are subject to approval from the IID.
August 16, 2017: Iowa's only remaining Obamacare insurer seeks another big rate hike
Iowans who buy their own health insurance through the Affordable Care Act exchange would see their rates increase nearly 57 percent next year under a revised rate proposed Wednesday.

The proposal is 13 percentage points higher than previously was estimated by Medica, the one remaining carrier selling individual policies in Iowa next year.
October 23, 2017: How Iowa Became An Obamacare Horror Story
The last remaining insurer, Medica, threatened to pull out of the market too, potentially leaving the entire state with no insurer willing to sell plans in the individual market. Medica ultimately decided to offer coverage in all 99 counties—but with average premium increases of 57 percent.
Yeah, at this date I'd say Medica got their 56.7% Silver hike. The original hike was 43.5%, and 70% of Iowa's exchange enrollees are on Silver. If you assume ~40% of their off-exchange enrollees are as well, that means at least half of Iowa's ACA market is on silver, meaing their overall average increase is likely around 51%.
OKLAHOMA:
Last year, Blue Cross Blue Shield of Oklahoma, as the only carrier participating on the ACA exchange in the state, jacked up their premiums by a jaw-dropping 76%. This resulted in the highest statewide average rate hike in the country of 71% overall.

Well, that certainly seems to have done the trick: This year BCBSOK (still the only on-exchange player and holding over 99% of the market anyway) is requesting a (relatively) modest 8.3% average rate increase...and their filing specifically calls out both the CSR and mandate enforcement factors as being major reasons. Assuming the Kaiser Family Foundation's estimates are accurate, that means that if the CSR payments were guaranteed for 2018, BCBSOK should actually be lowering their rates slightly, to the tune of around 2.4%.

Adding in the steep hikes from off-exchange only CommunityCare (which only has 1,400 enrollees) brings the averages in at a 1.9% rate drop if CSRs are paid, and an 8.7% increase if they aren't.
Trump's decision to pull subsidy payments won't do much to Oklahoma

...BCBS increased its rates on marketplace plans by an average of 75 percent for 2017, and uncertainty about CSR payments drove some of the hike, Rhoads said. This year, BCBS requested a more-moderate 9 percent increase to cover higher costs for medical care and increased utilization, because it already had set rates that would work without CSR payments, he said.

"To some extent, Oklahoma was a year ahead of the curve," he said.
Well I'll be damned. Sure enough, if you look back at BCBS of Oklahoma's 2017 revised rate hike filing, guess what?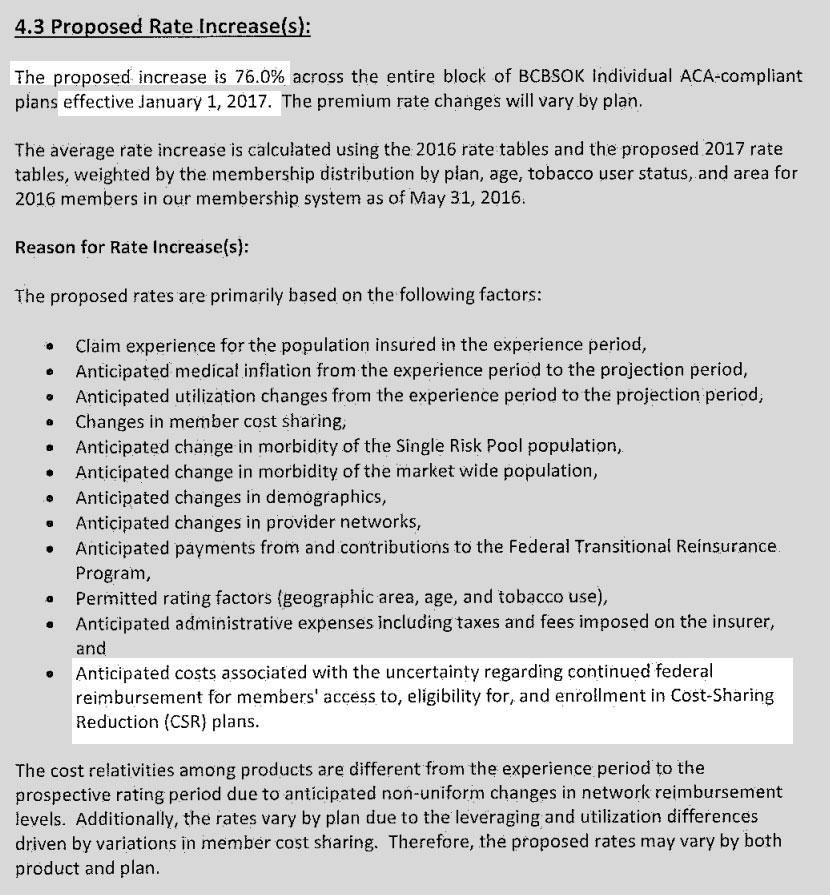 Yep...BCBS of Oklahoma had ALREADY baked in the CSR load over a year ago.
Since they already jacked up rates across the board for 2017, they have no need to do so again for 2018.
In fact, this technically means that they've been double-dipping for the past 9 months (getting CSR payments for most of the year and raising rates to cover the CSR payments in case they weren't made), although that sounds like more of an issue for the state insurance commissioner to deal with...after all, they're the ones who approved the 2017 rate hike in the first place.
To the best of my knowledge, BCBSOK is the only carrier in the nation to be that prescient about the CSR storm brewing ahead.
Anyway, it sounds pretty clear that Oklahoma is looking at a 9% overall rate increase next year...all of which is due to non-CSR factors (remember, the other 2 indy market carriers are off-exchange only).