"...and to win over Rob Portman, we'll throw in the Drew Carey Show!"
Thu, 09/21/2017 - 4:32pm
Haley Byrd of The Independent Journal Review has the skinny about the latest attempt to bribe Alaska Senator Lisa Murkowski into voting for the Graham-Cassidy bill:
Alaska (along with Hawaii) will continue to receive Obamacare's premium tax credits while they are repealed for all other states. It appears this exemption will not affect Alaska receiving its state allotment under the new block grant in addition to the premium tax credits.

Delays implementation of the Medicaid per capita caps for Alaska and Hawaii for years in which the policy would reduce their funding below what they would have received in 2020 plus CPI-M [Consumer Price Index for Medical Care].

Provides for an increased federal Medicaid matching rate (FMAP) for both Alaska and Hawaii."
Well, now.
Bird doesn't have the actual legislative text, but they threw Hawaii in there as well (not to win their votes...Dems Brian Schatz and Mazie Hirono are solid NOs no matter what). That means that the wording is probably along the lines of:
"...these changes shall not apply to states in which the capital city is located at least 4,000 miles away from Washington, D.C." or
"...these changes shall not apply to states which do not border the contiguous United States of America."
However, there's a whimsical part of my 47-year old nostalgic psyche which is kind of hoping that the language is closer to this: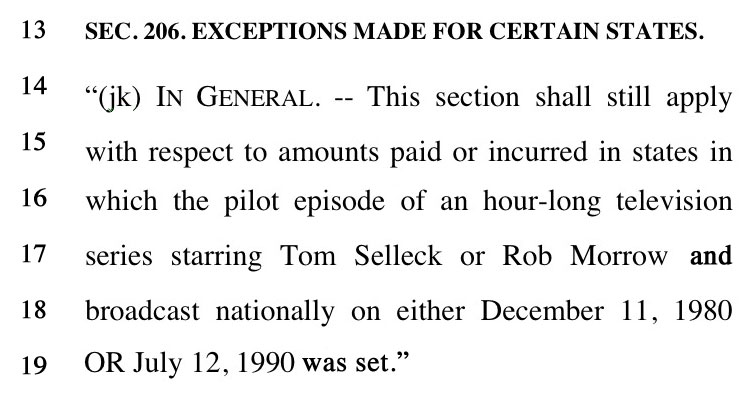 Seriously, as stupid as that would be, the first two versions are just as insulting.
Of course, as Josh Zeitlin notes, back in June, Murkowski squarely rejected accepting any "polar payoff":
Questioned by reporters Thursday, Murkowski said she needed to read the bill before she decides how she'll vote. Her office didn't immediately respond to requests for comment, though last month she said she wasn't interested in a special program for her state.

"Let's just say that they do something that's so Alaska-specific just to, quote, 'get me,'" Murkowski said in June. "Then you have a nationwide system that doesn't work. That then comes crashing down and Alaska's not able to kind of keep it together on its own."
I suppose Lindsey Graham and Bill Cassidy could argue that by throwing Hawaii in for free, they wouldnt' technically be doing something specific only to Alaska, but if Murkowski is willing to use that fig leaf, she was never serious about her integrity in the first place.