UPDATE: HC.gov reporting 48% higher traffic than on Dec. *15th* last year!
Mon, 12/14/2015 - 5:26pm
As always: I could be dead wrong here. It's entirely possible that my recent tweaking of The Graph, which projected that 1.5 million people would select exchange QHPs between 12/06 - 12/12 via HealthCare.Gov alone and continued to see the number shoot up from there for December 13th, 14th and 15th is way off the mark.
HOWEVER, assuming that both the Week Six total as well as the "spike" trend I projected turn out to be accurate, that means that these final days should be playing out something like the following:
Sunday, 12/13: Around 350K nationally (270K via HC.gov)
Monday, 12/14: Around 460K nationally (350K via HC.gov)
Tuesday, 12/15: Around 780K nationally (600K via HC.gov)
Yes, that's right, it's conceivable that HealthCare.Gov could see up to 600,000 people select private policies in a single 24-hour period tomorrow, plus up to another 180,000 via the various state exchanges.
If it does manage to reach such lofty heights, people would be enrolling at a rate of 7 per second via HC.gov alone or 9 per second nationally for 24 hours straight.
Now, that doesn't mean that it'll hit that number; I may have overestimated significantly. Alternately, it's possible that there will be enough demand but that the server load will be too much and HC.gov will become sluggish or even crash. If that happens, obviously you can disregard these numbers.
If, however, this does come to pass, there could be over 7.3 million people actively signed up for January 2016 policies before most auto-renewals are even added into the mix, which would be a very good sign indeed.
While I don't have any specific evidence of the enrollment numbers at the moment, check out acting CMS director Andy Slavitt's Twitter feed today:
Like last year, we're seeing a surge in consumer interest during these final days before the deadline.

— Andy Slavitt (@ASlavitt) December 14, 2015
Today, one day before December 15 deadline, we're seeing unprecedented demand to @HealthCareGov. This is what I anticipated for tomorrow!

— Andy Slavitt (@ASlavitt) December 14, 2015
At 1 pm ET today, we had 160,000 simultaneous users on https://t.co/lnsDKCdAs4 – by far our biggest day this year.

— Andy Slavitt (@ASlavitt) December 14, 2015
Still one more day go to the 12/15 deadline and demand today is higher than any day during the last Open Enrollment - even deadline days.

— Andy Slavitt (@ASlavitt) December 14, 2015
Site handling record traffic - due to high demand, some consumers may wait avg. < 2 mins to log-in to https://t.co/lnsDKCdAs4.

— Andy Slavitt (@ASlavitt) December 14, 2015
178,000 concurrent users on https://t.co/MJ6doESwCt at 2:30 Eastern.

— Andy Slavitt (@ASlavitt) December 14, 2015
For comparison sake:
In other words, the peak traffic the day before the January deadline this year is 42% higher than the peak traffic on the final day last year.
UPDATE: Yup, looks like at least some HC.gov visitors are being re-routed to the "Waiting Room" this evening: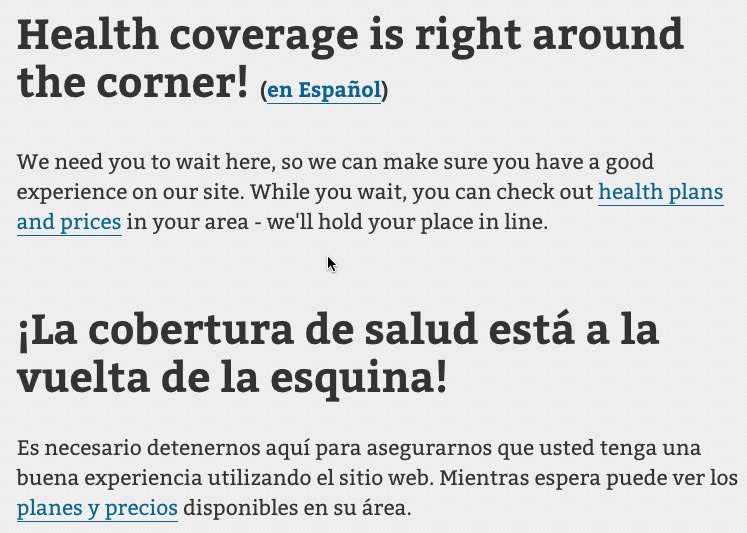 UPDATE 12/15/15: OK, strike that; according to Slavitt, peak traffic actually hit 185,000 concurrent users at 9pm last night...or 48% higher than last year:
Unprecented demand yesterday - over 185,000 consumers were shopping for coverage at 9pm. #GetCovered

— Andy Slavitt (@ASlavitt) December 15, 2015
While demand was high yesterday, interest is even greater so far today. #GetCovered

— Andy Slavitt (@ASlavitt) December 15, 2015
No specific "concurrent shoppers" update this morning so far, but I'm guessing they'll break 200K at a time, assuming the server can handle the load.